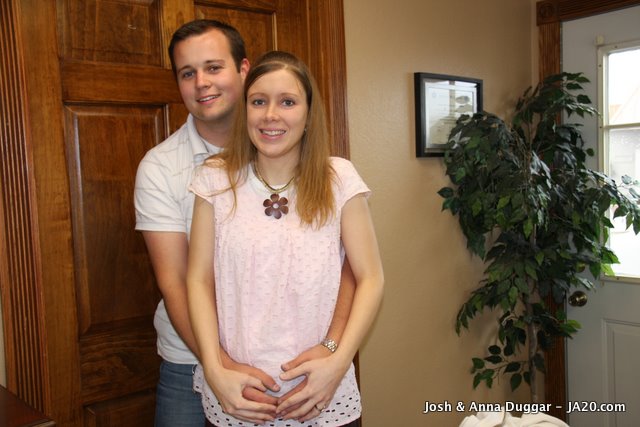 A lot of you may read that title and immediately think that the enormous Duggar family is expanding, and it is but it's not what you might expect. Anna Duggar is the daughter-in-law of Michelle Duggar, who has had 19 kids and has made it clear that she's still trying at 44 despite the fact that her last one was born prematurely and both she and the baby nearly died. Michelle hasn't been successful yet at this point, but Anna, the 22 year-old wife of the Duggar's oldest son Josh, 23, is expecting her second baby this summer. Anna and Josh first announced the pregnancy in November, and it seems this latest announcement is meant to promote the season 5 premiere of the Duggar family's TLC reality show, 19 Kids and Counting, which airs tonight.
In a really stupid twist to this story meant to add some plot to their reality show, Anna and Josh let their doctor find out the sex of their baby and instructed him to keep it a secret and to tell Michelle about it. They told Michelle to let them know along with the rest of the family. As sweet as Michelle comes across on the show, this sounds like a political move meant to pacify her so she feels a sense of control when she's not the one who is pregnant for once. She surely wishes she was. The last time Anna was pregnant, Michelle was pregnant too.
Three months from now, the super-sized Duggar family will add another … boy!

Josh Duggar, 23 – the eldest son of Jim Bob and Michelle – and his wife Anna, 22, are expecting their second child on June 19 to join older sister Mackynzie, 17 months.

The couple chose an unconventional method for learning the gender of the child – they had Michelle tell them.

"We went to the ultrasound and decided that my mom would know," Josh tells PEOPLE. "We figured she could handle the secret and then have a surprise sharing of the information with the entire family, including me and Anna."

They waited more than a week, and it wasn't easy. "I think Anna was getting a little be anxious and excited to know, kind of antsy," says Josh. Anna agrees: "We thought it was fun to have the whole family hear at the same time and have the excitement together, but it was hard to wait."

Josh and Anna are now happily planning a home birth and thinking about boys' names. Mackynzie had an unplanned home birth, but "it went so well," says Anna, "that we are glad to be preparing for a home birth this time."

All 19 children born to Michelle, 43 and Jim Bob, 44 – 10 boys and nine girls – have names beginning with a "J," so the inevitable question is: Will Josh and Anna follow with an "M" tradition for their children?

"We still have a little time left to decide," says Josh. "Anna and I will find a good name that will be perfect for this little boy."

Meanwhile, Anna says her pregnancy is going well and she feels good.
[From People]
Maybe I'll watch this show tonight and see how Michelle handles the big announcement. I'm sure it's accompanied by a permagrin and Michelle's sickeningly sweet voice. I have to admit that this family seems nice despite how strange the rest of us find their situation. From the few clips I've seen they come across as way too mellow and happy for a family with that many kids. Now they're set to have tons of grandchildren and the Duggar genes will explode across the land like so many eerily calm homeschooled viruses.
Photos are of Anna pregnant with her first child. Credit: JA20.com. That domain name is probably for the fact that their daughter is the 20th Duggar.