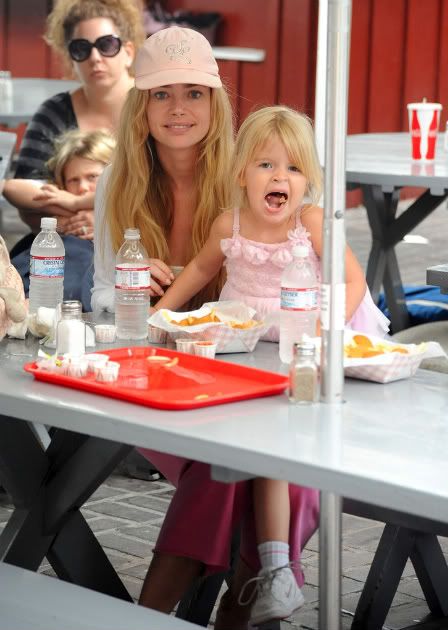 We've had a long-running joke here about how terrible miserable Denise Richards and Charlie Sheen's daughters Sam and Lola appear to be in every single photograph. It doesn't look like they're experiencing the usual episodes of a kid being cranky. Or sleepy. Or hungry. The poor little girls look like they're absolutely despondent in almost every photo out there. It's pretty hard not to notice – and not to feel badly for them. I've always taken it as evidence of just how profoundly bad parenting – and bitter divorce battles – can affect children.
But if there's any truth to my theory then things must be looking up for Sam and Lola. Yesterday they were snapped having lunch with mom Denise at Brentwood Country Mart looking happy, goofy, and not at all miserable. Although Denise looked a little beaten to hell.
Enjoying a little mother/daughter bonding time, Denise Richards grabbed up lunch with her girls, Sam and Lola, at the Brentwood Country Mart on Friday afternoon (October 3).

The "Wild Things" actress and her little ones downed their orders of chicken nuggets and fries, with the group then heading off to do some shopping for toys and clothing.

In related news, Miss Richards has denied rumors that her reality show got the axe, saying that it's coming back for another season with filming to begin in a few months.

She also dismissed criticism from her ex-husband Charlie Sheen and his new wife Brooke Mueller for including her young daughters in her series.

Denise tells, "They weren't there 24/7, we definitely have set hours. They have been around this since they were born so they were just happy momma was home working."
[From the Gossip Girls]
Clearly something's going a little better for Sam and Lola. It seems like Charlie and Denise have cut down on their bitter public feuding – maybe they've managed to do the same in private. You can't easily tell this from WENN's pictures, but they both seem to be wearing cute little pretend dress up outfits and some little girl makeup. It looks like they had a fun day and got to be regular, normal kids.
Images thanks to WENN and Fame.