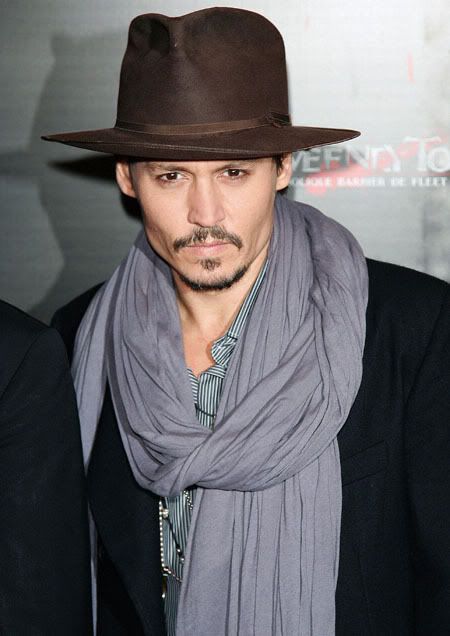 Disney recently announced that Johnny Depp will be returning as Captain Jack Sparrow in Pirates of the Caribbean 4: The World's Most Unnecessary Sequel. This caused a lot of comment that the third instalment of the series wasn't very good, and that he should be moving forward, and is selling out. Everyone has their price – is yours more than $56 million?
Johnny Depp has struck gold by landing £32million ($US56million) for a fourth Pirates Of The Caribbean adventure.

The bumper cheque is the highest up front pay-out in movie history.

It smashes the £29m ($US51million) paid to Tom Hanks, 52, for the Da Vinci Code follow-up Angels & Demons, out next May.

And it means Depp will leapfrog Will Smith into top spot on Hollywood's rich list when he reprises his role as Captain Jack Sparrow.

A movie insider said: "It's a hell of a lot of swag for one movie but there's only one man who can play Captain Jack Sparrow – and that's Johnny Depp.

"Pirates just wouldn't be the same without him, so they were more than willing to smash the record books to land Depp again.

"He's been the star of the show every time."
Johnny Depp deserves to be one of Hollywood's highest paid, I'll go see anything with him in it, and although I'm sure I've seen Pirates 3 and have absolutely no recollection of it. While the salary reports surfaced in the sometimes unreliable British tabloids, I'd have to say that the figure is not unfeasable. There is no movie without Captain Jack!
I also can't believe that the prequel to The Da Vinci Code is being made, considering how awful this was, and that Tom Hanks is being paid $51 million. The Dan Brown books are just too complex to translate well to the big screen, and I'd have to say that Tom Hanks was too old for the first film, let alone a prequel! Then again, if Harrison Ford can play Indiana Jones in his 60s, I guess Tom Hanks can play a university professor at any age. My mental image from reading the books was of a man about ten years younger than Hanks though.
The highest paid actor ever is, a little surprisingly, Keanu Reeves, who reportedly made $200+ million for his role in The Matrix, based on a merchandise ands sales agreement. Many stars make money from these kinds of deals, and take a lower salary than they might be worth. HollywoodToday.net has a breakdown of how this works, and suggests that Johnny has made almost $150 million from the previous three Pirates films using this system.
Orlando Bloom and Keira Knightley have both indicated they'd like to move away from the series, but if Disney thinks the films, which grossed around $3 billion at the box office, have more life in them, I wonder what their price is? And will Disney be willing to pay it? It's an awful lot fo buried treasure (I couldn't resist a little pirate reference).
Johnny Depp is shown on 1/16/08 at the Sweeney Todd Paris premiere. Credit: WENN