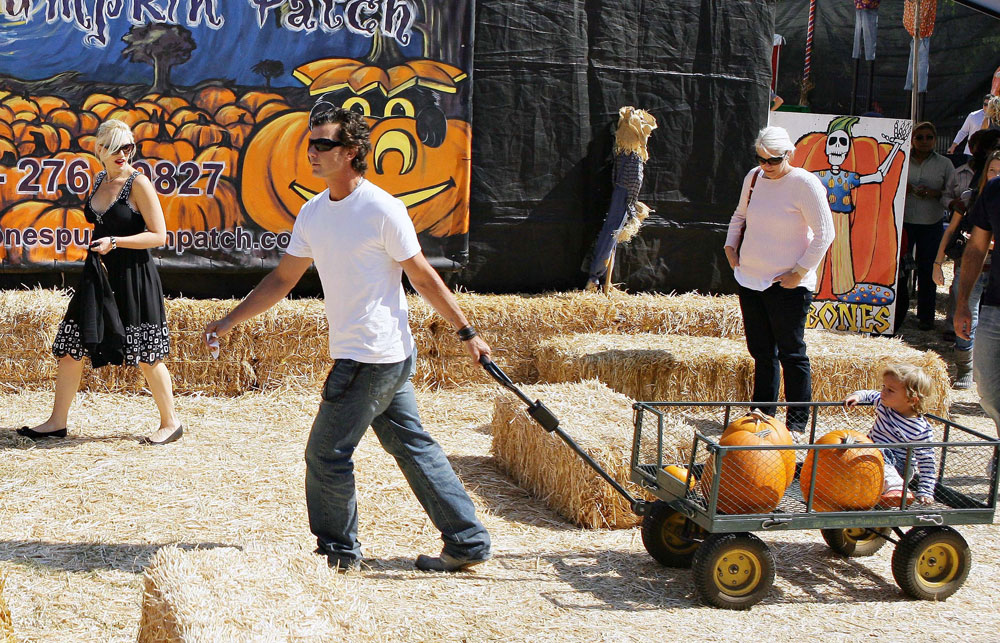 Rocker Gwen Stefani, 39 her husband Gavin Rossdale, 40, and their almost two and a half year-old son, Kingston, went to Mr. Bones' Pumpkin Patch in LA yesterday to pick up some gourds for the Halloween season. Gwen was retro cute in a black loose dress with black flats and a black cardigan while dad Gavin was casual in a t-shirt and jeans. Kingston looked a little tired and was carried by his mom and dad. At one point he rode in a wagon along with some pumpkins. Gwen and Gavin's seven week old son, Zuma, was not with them.
That's cute that Gwen and Gavin took Kingston out to get pumpkins. Gavin told Hello! Magazine in an inteview published in September that Kingston needed to get used to not being the center of attention now that he has a new little brother but that "He's an amazing kid and we're really blessed with him because he's healthy and he's happy and he's surrounded by love." You can tell that they're trying their best to make Kingston feel included and special now that he has some competition.
The famous family was spotted out at the park last week and Gwen and Kingston were seen at a carnival the week before.
Photo credit: Fame Pictures and revolutionpix/Bauergriffinonline.com