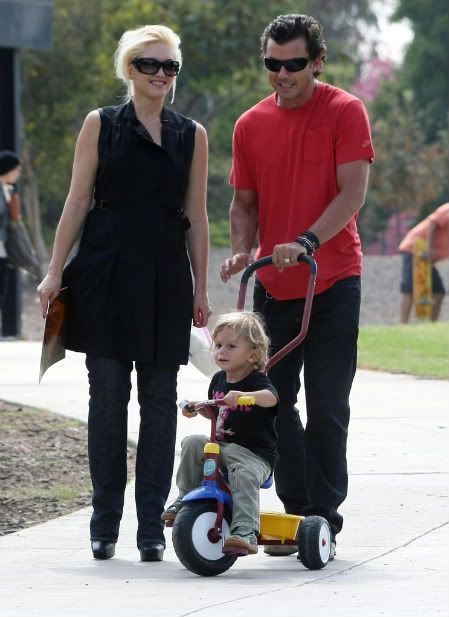 Kingston Rossdale is one lucky kid. Not only are his parents rich, famous, and pretty damn cool, but they also seem remarkably down to earth. Case in point: Kingston seems to get to go to the park more in his few short years than I have in my entire life. And he gets balloons.
Okay to be fair most kids get some amount of both of those, but they don't have photographers following them around, documenting their every precious moment. Wait… okay they have parents who do that. And probably don't yell crude questions at the kid, like I imagine most of the paparazzi do. But nonetheless, Kingston is pretty damn lucky. Plus you know he's going to grow up to be both super hot and super cool. He will never know the pain of insecurity the rest of us are plagued by.
Gwen Stefani and Gavin Rossdale spent a busy afternoon with their eldest son Kingston Rossdale in Los Angeles on October 5, 2008. The celebrity clan enjoyed time at a park where Kingston was obviously having a blast!

The adorable celebritot expended tons of energy running around the play area, and got a hand from his dad as he scooted around on a tricycle. The family also stopped by a market to pick up some groceries and a balloon for little Kingston after dining at a Beverly Hills eatery for lunch.
Kingston certainly stroll [sic] the show from his rocker parents! If he wasn't waving at photographers or posing with his newly acquired balloon, he was goofing off under mom and dad's legs as they took a rest at the park!
[From Fame]
Kingston definitely seems like the kind of kid that won't let the paparazzi get in the way of him having a good time. Though Gwen and Gavin have definitely kept baby brother Zuma sheltered from the paparazzi, they seem to have exposed Kingston to them pretty often, and as a result the tot appears to be fairly comfortable around them. And nothing makes you forget about the press following you quite like a good balloon.
Images thanks to Fame and WENN.