I taped TLC's new show Extreme Couponing Wednesday night and was treated to two hours of people paying next to nothing for cartfulls of groceries. It was amazing and kind of sobering at the same time. I'll go over some of the individual cases in a moment, but the overall takeaway was that every one of these extreme couponers had a huge stockpile of products, like shelves, freezers and cases of stuff that would rival a mini mart (really), and that all of them planned extremely carefully to take advantage of coupon doubling in conjunction with store deals to pay nothing or just pennies for items.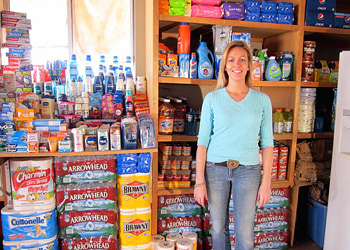 The systems they had for getting items for free were so involved that it would be like doing your taxes three times every week. For many of them it was a full time job and they spent days planning for a grocery trip and then over four or five hours at the store. It often took upwards of two hours for them to checkout. These people were clearly addicted to it, and while I came away thinking I would do a little more planning before my next grocery trip, there's no way I would spend more than an hour looking for deals ahead of time. Crunching numbers is not my thing.
Here are a few profiles of the people on the show. I found them all pretty relateable and normal-seeming, like I would love for them to take me to the grocery store and give me some tips, except for the last woman below, who wasn't as organized as the other women and fought with her husband. At one point she took home a cartfull of candy bars just because it was free. (Note: these videos may not play outside the US, sorry about that!)

Jessica has four kids and this lady pulls no punches. She explained that her husband is an underemployed contractor affected by the recession and that whenever she gets a huge haul at the grocery store she feels like she's gotten a promotion in her job as supermom. Her system and her stockpile were probably the best organized, and along with the lady in Philadelphia she seemed to get the most varied and healthy groceries.

This lady Jaimie put on clown makeup and dressed up before a trip to the grocery store because she said she wanted to look like money, but of course she just ended up looking cheap. She explained that she started couponing when her husband lost his job. This clip builds some drama, but she got out of there spending less than $10 I'm pretty sure.

This family has seven kids and they coupon to save money for their college funds. The mom had stockpiles in every free corner of her home though, including shelves in her bedroom and toilet paper piled up under her kids' beds.

This retired nurse in Philadelphia does a two hour walk around her neighborhood every day, where people save coupons for her and know her well. I found her pretty awesome. She started couponing as a single mom on welfare and now she's proud to live debt free. Her grocery bill for over $250 worth of stuff was about $6, and that was less than the cost of the whole chicken she bought without a coupon. Some of these people actually got money back for buying items.

This guy bought over $2,000 worth of stuff, including over a 100 boxes of cereal and a cartfull of deodorant, for less than $200. He donated the cereal to the local food bank, but he also had a drugstore worth of stuff at his house. He explained that he was $17,000 in debt when he got married and has now eliminated his credit card debt through couponing. He needs to donate some of his junk to a homeless shelter.

Here's a lady who wasn't as organized as everyone else. She also had another job on the side and would rush to the supermarket late at night just to get a deal. This is a good example of the amount of time and effort it takes to do this effectively.
So Extreme Couponing has inspired me to save some money next time I go shopping, but I also hate clutter in the house and I'm not into spending a lot of time doing spreadsheets. I'll keep watching this show, but it's kind of like the way I watch hoarders without the gross out factor – it's fascinating to see that there are people who actually live like this.
Here's a link to some tips for novice coupon users.