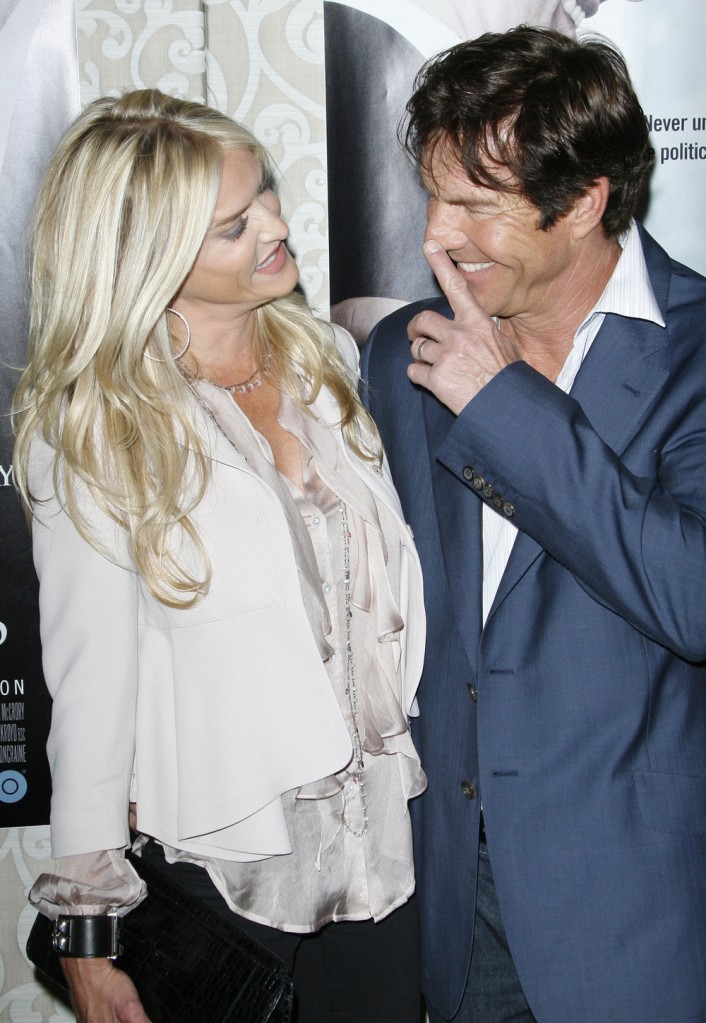 Newsweek has a new feature called "My Favorite Mistake" with first person accounts of semi-confessional "mistakes" by celebrities and public figures. I've found other pieces by Ted Danson, Harvey Weinstein, and James Carville detailing their mistakes and in the latest issue Dennis Quaid reveals his "greatest," not necessarily his "favorite" mistake, a cocaine addiction that helped fell his career at the peak of his popularity in the late 80s. Quaid stars in the new film about the true story of a young surfer who lost her arm to a shark attack, Soul Surfer. It came out in theaters last Friday. Here's some of Quaid's story:
On how cocaine was everywhere in the 80s
My greatest mistake was being addicted to cocaine. I started after I left college and came to Los Angeles in 1974. It was very casual at first. That's what people were doing when they were at parties. Cocaine was even in the budgets of movies, thinly disguised. It was petty cash, you know? It was supplied, basically, on movie sets because everyone was doing it. People would make deals. Instead of having a cocktail, you'd have a line. So it was insidious, the way it snuck up on everybody.

On his routine as a cocaine addict
By the time I was doing The Big Easy, in the late 1980s, I was a mess. I was getting an hour of sleep a night. I had a reputation for being a "bad boy," which seemed like a good thing, but basically I just had my head stuck up my ass. I'd wake up, snort a line, and swear I wasn't going to do it again that day. But then 4 o'clock rolled around, and I'd be right back down the same road like a little squirrel on one of those treadmills. The lack of sleep made it so my focus wasn't really there, which affected my acting. Addiction just keeps you from living; you're basically hiding from life.

On what he learned from rehab
I had a band then, called the Eclectics. One night we played a show at the China Club in L.A., and the band broke up, just like in the movie The Commitments, because it all got too crazy. I had one of those white-light experiences that night where I kind of realized I was going to be dead in five years if I didn't change my ways. The next day I was in rehab.

It was one of those times when you think, "Well, if I do the right thing and clean up my life, it'll get better." No, it got worse! In 1990 I did Wilder Napalm, which came out and went down the tubes. But that time in my life—those years in the '90s recovering—actually chiseled me into a person. It gave me the resolve and a resilience to persevere in life. If I hadn't gone through that period, I don't know if I'd still be acting. In the end, it taught me humility. I really learned to appreciate what I have in this life.
[From Newsweek]
The last I heard about Quaid he was helping raise awareness of fatal medical mistakes after his newborn twins nearly died in November, 2007 when a nurse gave them an overdose of Heparin from a poorly labeled bottle. (Here's more background on that incident and the measures that Quaid took as a result. He successfully sued the hospital and is currently suing the manufacturer of the drug.) Quaids twins are well and thriving at three and a half, although it was touch and go with them for a while.
That movie the Quaid says was his sort-of first "sober" film, Wilder Napalm, came out in 1993 according to IMDB and he has no credits listed to his name from 1990 – 1993. He's worked steadily since but not in many high profile films and not in many movies that I've seen. Like I remember him in The Big Easy (1986), Great Balls of Fire (1989), Far From Heaven (2002) and In Good Company (2004). I've probably seen some of his other movies in his recent career but they didn't stay with me. So he's not the big movie star he was in the late 80s when he was staying up all night doing blow, but would he have inevitably fallen from grace anyway? He's probably asked himself that question countless times.
You also wonder if any producers are sweating it after Quaid's claims that cocaine was everywhere on set. Were they all doing lines on the set of The Right Stuff (1983)? Probably.
He may be back on track now but he's not sober. I've seen plenty of photos and video of him out partying recently.
Dennis Quaid is shown performing with his band on 11/4/10. He's shown in the header with his wife on 5/19/10. Credit: WENN.com