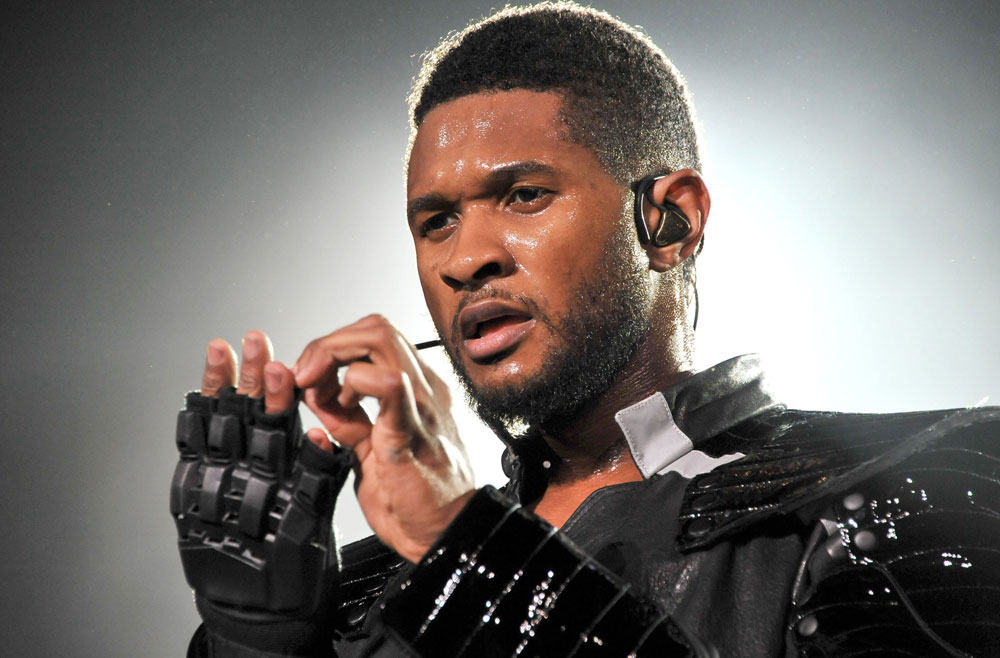 Kaiser and I were wondering if anyone would care about this story, since Usher usually doesn't get a lot of headlines. I wanted to report on it, because it points to a very clear and very dumb pattern with a guy who is a platinum recording artist and otherwise a savvy businessman. He made Justin Bieber a household name, and as annoying as that kid is you have to admit that Usher was smart for signing him.
For background – Usher fired his mom as his manager in 2007, supposedly at the direction of his then-fiance, Tameka Foster, and hired Benny Medina. Things were so strained between Usher and his mom that his mom didn't even come to his wedding with Tameka in the summer of '07. Those two were over about a year later anyway, so Usher rehired his mom in '08 and finally officially divorced Tameka in the summer of '09. He then predictably fired his mom again around that time at the direction of his latest girlfriend, (you can see a photo of her here and here) who stepped in as his co-manager and is now reportedly trying to convince him to fire his entire management team and basically everyone who works for him.
The R&B singer is currently dating his co-manager and stylist Grace Miguel, a 43-year-old former Def Jam executive who was spotted with Usher mere months after he split from his ex-wife Tameka Foster.

But according to NY Post's Page Six, Miguel is calling all the shots. The seasoned pro, who helped Usher secure a release date for his latest studio release 'Raymond v. Raymond,' is trying to convince him to fire his entire staff including tour managers, stylists and choreographers, with plans to replace them with a whole new team.

Sources close to the action claim that "Usher will do whatever she wants him [to] do right now."

Already on the chopping block is his longtime agent, Mark Cheatham of Creative Artists Agency, who supposedly got the boot from Miguel. "I don't know anything about it. I've been with Usher for a long time," he explained, though the R&B singer is now missing from the agency's client roster.

Usher and Miguel have been a hot item as far back as 2009. After filing for divorce from his 40-year-old ex-wife Foster, the 30-year-old [sic: Usher is 32] went public with his relationship with Miguel, who signed on as his co-manager after he gave his mother the boot from the position.
[From Popeater]
So Usher either has his momma or his older girlfriend telling him what to do and running the show for him. His last relationship, with Foster, went down in flames and this one is going to burn out soon too. He wants someone to run his life and make decisions for him until he ends up feeling controlled and rebelling. The guy needs therapy to work out some obvious issues with his mother. I'm sure he'll rehire her as his manager again once this new relationship inevitably goes south. Then he'll write another album about it and make millions.
Usher is shown out in his blue hightops in NY on 4/8/11. I'm pretty sure that's his girlfriend in the background to the right. He's also shown performing in Paris on 2/15/11. Look at that scraggly excuse for a beard. Credit: Fame Pictures