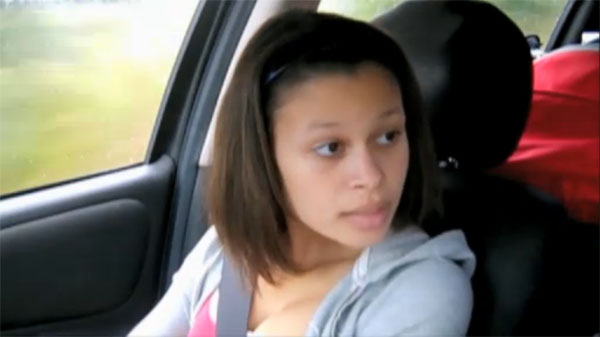 Another day, another abusive Teen Mom. First we had season one's Amber Portwood beating up her baby's father on television, then we had Jenelle Evans of season two in a horrific fight with another woman that was caught on tape and sold to the paparazzi agencies. Now there's Jennifer Del Rio, a star of 16 and Pregnant's now-airing third season (the show that roots out the best drama queens for Teen Mom), in a fight with her babies' dad, Josh Smith. (Smith and Del Rio have tins.) Smith told cops that Del Rio punched him in the face but she claims that he punched himself in order to set her up. Advance footage from 16 and Pregnant shows Del Rio smacking Smith and telling him he'll never see his kids again. I would suspect the abuse is mutual though, as Smith puts his hand in front of Del Rio's face in another advance clip (below) where she breaks up with him. Del Rio's episode airs Tuesday on MTV.
In a request for a restraining order, Del Rio's ex alleges that she got pregnant on purpose in order to get on the show and that she told him she was already pregnant in order to trick him into not using condoms during their relationship. We've heard that teens were getting pregnant in order to get on the show, but I didn't really believe it. Now I do.
"16 & Pregnant" star Josh Smith says his baby mama PLOTTED to get pregnant just so she could be on the MTV reality show … this according to court documents.

Smith filed a request for a restraining order against Jennifer Del Rio this week — stemming from an incident in which she allegedly punched Josh in the face.

In the docs, Smith claims his baby mama is a "compulsive liar" who concocted a diabolical scheme to get pregnant — allegedly telling him she was knocked up (even though she wasn't) so he wouldn't wear a condom.

Smith explains … "She was giving me sonogram pictures … that she claimed was 'our baby' when in actually [sic] it was her friend's sonogram pictures she was copying. She lied to me and my parents for 3 months saying she was pregnant. She wanted so desperately to be on 'Sixteen and Pregnant'."

As for the restraining order, Jennifer claims she never attacked Josh … and has since filed for a restraining order against HIM … claiming Josh punched himself in the face to set her up so she would go to jail.

The couple is scheduled to be back in court on May 2.
[From TMZ]
What's it going to take for MTV to rethink this show? Is it going to take a shooting or a serious car accident? They regularly film kids beating on each other in front of their babies. I don't understand how it's legal to stand by and film instead of interfering when something like that happens. These are some seriously screwed up kids having babies and getting paid over a quarter million a year to go on television. It's disturbing to say the least.
Update: Several people who have seen the show have commented that Josh looks like an abusive creep and that it's likely he made up this story.
Here's a clip from Del Rio's episode in which she breaks up with Josh. He drops her off at the side of the road and drives off with the twins.

Del Rio smacks Smith at around 1:20 into this trailer. (via Starcasm)