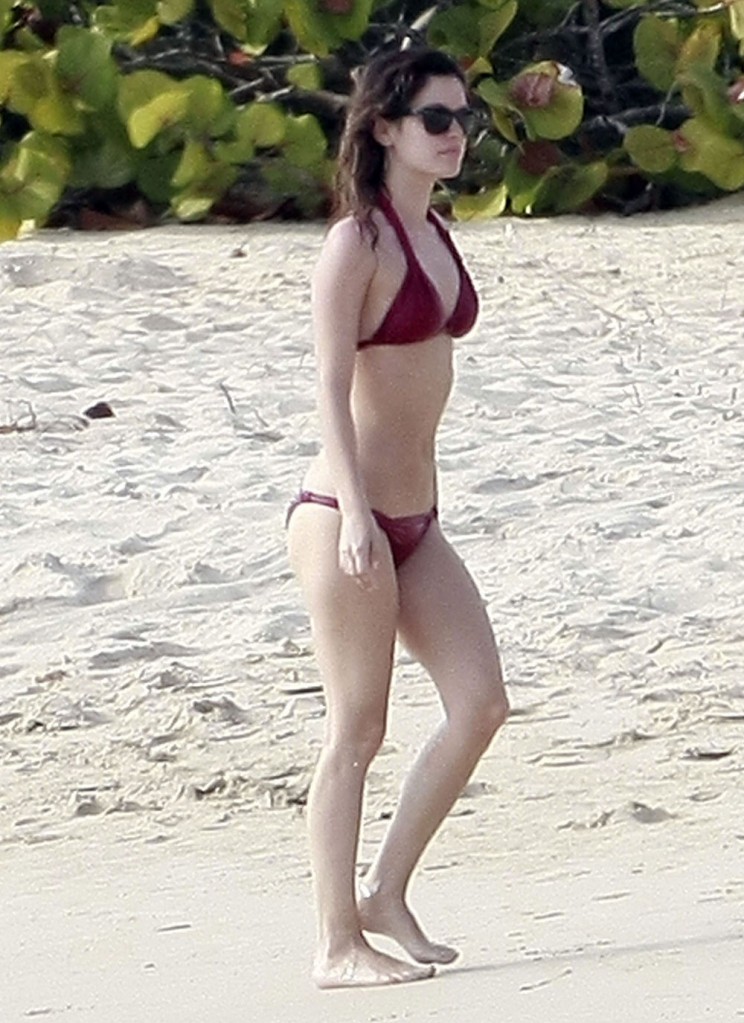 Rachel Bilson and Hayden Christensen look to be back together after their split last summer, as evident by these photos of the couple no one cares about vacationing in Barbados. Several photo agencies have these pictures, and again this is in Barbados and it's not like any photographers are going to be following these two on vacation. Rachel wore several different bikinis for these photo ops (here she is in another bikini on DListed) to maximize her publicity options. I suppose we'll next be hearing about how they're re-engaged:
The couple, who reportedly threw in the towel on their over three-year relationship in March, were spotted soaking up the sun during an island getaway to Barbados to celebrate Christensen's 30th birthday.

Bilson, 29, was photographed showcasing her fit physique in several tiny string bikinis while spending the day swimming in the Caribbean ocean with Christensen, whom she met on the set of "Jumper" in 2007. The low-key couple later got engaged in December of the following year.

But last summer, the actress was spotted sans engagement ring as reports surfaced that she and her "Star Wars" beau were "taking a break" to reevaluate their relationship. One of the main reasons for the split was reportedly due to the distance between Bilson in Los Angeles and Christensen in Canada.

Bilson's rep confirmed in August that the couple's engagement was off, but the two appeared to be giving their relationship another shot when they were spotted hanging out again in L.A. three months later.

Despite breaking up and making up yet again, the couple may have to face another geographical obstacle if Bilson continues working on her new pilot, "Hart of Dixie," in Wilmington, N.C.
[From The NY Daily News]
I've said that I don't find Rachel as grating as Kaiser does, but I'm definitely seeing Kaiser and Lainey's point that she oversells. Bilson had one movie out last year, she has one in the can for this year (with Kate Bosworth, doesn't that seem fitting?) and now she's staging vacation photos to announce her next project. She also has a porcelain line at Macys and hopes to go into bedding. I'm surprised she doesn't have a perfume, clothing line or exercise tape out yet.
When your main career as an actor or singer is flailing, there's always the opportunity to try and sell your personal life and launch a side business to bring in cash. Still, Bilson is doing much better than her old O.C. costar, Mischa Barton. That's not saying much.