Lindsay Lohan's appearance on the Tonight Show aired last night. (You can watch it online on NBC.com if you're in the US.) She came across well, for her, in that she said the right things. She was fidgeting and looked like she hadn't slept in days, but she was dressed appropriately in a silk black jumpsuit that was somewhat fug but not the worst thing she's worn.
You could tell that she'd rehearsed ahead of time and that she was coached on what to say. It was all about how she's learned from her mistakes and is ready to move on. As I mentioned yesterday, she's putting the cart way ahead of the horse and acting like this whole thing is behind her, but she still has significant jail time looming for her probation violation and faces a separate charge on grand theft charges. Plus she's been sentenced to three months of full time community service. Given her history of failing to meet even the most basic court requirements, you know she's not going to be able to complete it.
Lindsay talks a good game, though, and if we weren't aware of her history she might look like an average burnt out starlet and not like a delusional addict trying to save the last scraps of her career.
Here are some of the things she said, and at times she smirked like she was the only one aware that she was pulling on over on the audience. She kept looking to the audience for validation, as if she was constantly trying to gauge if they were buying her act. They did cheer and gave her a standing ovation, but as someone mentioned in the comments there are flashing signs telling them how to react so it's not like it was spontaneous.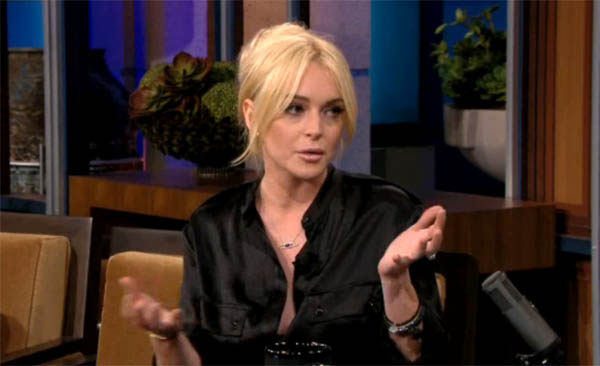 Sort-of owning up to her mistakes, but thinks it's time to move on
I made a lot of poor decisions in the past, and I'm dealing with the consequences of those decisions…

I'm a fighter and I know that I have to work to gain the respect back. I'm willing to do the work that I have to do to follow through with being an actress.

Being young and being in the position I was in, you don't really take the time to appreciate what you have. It all is kind of a whirlwind and people make decisions for you, but I'm not a kid anymore, I'm 24.

Claims to be "in the clear now"
I've made a lot of mistakes, and I recognize that, but I'm in the clear now and I feel like as long as I stay focused then I will be able to achieve what I want to achieve.
That's the thing, Lindsay isn't in the clear at all. This is how she got in this mess in the first place, by thinking she was above it all and that it was all behind her while she was in the thick of it, snorting and smoking and stealing.
Then Leno asked Lindsay what she wanted to change about herself. This was a chance for her to own up to her mistakes, to say she wanted to turn over a new leaf even if she was just blowing smoke up our asses as she'd done the whole time. Lindsay didn't talk much about what she personally needed to change, it was all about how other people needed to change and focus on her non-existent career. We've heard this from her so many times before. In fact she said basically the same thing on Ellen – two years ago.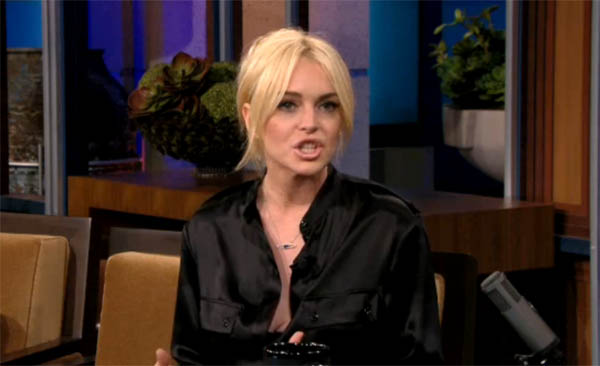 On what she wanted to change about herself
The public perception. I want it to be about my work, not about things that I didn't get into this business for, that I put myself in positions where that was the bigger story.

On her jail sentence
I was kind of shocked we didn't expect the outcome to be what it was, but I'm a big girl, and I'm going to do what I'm told to do. That's what I need to do to continue on with working in my life and I'm taking responsibility.

On if she was treated fairly in court
I think that I was treated the way I should be treated.

On her jail experience
It was an interesting experience and it was definitely a wakeup call. Everything happens for a reason.

On learning of her sentence
It was shocking. I was a bit numb.

On her childhood
My mom's amazing, she's really strong. I've watched her keep her strength throughout her life. I have good people in my life.

On the situation with her dad
I plead the fifth on that.

On her fans – what fans?
I feel like I've let my fans down by putting myself in situations when I was younger and wasn't thinking clearly. I want to be the person that I aspire to be. And be the actress, and be in this industry, and make movies.

On where she sees herself in 6 years at 30
Hopefully sitting here after I've won an Oscar
So is it time for Lindsay to have a comeback? Will she be able to even complete her community service requirements? Judging by her past behavior, the answer is clear. She thinks this is all behind her and she's going to move on to a great career and an Oscar, but all she's got on the horizon is a role that she almost lost that her dad scored for her from his prison mob connections. She's living in her "I'm a celebrity" bubble and it's filled with crack smoke, piles of dirty designer clothes, and memories of her Disney past.