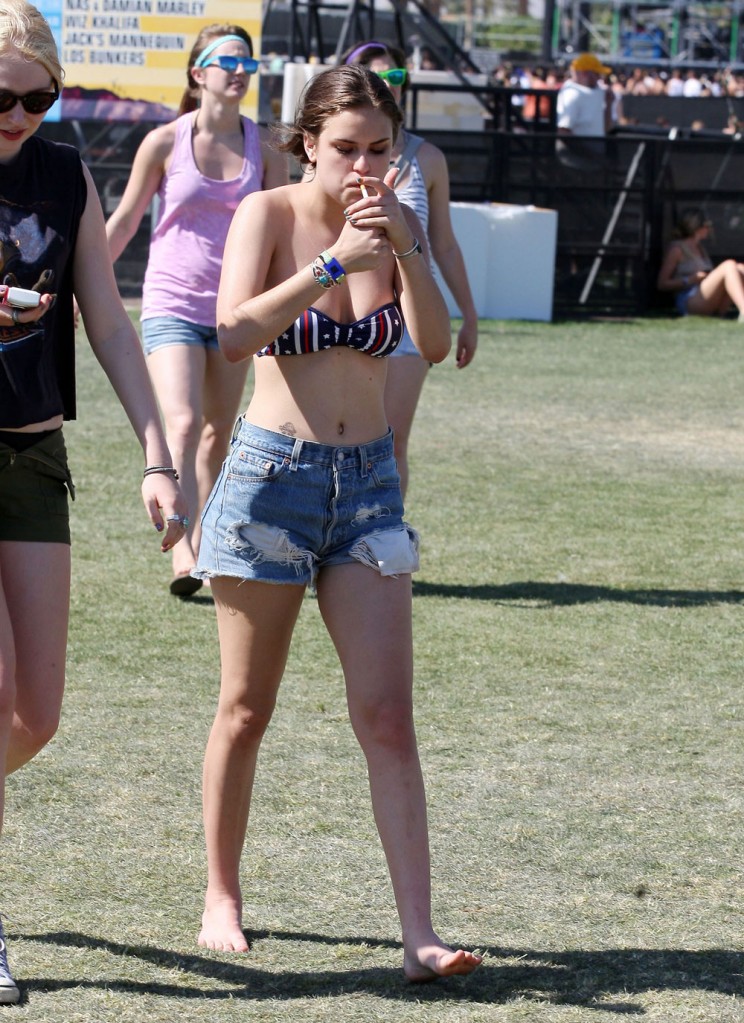 The last time we saw Tallulah Willis, Bruce and Demi's youngest girl, 17, she was wearing a bikini top and cut offs and sucking on a cig at Coachella. Fast forward about two weeks later and little Tallaluah is getting cited in LA for underage drinking. Radar Online has this news and it seems to be a minor incident as far as teenage antics go, (at least no one was driving drunk and no drugs were involved) but still it points to the fact that she's acting wild and needs to reign it in.
Friday night, the 17-year-old youngest daughter of Demi Moore and Bruce Willis was cited for underage drinking in Hollywood, RadarOnline.com has confirmed.

Because of her age, cops weren't able to simply release Tallulah. Mom Demi came and collected her errant daughter…

Neither mom, dad or stepdad Ashton Kutcher have made any comment about Tallulah's teenage indiscretion.
[From Radar Online]
I checked Demi and Ashton's Twitter accounts and they're mostly tweeting about that bizarre RealMen campaign they launched for their charity against sex slavery. It's all very sketchy in that it's a new charity and is helmed by Demi and Ashton. They're members of that Kabbalah cult that Madonna belongs to and we know what happened to her charity.
Getting back to reality, maybe Demi and Ashton should be concentrating their efforts a little closer to home. A lot of teenagers go through rebellious periods and underage drinking and smoking is potentially minor in comparison to what other kids are doing. Still, Tallulah could be doing much worse behind the scenes and she needs her parents around for guidance. You know that Bruce is going to be sitting her down and having a talk with her at least. I doubt Demi and Ashton are particularly strict parents.