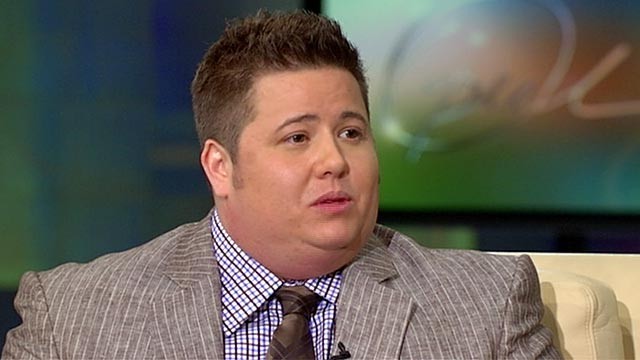 Chaz Bono's new documentary, Becoming Chaz, airs tonight on the OWN network. Chaz, 42, was of course born Chastity Bono, and was the cute little blonde girl shown on the Sonny and Cher show in the 1960s. He's since made the transition from female to male and part of his story is told in the hour and twenty minute special. Advance reviews are overwhelmingly positive, and critics say the show brings up thought provoking issues of gender identity and sexuality as Chaz is shown removing his breasts and taking testosterone to transition into the man he feels he was meant to be. (He has not done anything below the belt to affect that area other than taking testosterone.) Chaz also has a memoir out today called Transition: The Story of How I Became a Man.
E! has a new interview with Chaz promoting his show, and he's just as outspoken and articulate as we've heard in the past. He does deign to comment on Shiloh Jolie-Pitt's tomboy style, although E! kind of glosses over the part where he says he doesn't know the family and wouldn't make assumptions about a child's gender identity. I think he means that he'd like to talk to Brad and Angelina about the big hoopla the media has made over Shiloh, but people could make something else out of it.
On Cher accepting his change
"I think that she is moving in the right direction," he says. "I don't get the impression that she's 100 percent completely comfortable, but I think she's on the road to being that."

Why he didn't get the money from Cher to have his breasts removed
It's that very reason that Bono borrowed the $10,000 he needed to have his breast removal surgery from his AA sponsor rather than from his mom. "I didn't want to go to my mom with it because it was something she was struggling with," he explains. "It's like why rub her nose in it?"

He hasn't had genital surgery
While Bono is now legally recognized as male that doesn't mean he's also undergone the bottom genital reassignment surgery. He's too weary of today's options. "At this point, I'm not happy with the technology and I don't really feel comfortable doing anything about it," he says.

However, he isn't ruling it out completely. He's attending an upcoming transgender medical conference in Atlanta, where he says, "I'll be really interested to talk to some of the doctors to find out what's on the horizon."

On his engagement
By Bono's side through the entire journey is his fiancée, Jennifer Elia. They plan to marry some day. "We got engaged two years ago and we kind of just tabled it because so much was going on," he says. "I think that once we get through this we can look at it again. I think in probably typical guy fashion, I think it's absolutely absurd to spend thousands and thousands of dollars for one day. So I would like to do as little as possible."

On being a role model
For now, he's concentrating on lending his voice and face to the transgender movement. He refuses to call himself a role model. "I see myself as just somebody who's gone through the process," he says. "For me, part of the way that I got through my fears is by reading books and seeing documentaries of people who transitioned before me. So I look at myself as one of those people who are just out in the community and the difference is that I just have a little bit of a larger reach."

He volunteers for a support group for children with gender identity issues and their families. "I relate to these kids," he says. "The difference between them and myself is that I didn't articulate it and fight for it and say, 'No, no, no! I'm a boy!' I have so much respect for these kids that do."

On Shiloh Jolie-PItt
Bono doesn't know Angelina Jolie and Brad Pitt and wouldn't assume anything about their daughter Shiloh's choice to dress more boyishly, but the media's attention to the story did shed some light on gender identity. "I would love to talk to them at some point," Bono says, "to at least let them know we have this resource for them if they ever need it."

Even so, Bono says, "People get too freaked out about kids and what to do with kids. If you just let kids do what they need to do they usually have the right idea."
[From E! Online]
Maybe it would be better to say "no comment" with regards to Shiloh, because you know that the media are going to blow it out of proportion. (Hell, I did.)
I'm really interested to see Becoming Chaz and to learn more about his story. I've read that Cher appears in it briefly, that you can tell she's conflicted about and that it hurts Chaz that his mom is only gradually coming around to the idea that he wants to be a guy. It's got to be a tough situation to deal with all around, and he's brave for being so public with his story. He's the highest profile person so far to come out as transgender and it must have taken a lot of courage for him to go public like this.
Chaz on Oprah:

Chaz telling his fiance how to inject him with testosterone. (He's shirtless, which maybe isn't the best decision.)