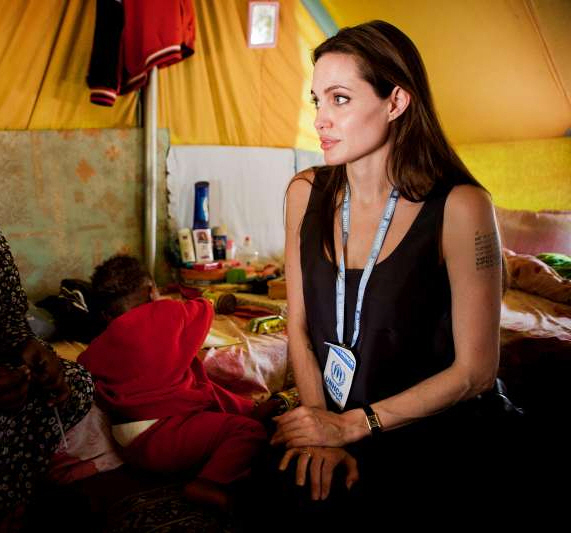 Angelina has just confirmed something that we knew last month, when rabid Brangeloonies did some kind of computer forensics analysis. Angelina showed up in Libya last month with a mysterious seventh line on her left upper arm, where she has the latitude-longitude coordinates of all of the birthplaces of her children. Brangeloonies quickly researched and analyzed, and they figured out that the new lat-long line was in Oklahoma. An adopted baby perhaps? Nope. The new line represents Brad Pitt's birthplace.
Angelina Jolie has Brad Pitt permanently on her arm. Jolie's latest tattoo sparked adoption speculation last month, when she revealed a new set of map coordinates on her arm, just underneath tattoos of coordinates of the birthplaces of her six children. But as PEOPLE.com suspected, the tattoo was in honor of Pitt, not a new child.

"Well if they know that it's latitude and longitude they would have figured out quickly that it was Brad's birthplace." Jolie told Extra on Wednesday. "It's Shawnee, Oklahoma."

Jolie – at the Cannes Film Festival promoting her new film Kung Fu Panda 2 – also says there's no possibility of adopting at this time. However, her movie does deal with the subject of adoption and she was happy to watch it with her kids and talk about it.

"We talk very openly in our house, so 'orphanage, birth parents,' are happy words in our house, and it's not a thing," Jolie says. "It seemed very normal and they loved it."
[From People]
I do think it's mostly sweet, but there's a little part of me that thinks it's odd to include Brad in the same grouping as her kids. Does she mother Brad too? Probably when she's spanking him, I guess.
Jolie's got a bunch of interviews out right now – she also tells Extra that there was "no possibility" of adopting again right now. Here's a clip from that interview – I like when Angelina throws a "Bitch, please" look at Jack when he calls her a "regular tigress".
Angelina also sat down with Entertainment Tonight, and she talked more about the issue of adoption in KFP 2: "My kids love the first one so it was easy to say yes and try it another time… The kids love kung fu. Two of my children are from Asia so they're very proud of the film in general. But my girls also really like having a tough girl. It's not about being a tough girl, Tigress just happens to be quite a strong woman so they like her dolls and they like her…it just makes me that much more confident and [makes me] want to do it." She also says she wants her kids to be writers rather than follow her steps into Hollywood: "I think I'm trying to encourage some writers if that makes any sense. Adventurers and writers is what I'm going for…but I'll probably end up with six actors." Here's the video: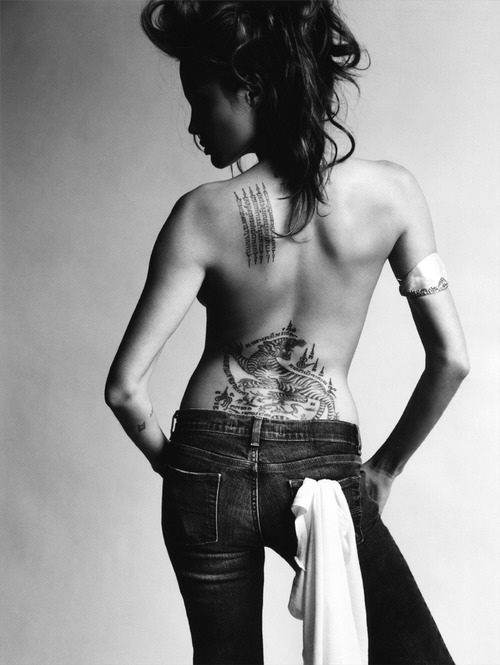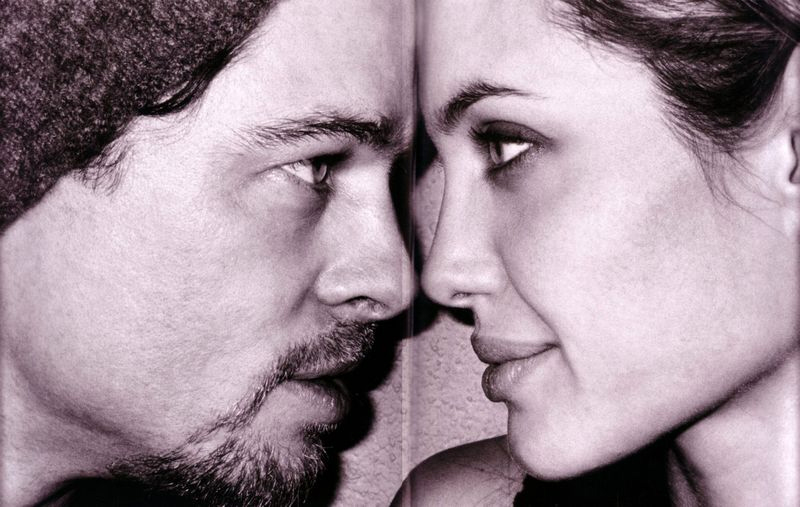 Photos courtesy of UNHCR, and Mario Testino's archives.