Angelina Jolie hasn't adopted, the 7th tattoo coordinates are Brad's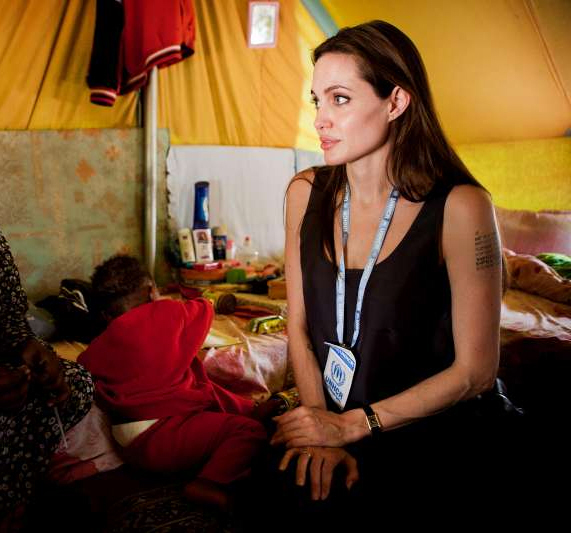 Yesterday, we talked about Angelina Jolie's trip to the Tunisian-Libyan border, where thousands of Libyan refugees have poured through the border, causing one of the latest refugee crises. As we looked through the photos of Jolie meeting with refugees, our focus was pulled away from the crisis and we ended up focusing on Jolie's arm tattoos. Over the past several years, Jolie has covered up her old "Billy Bob" tattoo (with the snake) and added latitude and longitude coordinates for each of her six children's birth places. Commenters noted Jolie's new seventh line of coordinates (seen in the photo above), and many of us wondered if Jolie had perhaps adopted again, or was preparing to adopt. I also think she's looking kind of pregnant – she looks somewhat "fuller" than she usually does.
Well, Angelina has heard our questions, and she has answered. Sort of. A "source close to Jolie" tells People Magazine that "all adoption speculation is false" and that people should "not read too much into her skin art." In Touch Weekly has another explanation for the seventh line:
When Angelina Jolie recently showed off a seventh line tattooed on her arm, just like the ones she has for each of her six children, many wondered if she had secretly adopted another baby. But In Touch can now reveal that the new ink actually bears the longitude and latitude of Brad Pitt's birthplace, Oklahoma.

For Angelina, the tattoo is more serious than a wedding ring. "She got the seventh line right around the time she and Brad moved the kids back to LA," says an insider — and the timing is very significant.

After dragging their kids around the world, Angelina, 35, has finally agreed to Brad's long-standing request to settle down. But in return, she demanded a permanent commitment — the tattoo, which "signifies family unity." In other words, Brad is part of Angelina's family now — tied to her forever. And she's acting differently as a result.

On a recent visit to New Orleans, where Brad, 47, was shooting Cogan's Trade, she texted and visited him on set so much that a distracted Brad asked her to go home. As great as commitment is, Angelina should know that everyone needs some breathing room — even family!
[From In Touch Weekly]
So, perhaps the tattoo is the coordinates of Brad's birth place. I guess that would make sense – you can see a close-up of the coordinates here, at PopSugar, if you want to try to figure out the mystery. What doesn't make sense is that In Touch is still pushing this ridiculous story that Brad just wants to settle down in one place and Angelina is so evil because she likes to travel. Why is the story "Angelina finally agrees to settle in LA" when Brad is currently filming a movie in New Orleans? Brad enjoys traveling for work and for pleasure just as much as Angelina.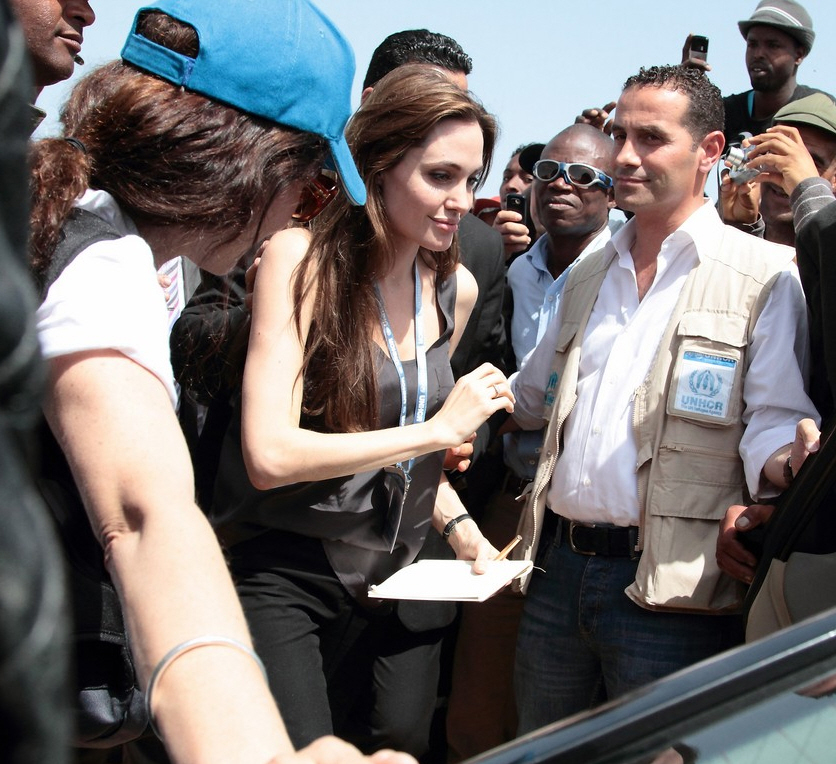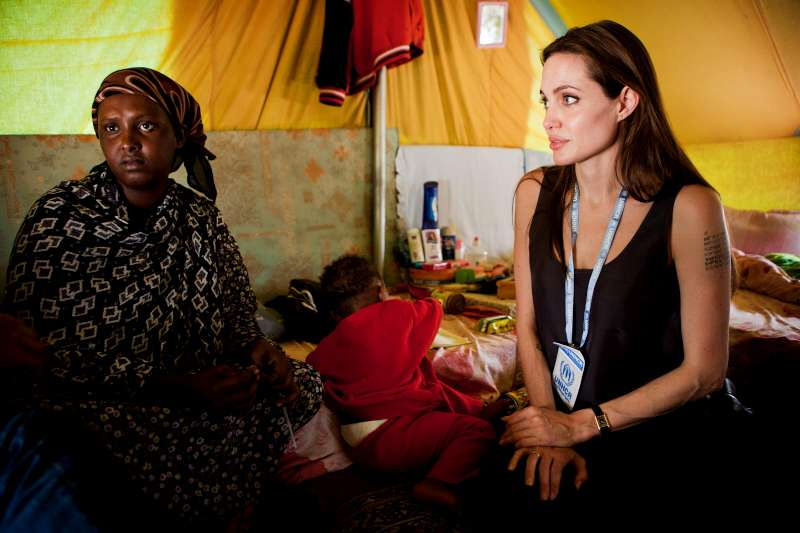 Photos courtesy of the UNHCR.
Written by Kaiser

Posted in Adoptions, Angelina Jolie, Brad Pitt, Pregnant

- Harry Styles & Kimberly Stewart going strong [Lainey]
- Demi Moore's new man is gross [D-Listed]
- Fug or fab: Emma Stone [Go Fug Yourself]
- Arrest warrant issued for Jenelle Evans [Reality Tea]
- Only God Forgives review [Pajiba]
- Hugh Jackman, scooter master [Buzzfeed]
- Who does Drew Barrymore call her sister? [Evil Beet]
- Cannes couples past and present [Popsugar]
- Arrested Development supercut [CDAN]
- Lea Michele's see through skirt [Celebslam]
- Cheating wife's lover escapes out of window [Movin925]
- Joe Francis is crazy [Starcasm]
70 Responses to "Angelina Jolie hasn't adopted, the 7th tattoo coordinates are Brad's"