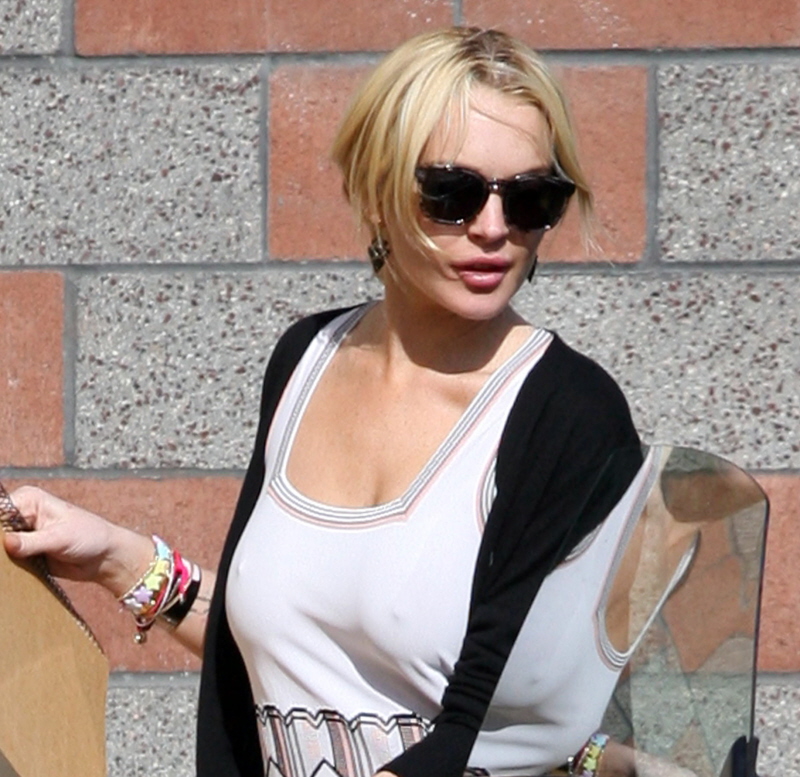 As we found out yesterday, Linnocent wins again. For some reason, this crackhead never faces any real consequences for her cracked-out actions. Yesterday, the judge sentenced her to house arrest for an as-yet-undetermined time, plus Klepto Classes, plus three years probation for the crack thievery. Linnocent didn't even bother showing up, as she had been partying at the Marmont the night before (doing shooters, blow), and then turning up for her community service at the Women's Center. These photos are of Linnocent's daily cracked-out, braless fashion show yesterday. By the way, the judge bitched about how Linnocent keeps getting pap'd while she's working too. She wouldn't be pap'd all the time if she didn't call the photographers to let them know where she is! Jeez. After her crack hearing, Linnocent released this statement:
"I am glad to be able to put this past me and move on with my life and my career. I support the judge's decision and hold myself accountable for being in this situation. I have already started my community service at the Downtown Women's Center and thank everyone there for their warm welcome. I hope to be able to fulfill my obligation without any press attention. I think the media spotlight should be on issues such as homelessness and domestic violence instead of on me."
Yeah, she believes the spotlight should be on the issues, that's why she saunters in braless and releases statements to the press. Cracked-out sociopath.
Anyway, during Linnocent's crack hearing, the L.A. County Probation Department released their detailed, extensive probation report on Linnocent. I imagine it weighs as much as an encyclopedia set ("Linnocent, February 2011, 496 pages"). The Probation Dept thinks that Lindsay is an addict, obviously, while the judge made a big deal about how Linnocent is just a cracked-out, entitled dumbass and THAT is why she makes bad life choices, not because she's an addict. Here's what Linnocent is taking, legal-drug-wise, right now: Trazadone (for depression), Nexium (for heartburn), Yaz (birth control), Zoloft (anti-depressant), Doxycycline (antibiotic), Zyrtec (allergies) and Zythromax (antibiotic).
Of course, Linnocent also self-medicates with alcohol and crack:
Lindsay Lohan drank alcohol the night she scuffled with a Betty Ford employee and failed a random alcohol test after she left rehab, according to a probation report.

The report, released Wednesday after her no-contest plea to misdemeanor theft of a $2,500 necklace, also states that Lohan "has been suspected of similar conduct in other jewelry stores," but no charges were ever filed.

The probation report says Lohan indeed drank alcohol after sneaking out from the Betty Ford Center in December, citing local police interviews with restaurant and nightclub employees. Charges that she battered a rehab employee that night were dropped for lack of evidence.

And Lohan, 24, tested positive for alcohol in February, one week after her assistant surrendered the allegedly stolen necklace to the LAPD.

"The probation officer believes that substance abuse is the root of the defendant's problems," the report says, although L.A. Superior Court Judge Stephanie Sautner disagreed with that assessment on Wednesday.

Instead, Lohan was ordered to psychological counseling instead of more rehab, in addition to a four-month jail term and community service. For now, Lohan will not be randomly tested for drug and alcohol use.

She is expected to be allowed to serve her jail term in home detention because she's a nonviolent offender and is eligible for early release for good behavior as well as budget constraints.
[From People]
Oh, and the report also says that Linnocent was drinking on a regular basis at the Betty Ford Clinic, according to multiple sources who witnessed her consuming alcohol.
And yet, still no consequences. Still no constant alcohol and drug monitoring. Maybe this is the state of California's way of saying "Yeah, we kind of hope she ends up killing someone, preferably herself, while drunk driving."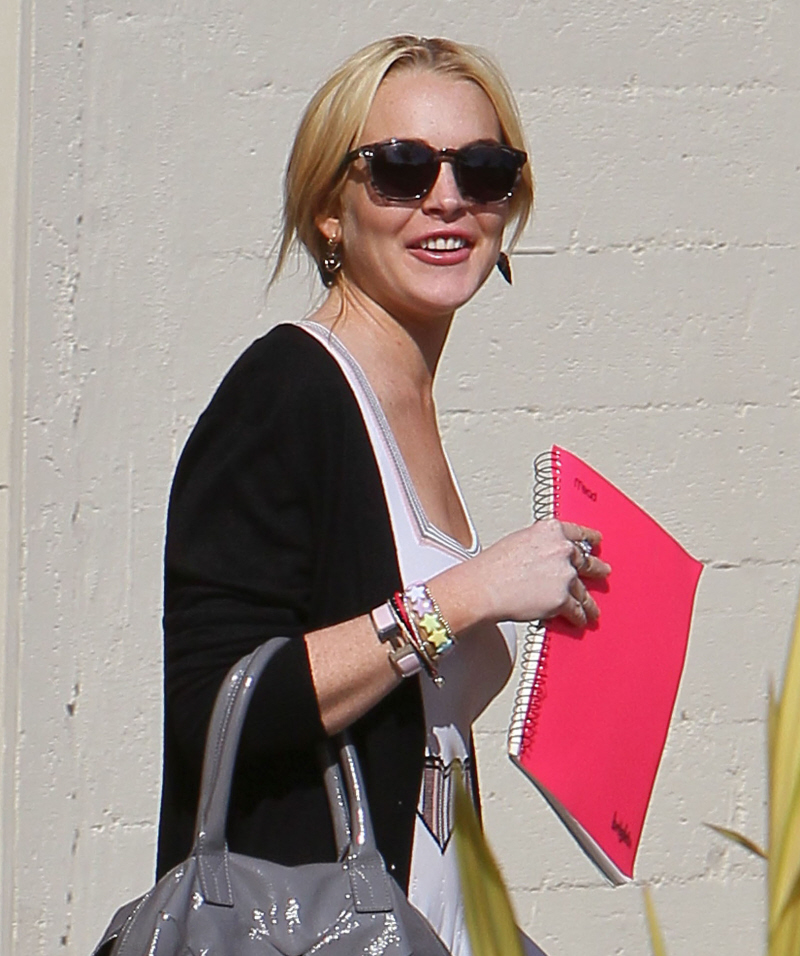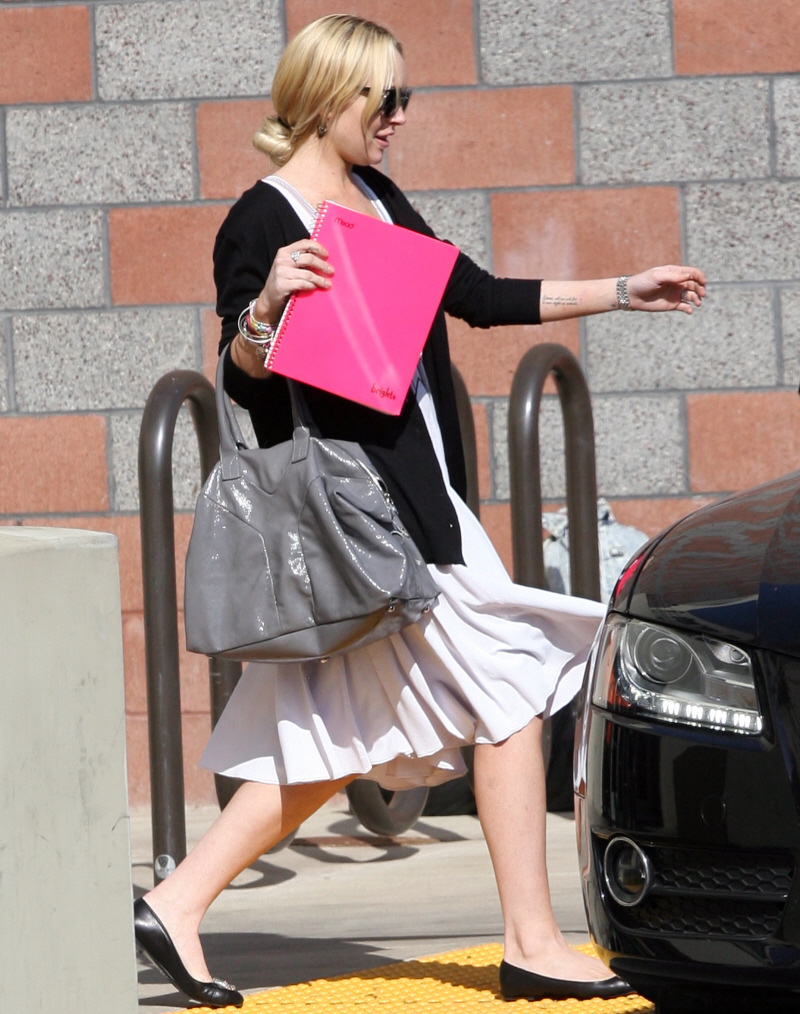 Photos courtesy of Fame & WENN.