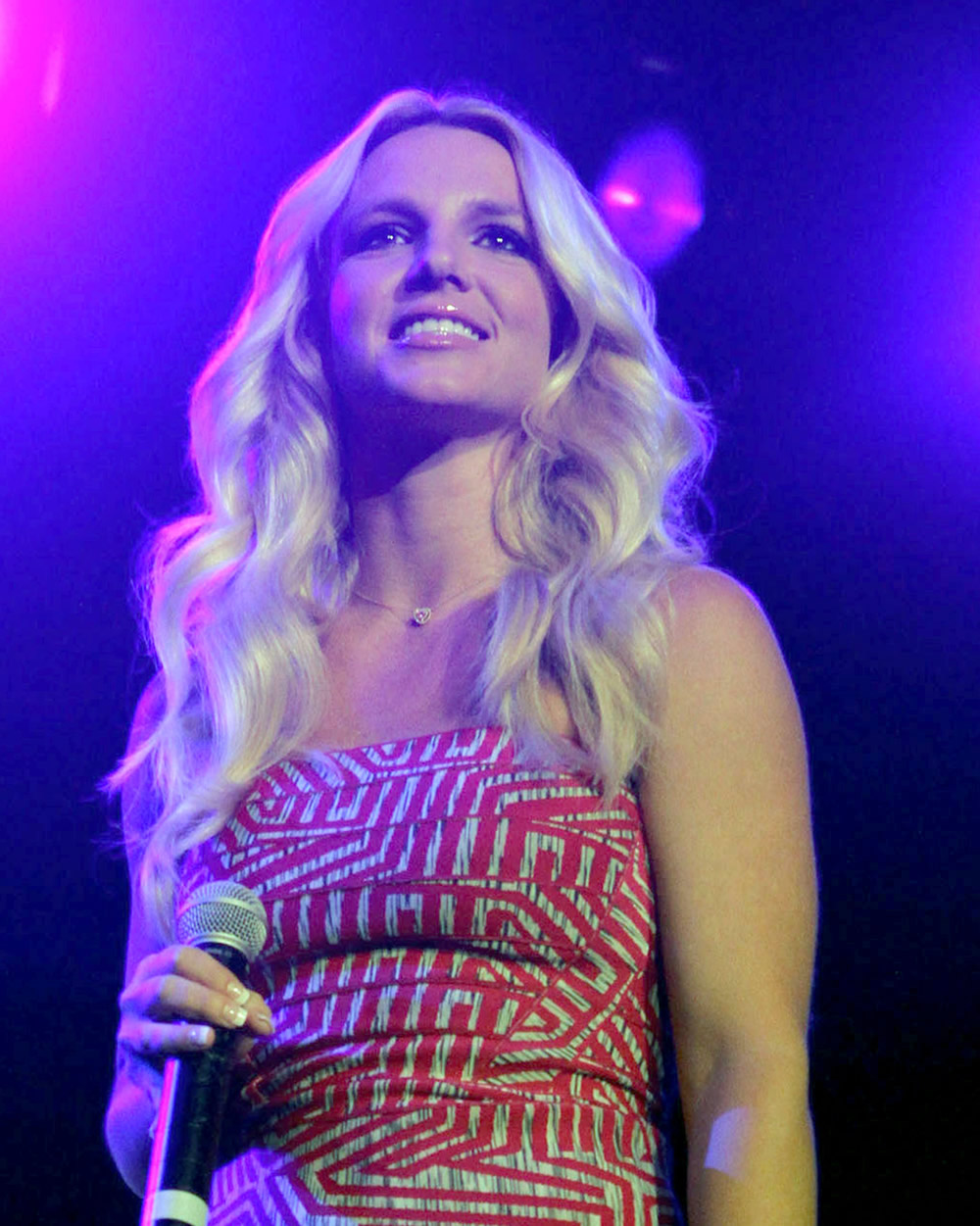 Once again, the battle of who will control Britney Spears has come to the forefront, and the reprehensible Sam Lufti is back and refuses to go away until he either gets one of two things: (1) Britney back under his control; or (2) A very tidy sum of cash. Either way, it's all about money for Lufti, and (inexplicably) his defamation case against Lynne Spears still lingers in the appeals court dockets. For his part, Lufti's claiming that he was the one who pulled Britney off her crazy tour, which is true in a sense because once she hooked up with Lufti, she stopped running around without wearing pants, but that was only due to the fact that Lufti took away her car keys and kept her at home. In doing so, Lufti's goal was not to help Britney in any way but only to control her for himself. Years later, Lufti is still throwing a tantrum about the years-long restraining order and supposed damage to his reputation due to statements made within Lynne Spears' memoir, Through the Storm. So Lufti is pushing the court to allow Britney to testify in his lawsuit:
Ever since Britney Spears shaved her head, got arrested for reckless driving and seemingly lost control of her career, the pop singer's mental state has been questioned by observers. Her career is now on the upswing once again, with a hit album and a coming tour, but the issue of her mental competence is still pertinent.

Spears' ex-manager, Sam Lutfi, is pursuing legal claims against the singer's mother, Lynne Spears, and wants Britney to give a deposition. Britney's parents, though, are resisting, saying that Britney is mentally incapable of testifying. In a motion filed on Monday at Los Angeles Superior Court, Lutfi asked a judge to order a psychiatric evaluation of the singer to prove that's not true.

Despite Spears' comeback, she's still under the conservatorship of her father, James Parnell Spears, and family lawyer, Andrew Wallet. Both are hesitant to let the singer get too close with Lutfi, who was fired in 2008.

As detailed in Lynne Spears' memoir, Through the Storm, Lutfi was allegedly a master manipulator who secretly drugged Britney, cut off her communications and mobility, and set himself up as the celebrity's "gatekeeper" before he was fired.

Lutfi says those things aren't true. He claims that Britney's life was already a mess before he got involved. He's suing for defamation, and last November, an appeals court refused to toss the lawsuit. So the battle rages on.

The ex-manager now wants Britney to give her side of the story, but her conservators don't want that.

In turn, Lutfi points to a recent MTV documentary about the singer, a coming world tour, and an interview conducted with Britney by Ryan Seacrest in March as circumstantial evidence that the singer has got her wits about her again.
[From Hollywood Reporter]
Well, we're all pretty aware that all of Britney's appearances and interviews are so highly orchestrated (to the point of enraging talk show host Carson Daly, who refused to allow the Spears camp to edit what would have already been a pre-taped interview), so it's hard to believe that any court would be unable to see that Britney can only parrot back pre-rehearsed responses. Again, it's rather terrifying that the appeals court has yet to dispense with Lufti's case because any declaration that Britney is mentally fit to testify in court could also be used as a foundation to attack the conservatorship that has kept her out of trouble and reunited her with her sons.
As sad as it is to think about it, Britney will always be under lock and key in a sense; at least when her father and lawyer are in charge, Britney gets to see her sons and can continue being a somewhat productive (albeit so heavily medicated that she can only perform the most lazily choreographed of moves) member of society. Of course, there's always the argument that Britney just wants her hot dergs and could really do without this next worldwide tour, but the alternative to that is … life with Sam Lufti. Because if and when Britney's conservatorship ever ends, she'll quickly fall in again with Lufti and soon be wearing that crazy pink wig. And we all know what that means.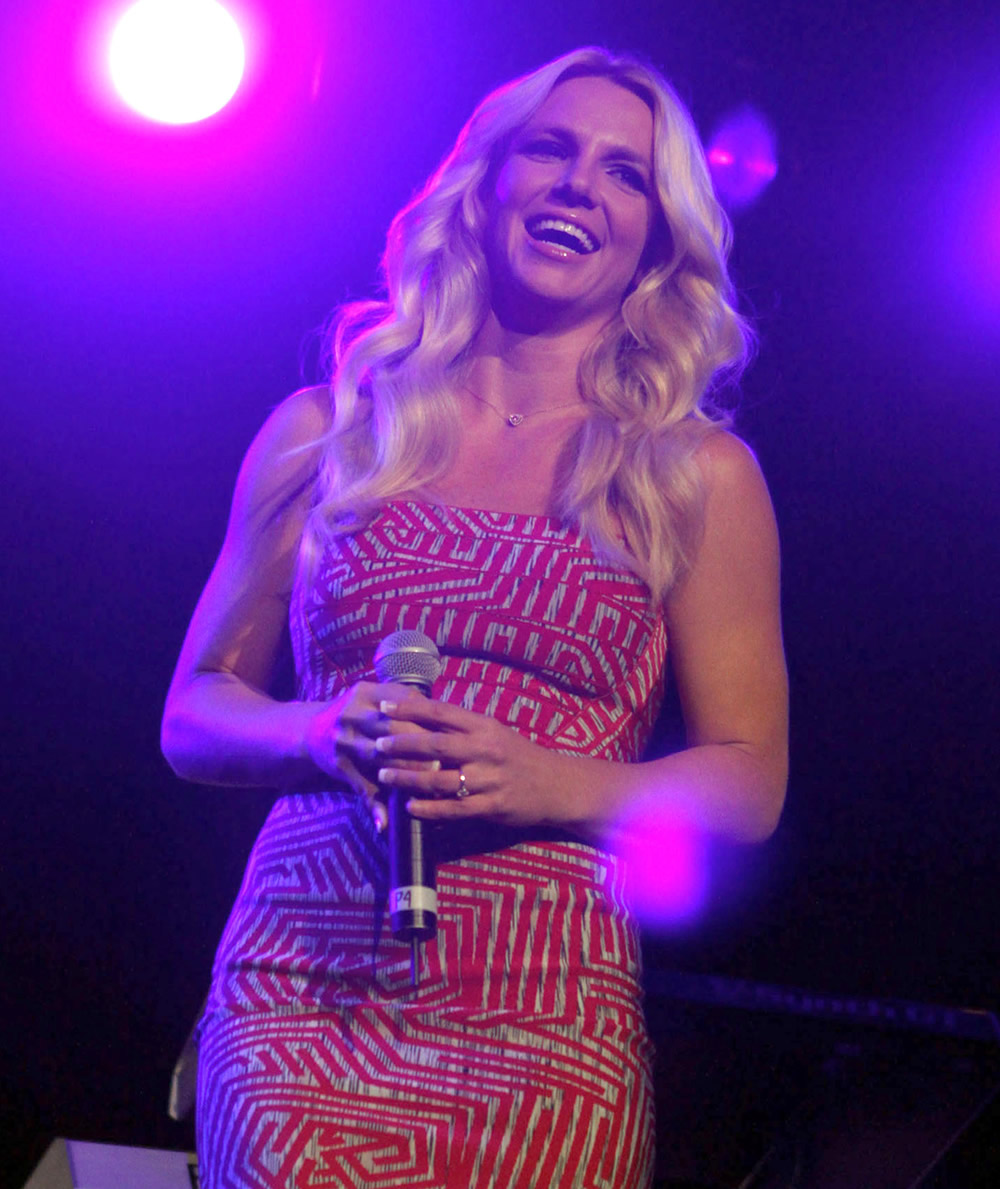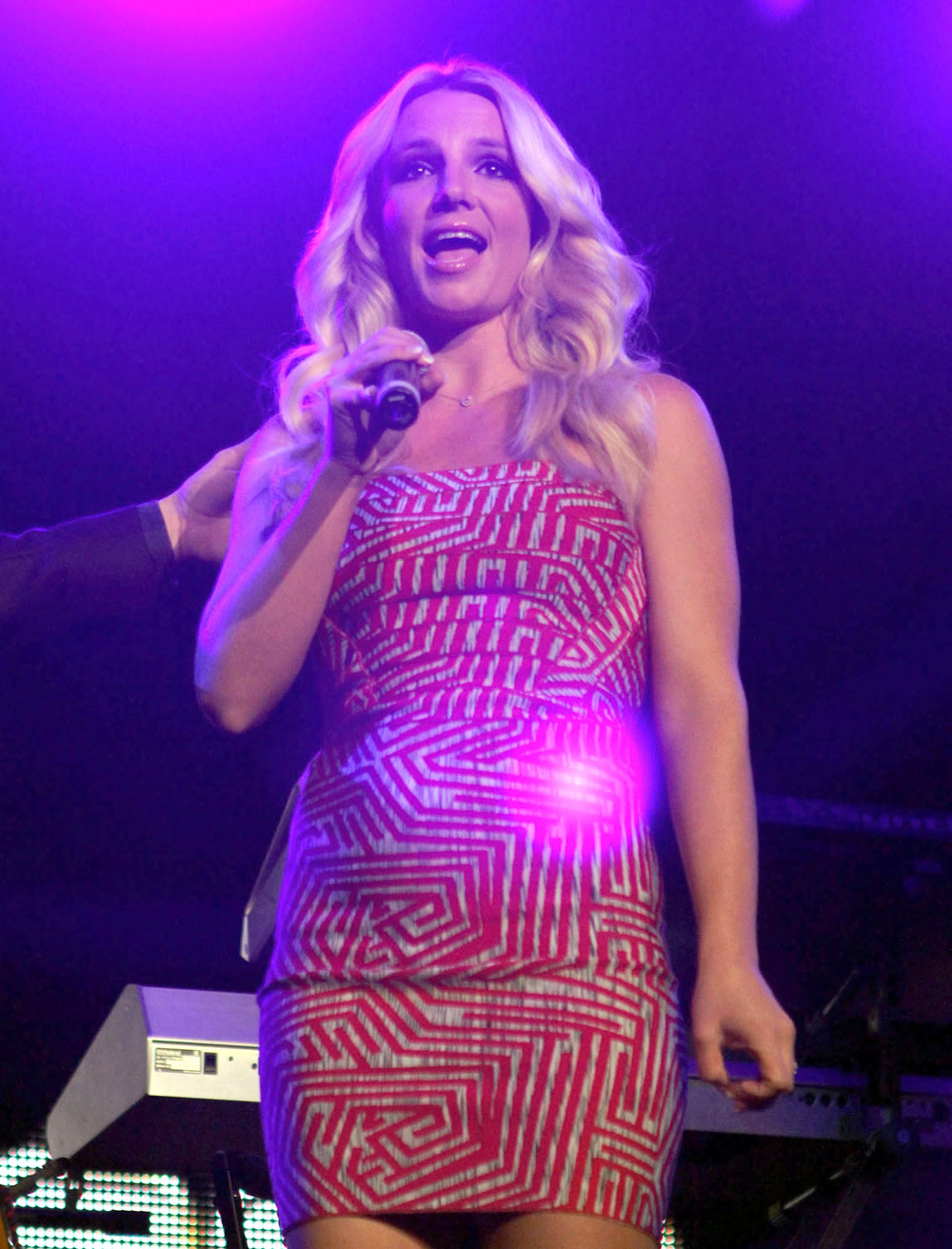 Photos Britney at this weekend's KIIS FM's 2011 Wango Tango concert courtesy of WENN