Jesse James was on Piers Morgan Tonight on Friday to promote his new sad sap memoir, American Outlaw. He was just as ridiculous, self-centered and insensitive as we've come to expect. I've read quite a bit of his memoir, and he never went into any detail whatsoever about all the easy women he wooed on MySpace to come give him some afternoon delight on the coffin couch in his office at the garage. He didn't even mention any of them by name or give a number of the many strippers he was banging. He did however, recount in detail how a high school girlfriend cheated on him, how his dad hit him when he was somewhat responsible for burning the house down as a teenager (by storing fireworks in the garage) and how he was this big football hero who lost his chances at a scholarship by hanging with a bad crowd and getting busted for theft. James is a sixteen year old boy in an old saggy body, although I would guess that at least 50% of boys that age have more of a sense of personal responsibility than he does.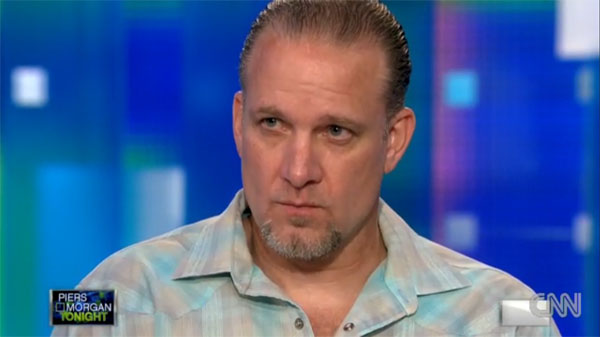 It was more of the same from James on Piers Morgan. While Piers bugs me by being such a kiss ass to celebrities he does get them to open up. James went on at length about how great Kat Von D is and how their relationship is so much better than what he had with Sandra. In fact he insinuated that Sandra was a ball breaker, that they were never really friends, and that he was glad that it all played out the way it did.
– "I wouldn't go back and change things"
JAMES: I wouldn't go back and change things, you know? I'm — in a way, I'm glad the stuff happens. I'm not happy that I hurt her, and hurt so many people around her, and my family and everybody else. You know, I would never want to put anybody through that again.

But I'm a firm believer that things happen in life to teach us a lesson, you know? And there's obviously someone that thought, you know, I was a strong (EXPLETIVE DELETED) to put this kind of adversity on me, you know? And push me to my — you know, damn near to my breaking point.

– "it sucks to have these kind of problems that like millions of couples have"
SANDRA BULLOCK, ACTRESS: To my husband: there's no– there's no surprise that my work got better when I met you, because I never knew what it felt like for someone to have my back. So thank you.

(END VIDEO CLIP)

MORGAN: Well, Jesse James, I mean, that's painful to watch for me. And I hardly know Sandra. I met her once in my life. And I think everyone watching you feels for her every time they see it, because clearly she doesn't know what's coming. You didn't know what was coming, but you knew what you were doing.

When you watch that, and it was her at the Golden Globes just before I saw you at the Oscars — what do you think watching that back now?

JAMES: Oh, it just makes me sad, you know? It's sad that, you know, I — not for myself, but for her, you know? To put her through what I put her through, you know? So —

MORGAN: Yes, but I mean, do you hate yourself for doing that?

JAMES: I think I've forgiven myself for what I've done. You know?

MORGAN: Has she forgiven you?

JAMES: I think so. I think, you know, she's in a place of forgiveness, you know. And, you know, it just — I mean, it sucks to have these kind of problems that like millions of couples have, and everyone has. But on such a like global level, you know? Because you know, everything played out. You know, it was like wild fire and it played out in the media in such a horrible way, you know?

Like — which, you know, seems kind of unfair to me at a point. But, you know, I stood up like a man and took it on the chin.

– On if Sandra forgives him
MORGAN: How do you know she's forgiven you?

JAMES: Well, she told me before that she forgives me. So —

– On how he's closer to Kat and she's so much better than Sandra
MORGAN: Do you think [Sandra] understands you better than perhaps other people do?

JAMES: I think so. I think — well, I don't know about other people. I mean, there's probably people that I'm closer to now than I ever was to her, you know?

MORGAN: Your current partner?

JAMES: I think so.

MORGAN: That's interesting. Why do you think that is?… Have you changed?

JAMES: I think so. I think I was willing to do the hard work, and take a look at the stuff I never wanted to look at, or the stuff I wanted to ignore. Like stuff that I talk about in the book. And you know, with Kat. That I have a partner that's like, you know, we're connected on a higher level….

And meeting someone like Kat will — not meeting her. I mean, we were friends for a long time, and like friends. And mutual respect, and it just — I think maybe that was the problem. I don't think Sandy and I were ever really friends. You know, we were — went right into relationship, and then marriage. And then, you know, right into that, and never really friends. And you know, Kat and I seem to be connected on like such a higher level.

I mean, we have like such a deeper understanding of each other. And, you know, a outlook on the world, and — and stuff like that. And — and man, she's a bad ass too. Like she'll — you think I'm bad, and I'll browbeat you. You should interview her. She'll scare the hell out of you….

MORGAN: Do you believe you may have found true love?

JAMES: I think so. I've never felt the way I do, you know, for anyone the way I feel for [Kat]. I've never had that feeling. And I've never had someone like have my back 100 percent, you know? And stick by me when everyone turned their back. And she says, "[EXPLETIVE DELETED] it, I'm — you know, I'm your friend, and — and I — I stand by you. I don't care what anybody says." You know?

And I think that's the definition of like what, you know, people that care about each other should be…

I think it's something that's like a conscious day to day, you know, thought process. And — and, you know, I think I'm vocal with, you know, Kat, that if I don't get something that I'm needing or, some kind of affection or whatever, and vice versa — both of us are committed to work on our relationship together. And make sure we're 100 percent what each of us want for each other.

And I — I've never had a partner that did that. You know, its always been, you know, either my way or the highway, or you know, something like that. And man, she's like — you know, she's committed to like being everything that I want her to be, and same here. You know, I — I love her like crazy. And it's like — you know, people I think on their T.V. show, they only get to see a small, little portion of how great she is. But she's — she's amazing. She's…

– On how publicly humiliating Sandra wasn't a big deal
MORGAN: The — the finality of the picture that you're painting suggests that Sandra — I mean, you — you may hope that she's forgiven you. But certainly nothing in this suggests that she wants much to do with you.

It's hard to imagine. When you watch the Golden Globes clip, when you look back at the Oscars, it was the greatest time of her career. And it was all kind of taken away, and she was exposed to pretty relentless humiliation. I mean, there's not many things worse for a woman. And to do it all in the public glare — if you put yourself in her shoes…

JAMES: Well, I — I don't think it's any different than a normal housewife that gets cheated on that, you know, gets in the public glare of her three block radius. Because that's what her life means. You know, I think it's all in perspective.

You know, and — and — you know? I know I did bad stuff. So, you know, I'm fully accountable for that.
[From Transcripts.CNN.com]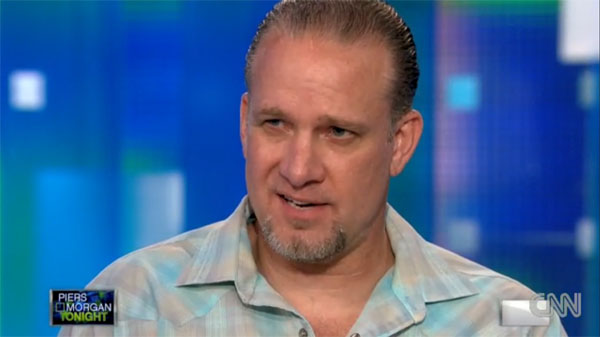 He's "fully accountable" for hurting Sandra, and he says on one hand that he doesn't want to hurt her anymore, but he's still trying to do exactly that by talking about how amazing Kat is and how his new relationship is so much different. I just can't wait to see this one implode.
It's worth noting that James admits that he hasn't spoken to Sandra in months, that she's never let him see her adopted son Louis, and that she cut him off after she figured out what kind of loser she was married to. The more I hear this a**hole speak, the more respect I have for Sandra for handling her business so well. It hurts to get cheated on and it is humiliating, but there's a huge difference between having to deal with some neighbors gossiping about it and having to read details from several different mistresses in the tabloids. The fact that James continues to minimize his actions and play the victim in this story just goes to show how he could have so spectacularly cheated in the first place.