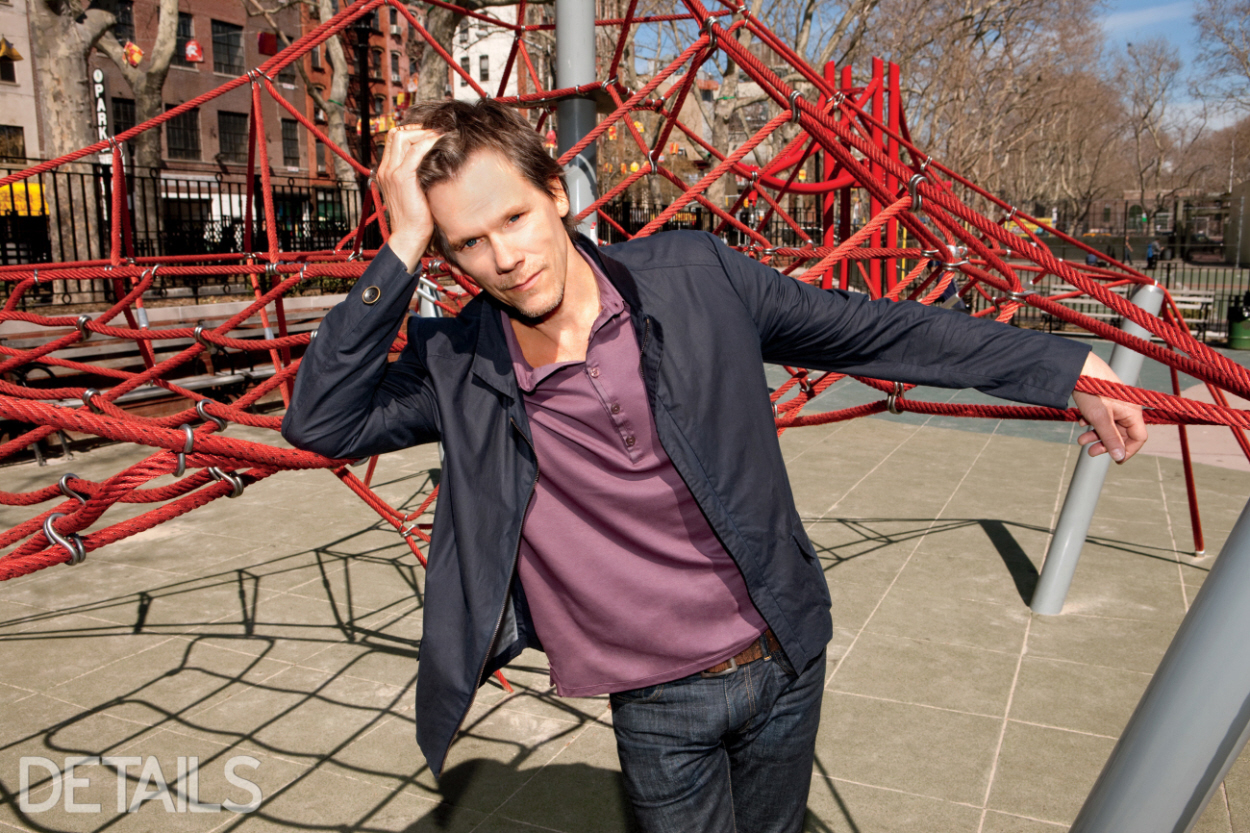 Aw, I love some Kevin Bacon. I've been so focused on Michael Fassbender and James McAvoy during the promotion of X-Men: First Class, and I've been ignoring The Bacon. He was interviewed in the new issue of Details, and… I just like the guy. He seems like he would be fun to hang with. He seems grounded – he and Kyra both. In this Details piece (full interview here), he talks mostly about his first comic book-adaptation gig, but he also gives some quotes about his 20-year marriage (amazing!) and Bernie Madoff.
DETAILS: You've played a lot of bad guys, most recently in the comic-book satire Super and the latest X-Men movie. What's so great about going to the dark side?
Kevin Bacon: I never go, "Oh, I want to do it because he's the bad guy." I can't stand badly written bad guys or guys who are just miserable pricks. The character in Super is just such a sociopath, I found it amusing. And Jean-Claude Van Damme had been offered the part. To pick up Jean-Claude Van Damme's rejects was a once-in-a-lifetime opportunity.

DETAILS: How did X-Men come to you?
Kevin Bacon: Totally out of the f-cking blue. I didn't even know they were making the movie. I was in L.A. and they called me up: "Drive over to the Fox lot. You're going to have to sit in the office and read. And you can't take it with you. If you want it, it's yours." It was the office of one of the executives on the movie, and his secretary was there. She handed me the script. After I read it, she said, "Whatdja think?" [Laughs]

DETAILS: Was a comic-book franchise something you'd always wanted to do?
Kevin Bacon: I don't either seek out a genre, nor do I limit myself to a genre. If someone came to me today and said, "It's a horror movie, but it's a really f-ckin' good horror movie and it's a great part," I'd be there. I've done horror movies. The only thing that I'd done that came close to being a comic book was Hollow Man, in that it was an effects-driven movie.

DETAILS: You've lived in New York City your entire career. Has that helped or hurt you?
Kevin Bacon: I couldn't have done it any other way. I got here at 17—suitcase and a dream—and thought, "Okay, now I feel at peace." When you live in a place that's so industry-driven like L.A., your own self-worth sometimes will be determined by the factors that are always in your face—the posters, the waiter with the script to give you. It's been nice to have a buffer. I was a real pussy about L.A. for a long time. I was like, "I'm afraid. I don't know how to get anywhere. I don't like to drive." And I can still fall into that. The downside is when someone says, "You've got 10 minutes to get over to the studio because they want to meet you." Not living in L.A. is a dumbass move from a career standpoint.

DETAILS: You've made a lot of unpredictable career moves, like poking fun of yourself as the world's biggest Kevin Bacon fan in the current Logitech campaign. Is there a plan?
Kevin Bacon: People come up with these rules. "You can only do commercials that run in Japan and Europe." F-ck you! Who made that law? After Footloose I was on a sort of downslide, and my people were recommending that I only do movies when my name was above the title. But I had an agent who said, "Let's do JFK," and that's what we did. Four days of work. Was not even close to being my movie.

DETAILS: Is there one of your movies that you like best?
Keving Bacon: I don't know if this is a cheeseball thing to say, but I don't watch my movies. So they become personal bookmarks for other things. When I think of Tremors, in a very short amount of time I've gotten engaged, gotten married, my mother's gotten cancer, my career is in the sh-tter, my wife is nine months pregnant with our first child, and I am terrified. That's Tremors.

DETAILS: You once said that it's easy to get laid when you're famous. Is it harder to stay married to the same woman—Kyra Sedgwick—for more than two decades?
Kevin Bacon: It's hard to explain, other than to say I like being married to her. I like spending time with her. We have found the right person to be with. I do think that, as a guy, if you never get a chance to experience more than one partner, that's going to be a really tough road. Luckily, I did.

DETAILS: The two of you lost a lot of money in the Madoff scandal. What was that experience like?
Kevin Bacon: I'm not going to say it didn't have its emotional downsides. But we're both young, and we both had the ability to work and roll up our sleeves and start putting the pieces back together. The truth is that we went through it together.

DETAILS: Did it have any impact on your professional decisions?
Kevin Bacon: Yeah, I think so. While I try to have integrity about the work that I do and the choices I make, I've also said from a very young age that I need to work. I don't think I suffer from the disease of specialness.
[From Details]
I can't even describe how much I love that quote – "I don't think I suffer from the disease of specialness." That should be the anthem, the motto of every working actor. I love him so much. And you know what? Tremors is totally an enjoyable movie! It's so cheesy and wonderful and delightfully low-budget.
Sigh… MORE BACON.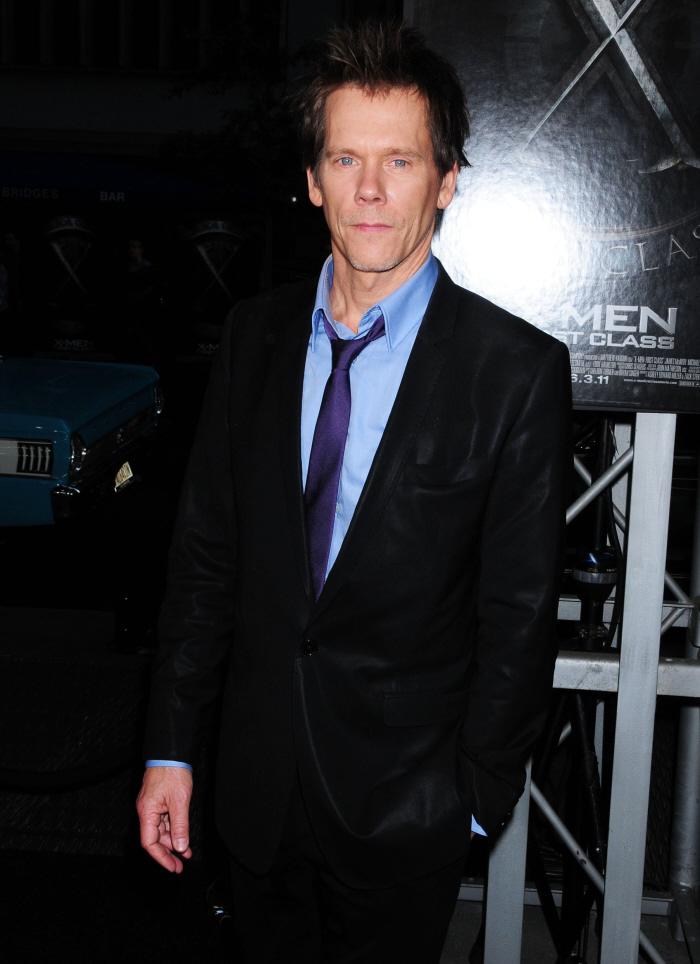 Photos courtesy of WENN and Details Magazine.