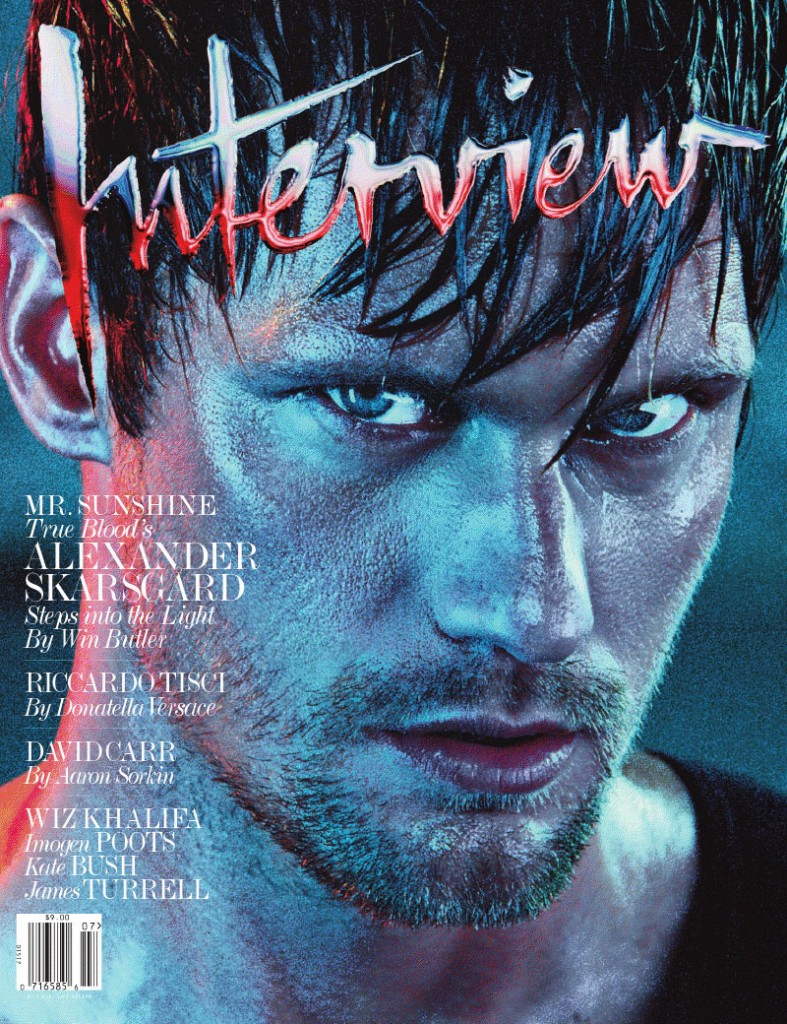 True Blood's Alexander Skarsgard is the cover boy for the June/July issue of Interview Magazine, and as we've heard so many times from Alex in the past he's just incredibly gracious when it comes to dealing with his fans and with fame in general. Alex was being interviewed by Arcade Fire's Win Butler, and you can read more of the story on Interview's site. It comes across as a nice conversation between two dudes getting to know each other. Here's just a small segment:
BUTLER: [laughs] How burned out are you being a vampire? Or do you still love it?

SKARSGÅRD: No, I still love it. I think the writing on the show is so good that it keeps me interested. I was nervous when I first started True Blood because if you do a play or a movie, you know the complete arc of the character. You can see the end. But with a show like True Blood, you don't know what's going to happen. We're shooting season four, and I don't even know how it's going to end because they write it as we're shooting it. So I was nervous. I didn't know how it would be to live with a character for years, because I've never experienced that before. What happens if you wake up after two years, and you're like, "Oh, God. I'm over this guy"? But the writing is so good, and they keep surprising me. Plus, we only shoot for six or seven months out of the year, so there is time to try other things as well. That gives me a chance to not only go home and see my family, but also work on movies or do a play where I can dive into a different world and then come back to True Blood kind of rejuvenated.

BUTLER: There's always a thing with actors where people think they know you because they've seen you play a character for so long. It's different from what happens with musicians. I know that when I was a teenager and I was in New York, you'd recognize someone from a film and be like, I think I know this person because you know their face. How do you deal with that? The small amount of it that I've had to deal with drives me crazy.

SKARSGÅRD: Well, I think that meeting fans who feel like they know you and they know everything about you is actually very flattering. It means a lot to know that what you're doing actually means something to someone. But the thing that I feel to be a problem potentially is that you become that character, that in the industry, people associate it too closely with who you are and what you can do. I do get a lot of scripts sent to me where they basically want me to play Eric from True Blood, but just a different name in a different movie. That's not interesting to me. I don't want to play a character that I've played for four years on a television show, change the name, and make him a zombie instead of a vampire.

BUTLER: You either need lots of hits or no hits. The middle ground is not good.

SKARSGÅRD: No, it's not good at all. But that's a problem in Hollywood because producers want to pigeonhole you. They say, "All right, this is what works, this actor in this type of role." And when someone says, "Let's put him in a comedy instead," they're like, "No, no. He's the mysterious bad guy. You can't do that." But I assume that 99.7 percent of actors want to play different characters in different types of projects. That's kind of the reason you become an actor. It's not much fun to play the same character in 25 different movies or plays. There's got to be something new, something fresh. I want to almost be intimidated when I embark on a journey. I wouldn't say there's a fear, but I do get slightly nervous in the beginning when that happens, and I like that feeling. That triggers me a lot.

BUTLER: I think failure is underrated.

SKARSGÅRD: Failure is awesome. There's a Beckett quote, where he said, "Ever tried. Ever failed. No matter. Try again. Fail better." I love that quote. I think that's what it's all about. Failure is definitely underrated. Just fail again. Fail better.
[From Interview]
I love how he was asked a question about fans bothering him and he turned it around, said they flattered him, and never uttered one complaint about fans or even the paparazzi. Then he turned it into a discussion about getting pigeonholed as an actor. This is one gracious, classy guy. (With piss poor taste in women, but we'll skip over that.)
Plus he's so incredible looking. Skars is all wet and shiny in these photos, looking like he's about to hurt you in some glorious sadomasochistic ritual. (There are more here, on Interview, and he's wearing long rubber gloves and brandishing a bat.) You could pose the guy any old way and he'd look gloriously hot. He's game for anything and he doesn't mind that we think he's like Eric, as long as we're paying attention to his performances. So many of us are.
True Blood Season 4 premieres on June 26th. They better put every episode on iTunes by the next day or I will throw a fit.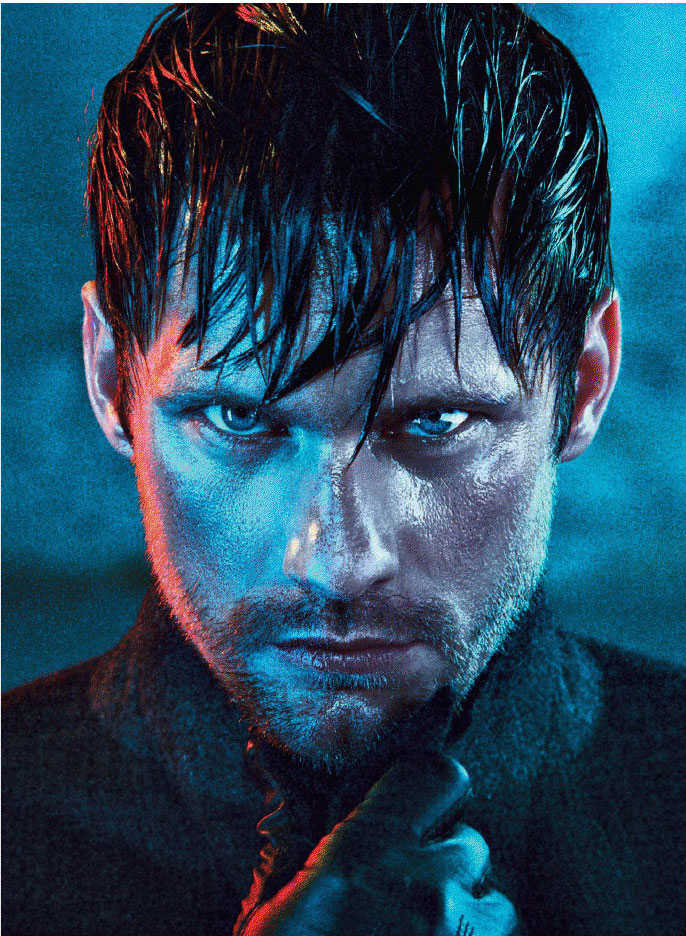 Magazine photos courtesy of Interview. Other photos are from 5/24/11. We actually haven't run these before, Alex just likes to wear black and grey clingy shirts. Credit: Fame Pictures