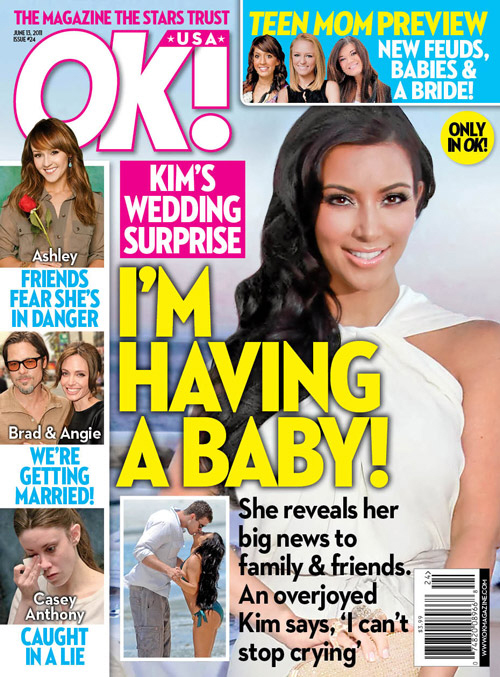 What? Ah, so Kim Kardashian finally got Kris Humphries to propose by getting pregnant? Why didn't she think of that for Reggie Bush? Anyway, even though OK! Magazine has a huge, splashy "BAAAABBBYYY!!!!" headline, that doesn't necessarily mean that Kim has called up OK! Magazine to tell them that she's pregnant. After all, she managed to give People Magazine the "exclusive" about her engagement. Why go so down-market for a baby announcement? Of course, OK! Mag tries to make it as confusing as possible, first with this tagline: "She has the guy. She has the rock. Now Kim's planning for the wedding — and ready to start a family." Ah, so she's "ready" to have a baby, right? More confusion:
It was the moment Kim Kardashian had dreamed of: Her love of six months, basketball star Kris Humphries, proposed marriage with a 20.5-carat diamond, and Kim couldn't wait to share the big news at a family dinner. "I walked in and… stroked my hair, flashing the ring," Kim revealed. Then, Keeping Up With the Kardashians-style, hilarity ensued. Kim's little sister Kylie Jenner screamed, and other sis Khloe didn't believe it was real!

"After three minutes of arguing, everyone finally started jumping," Kim said.

Now the happy couple's family and friends have an another even more joyful surprise to celebrate: Kim and Kris are going to have a baby!

"Kim always thought she'd have at least one or two kids by now, so she's absolutely in a hurry," an insider tells OK!. "And Kris loves kids and doesn't see any reason to wait," adds the pal. "Her friends are even taking bets on whether it will be a boy or a girl."
[From OK! Magazine]
She's "in a hurry" TO GET PREGNANT. I think. Not that she's actually knocked up right now, although now I'm kind of expecting it.
Meanwhile, Life & Style also put the Kardashians on the cover of this week's issue too. Apparently, the wedding is going to be rushed and yet befitting a member of American royalty (ha):
According to Life & Style, the newly engaged starlet plans to take a walk down the aisle, to her Prince Charming, NBA star, Kris Humphries in just two short months. The pair have been together for six months and are very anxious to tie the knot.

"The wedding is going to be at the end of July or the beginning of August," an insider tells Life & Style. "The reason they're rushing it is because they want to do it before the basketball season starts again, so that they have time to have a romantic honeymoon!"

The speedy nuptials mean the next few weeks will be mighty busy for the reality show star and her family, but luckily she has a very specific idea of what she'd like her special day to be like.

"I've envisioned the whole thing," she tells the mag. "I can't wait to get married. I've thought about it all for so long. What woman hasn't thought about her wedding since she was a little girl?"

An insider explains to Life & Style that the royal wedding of Prince William and Kate Middleton is even serving as some inspiration saying, "she wants it to be very traditional, huge and formal."

A fast engagement seems to be a trend at the Kardashian household — younger sister Khloe Kardashian married her NBA star husband, Lamar Odom, after knowing one another for only a month.
[From PopEater]
You know that this wedding isn't going to be anything like the royal wedding. This is going to be an incredibly tacky affair with lots of gold and pink and an endless stream of orange cat-faces.
Oh, remember how Kris Humphries got Kim's engagement ring engraved with Bible verses? Because they're so religious and humble, right? Well, Kris finally explained what he had engraved: "There's one verse (Proverbs 31:10-31) about the perfect godly woman. The other (John 3:18) is about love. It took me a few days to pick them out and research the perfect ones." And then in the middle of the two verses, he had "K [hearts] K" engraved. Tacky.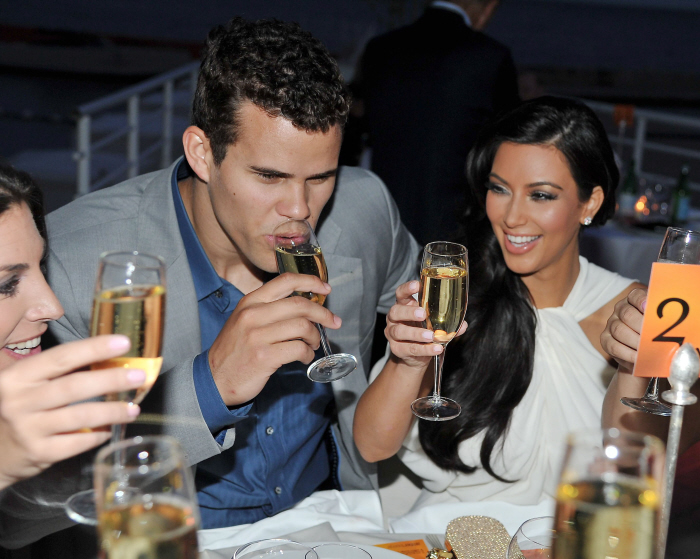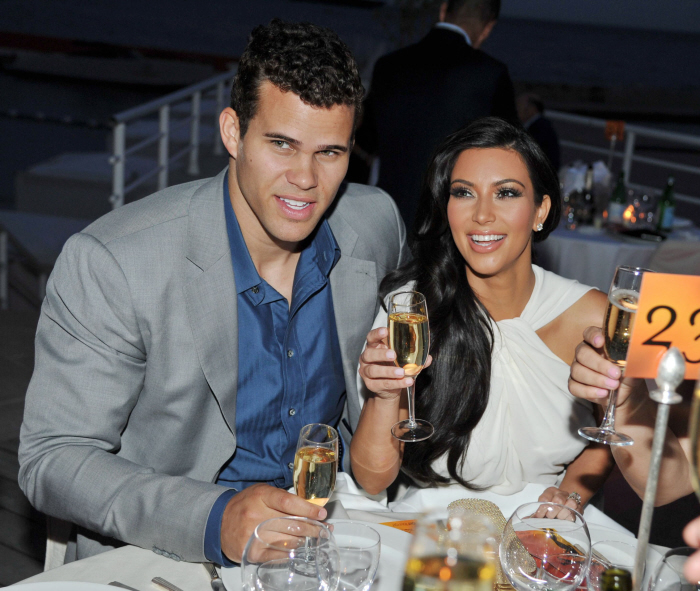 Photos courtesy of WENN, OK!.