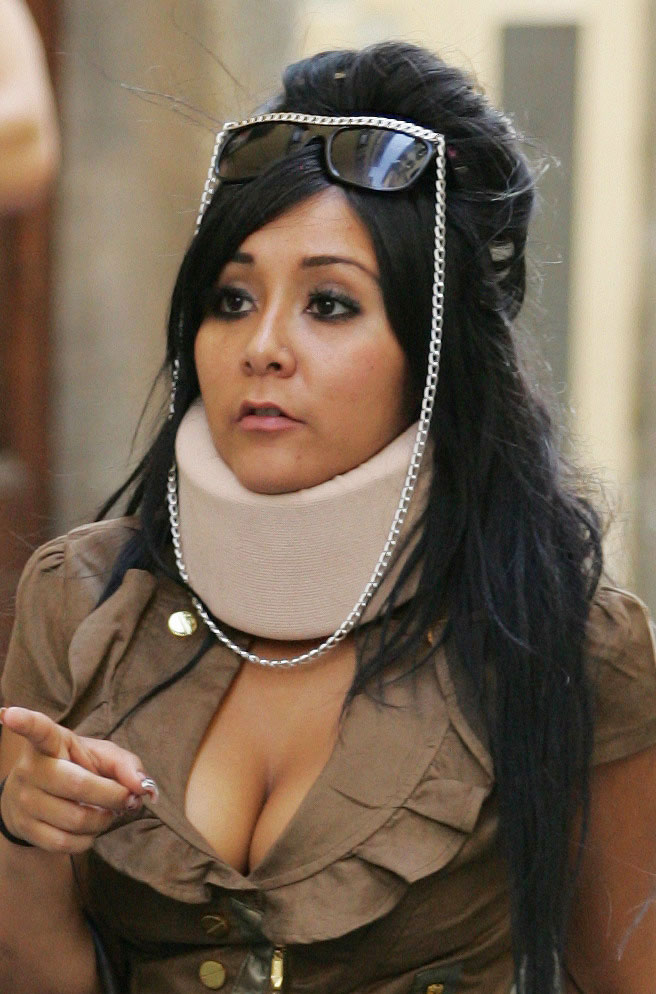 We heard yesterday that two police officers in Florence, Italy had to be treated at a hospital after a car driven by Jersey Shore star Snooki slammed into their escort vehicle. MTV made some feeble attempts through TMZ to assert that "no one was injured," but that doesn't seem to have been the case. Now we've learned that Snooki's license was revoked by the Italian government and that the officers, each of whom will miss a week of work as a result, could potentially take her to civil court for their injuries. They were taken on stretchers to the hospital after the accident, but that seems to have been a precaution as reports have their injuries as minor including bruises, scrapes and more seriously, whiplash.
Snooki was seen out yesterday wearing yet another pair of hideous furry Uggs (the last ones we saw her in were white) and sporting a soft neck brace. She removed it later in the day. Here's the story from US Weekly:
Snooki's driver's license was revoked following her Monday afternoon car crash in Florence, and she might be heading to court, Us Weekly confirms.

The pint-sized Jersey Shore star (real name: Nicole Polizzi) was behind the wheel of a Fiat Multipla with co star Deena in the passenger seat when the fender bender happened. Tests revealed that Snooki, 23, did not have alcohol in her system at the time of the crash.

The incident, which sent two Italian police officers to the hospital for minor injuries, wasn't without consequences. While Snooki is unlikely to face a criminal prosecution, she could be taken to court in a civil action suit by the two police officers injured in the crash. (The officers, ironically, were hired to escort the reality star through the ancient Italian city.)

"It was nothing serious and they have been released, but they will not be back at work for a week," a Florence police spokesman said. Under Italian law, the male and female officer — who suffered whiplash injuries and cuts and bruises — have up to 90 days to decide whether to take civil action against Snooki.

As per Italian law, Snooki — having injured fellow motorists — automatically lost her license to drive in the country.

Since the Jersey Shore cast arrived in Italy three weeks ago, they've accumulated more than 300 Euro worth of fines for various traffic violations
[From US Weekly]
Years ago my aunt was hit by a cabbie while she was driving, got whiplash, and had to have multiple surgeries on her jaw. Those kind of injuries can be debilitating and last for years.
This won't do much to derail this show, but maybe Italian officials will put the crack down on filming there. We've already heard that they don't want the show filming around historical locations. Now that Snooki smashed her car into some cops we can see that the Italian officials had good instincts. Really though, it's not hard to call it like you see it with this lot.
In response to this "accident," the President of a national Italian American group, UNICO, that has criticized Jersey Shore in the past, blasted Snooki. Radar has some choice quotes from UNICO head Andre Dimino. They're pretty funny, but seem to give Snooki too much credit:
"She really is the lowest of the low and will do anything for attention, even hitting a police car.
"She is our worst ever export and is an embarrassment for Italian Americans and our whole country."
"For MTV to go and film in Italy was totally ill conceived, and this latest incident has just added insult to injury as far as I'm concerned."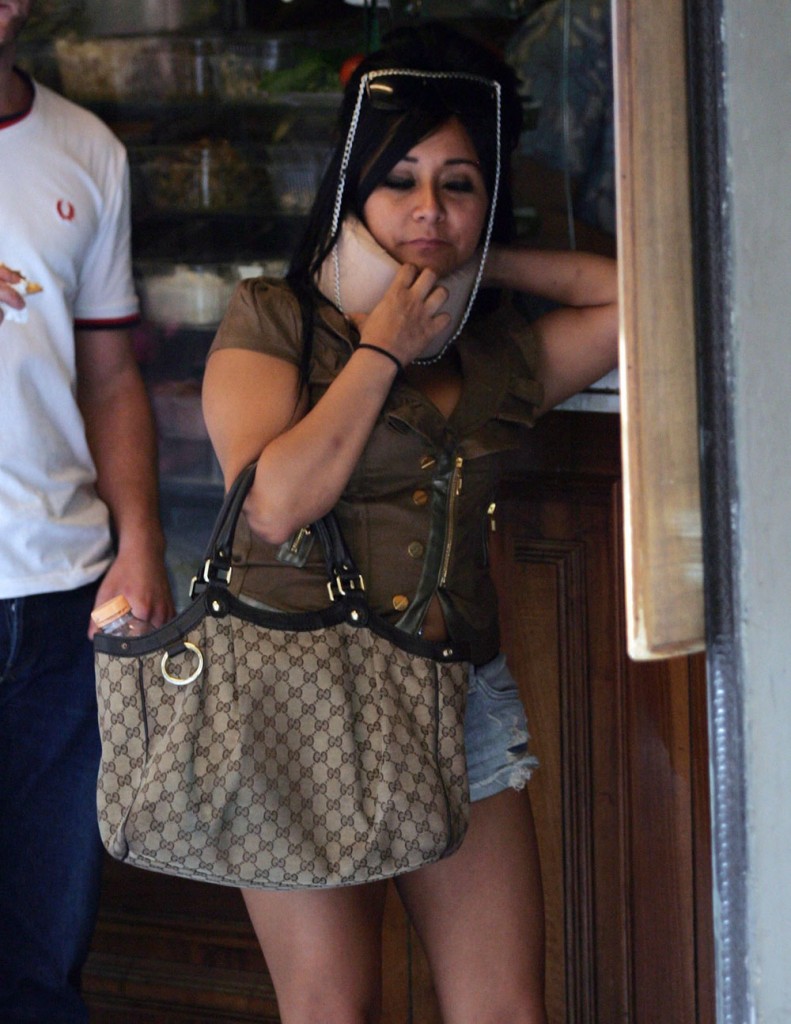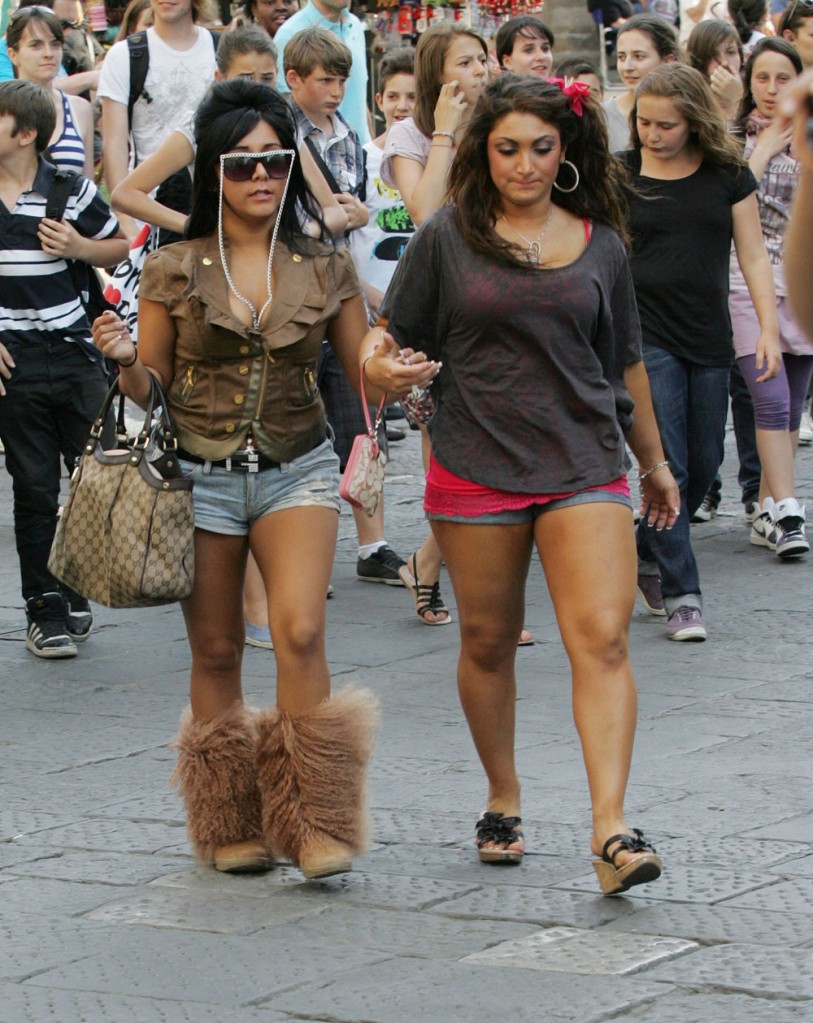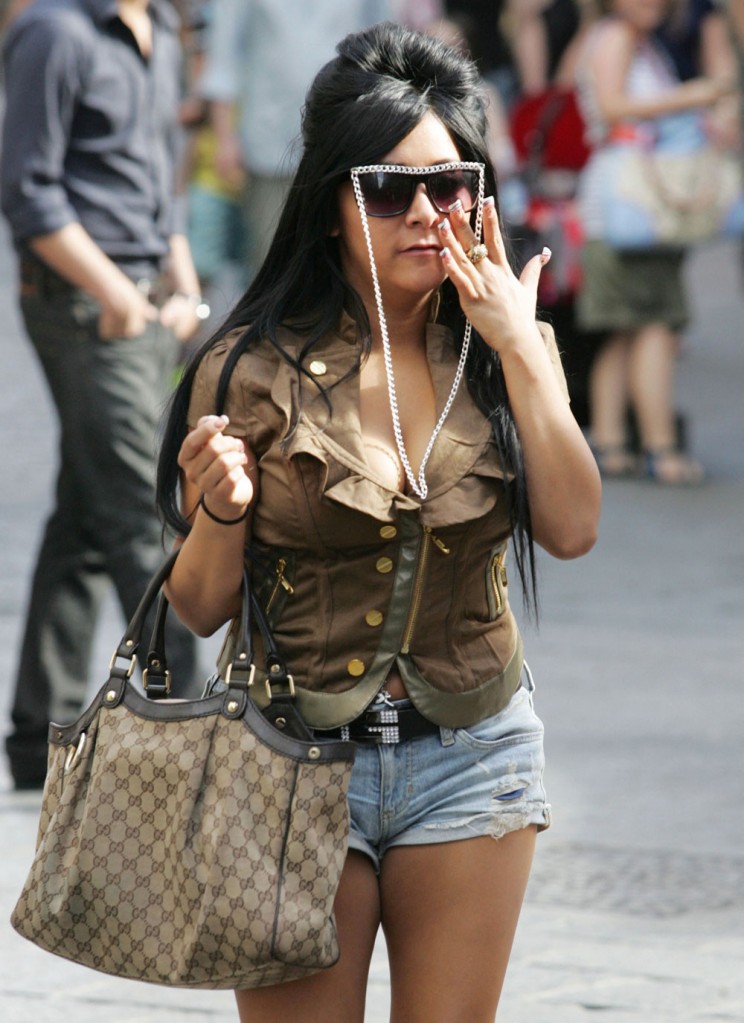 Photo credit: WENN.com