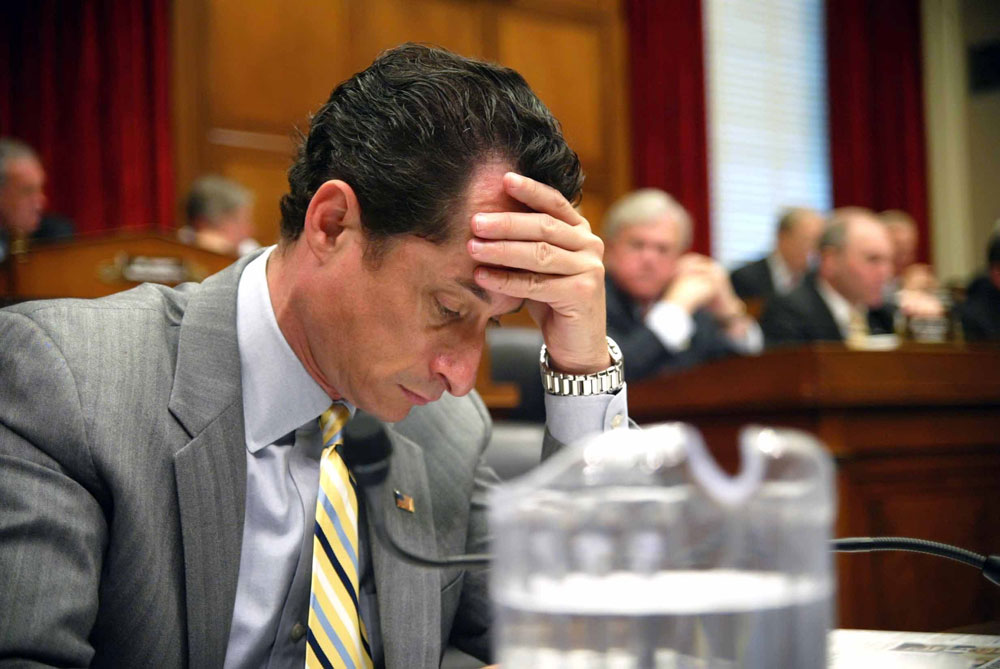 The Weinergate sext scandal rages on, with more women coming out of the woodwork, and more stories about the stupidity the Congressman from New York was up to. Radar even published all the chat sessions he had with one of his Facebook friends, a 40 something blackjack dealer from Vegas who won him over by talking politics for a hot minute before flattering him. It was stupid and lame, and reading those messages brought the scandal home for me – he just wanted to talk sex online and get some fan love from randoms. If he would have owned up to the c*ck pic from the beginning and admitted that he was up to no good online he might possibly have avoided this inevitable leakage of even more evidence. The Republican NY Congressman who sent the shirtless pic to the woman on Craig's List resigned right away and we didn't hear another peep about it. This douche is holding on and trying to weather the storm that is his own stupidity and throbbing ego.
There's also that chick from Texas who friended him by commenting "hottt" on his YouTube video, we heard from her yesterday, the porn star who said that Weiner coached her to lie, and the 21 year-old student that Weiner originally tweeted the boxer briefs photo to. There are surely many more, and some of them have got to be scared that they could be called to the Capital to talk about what they were up to when the Congressman was bored at work. There's going to be an ethics probe into whether he used official resources (he did according to one of the women he called on a Congress phone) and if he violated any House rules:
Disgraced New York Congressman Anthony Weiner is now facing an Ethics Committee investigation to determine whether or not he violated any House rules, and RadarOnline.com has exclusively learned that the women embroiled in Weinergate could be called to testify.

Los Angeles powerhouse attorney Mark Geragos, who has represented numerous high profile clients, including Roger Clinton and Susan McDougal, tells RadarOnline.com: "The Ethics committee could issue subpoenas for the women involved in the scandal. If subpoenaed, they are required to appear, by law."

Weiner's woes don't end there — Geragos reveals that the embattled lawmaker's government issued cellular phone records and government computer hard drives could also be admitted for evidence in the investigation.

"It's possible that Congressman Weiner's government issued cellular phone records, and government computer hard drives could be subpoenaed as well. It's all relevant."

In a joint investigation, RadarOnline.com and Star magazine broke the blockbuster story that Lisa Weiss, a 40-year-old Las Vegas blackjack dealer had a nine month sexting relationship with the disgraced Democrat.

Moments after weeping Weiner's press conference on Monday, House Minority Speaker Nancy Pelosi announced: "I am calling for an Ethics Committee investigation to determine whether any official resources were used or any other violation of House rules occurred."

Meanwhile, the congressman said he has no plans of resigning.
[From Radar]
This seems pretty inevitable, and again if he just would have nipped this in the bud from the beginning and admitted it was him and that he was doing some cybersexting he may have been able to get off (ha!) with a slap on the wrist. As it is he's going to be a punchline for a long time and he may get kicked out of Congress. Plus we'll probably get to read more asinine messages he sent to women online when he was jerking off. Yay!
Kaiser pointed me to this Daily Show send up of the Weiner press conference, which they didn't cover right away on Friday. The best part is the second one where John Oliver comes in. Kaiser and I agreed that we would hit it so hard.
And here's Stewart in a moral dilemma about whether to cover this. I love it. "What if it was Senator Scrotum? Comptroller Camel Toe?… You gotta come cleaner, Weiner." This had me crying laughing.
This photo is from 2006. This woman has got to regret posing with him.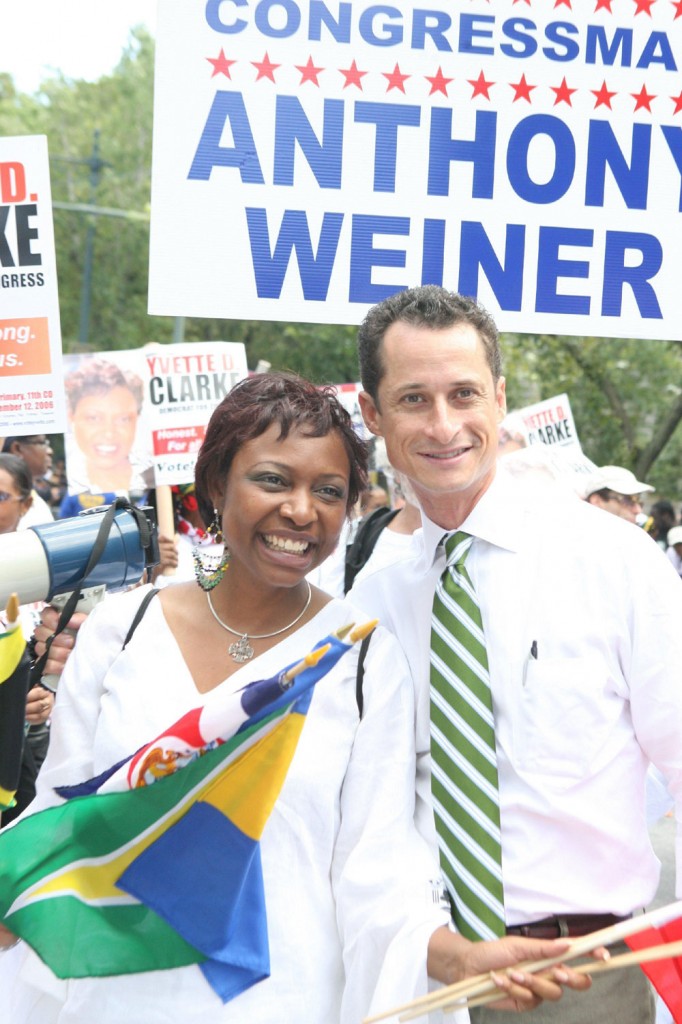 This one is from 2005.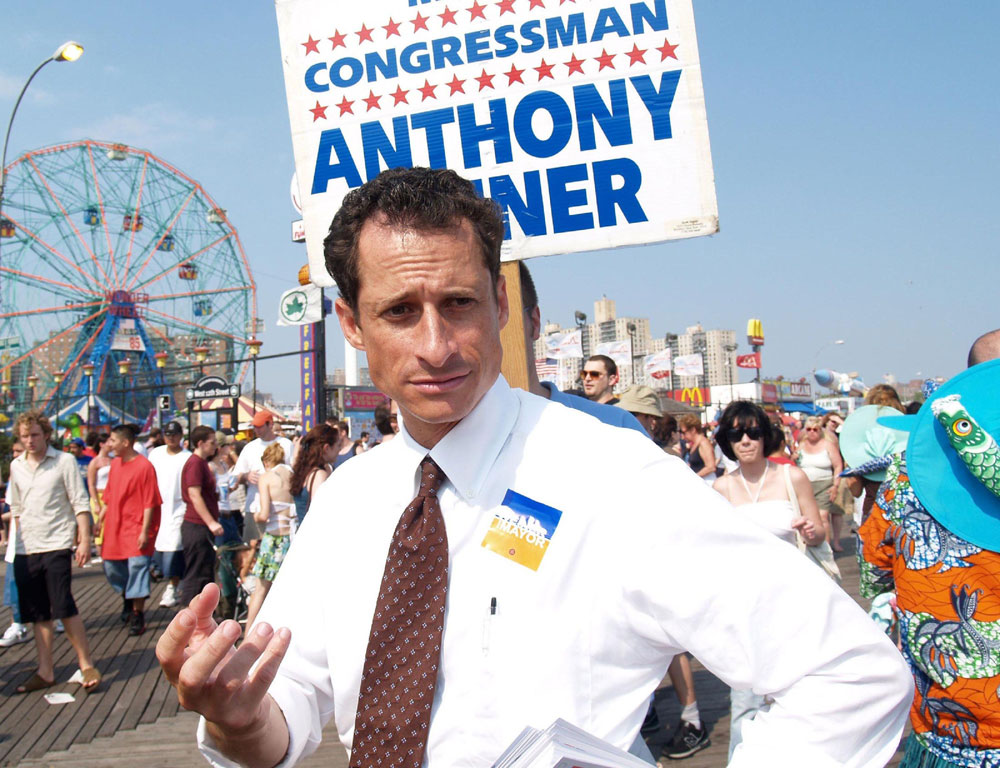 Photo credit: WENN.com