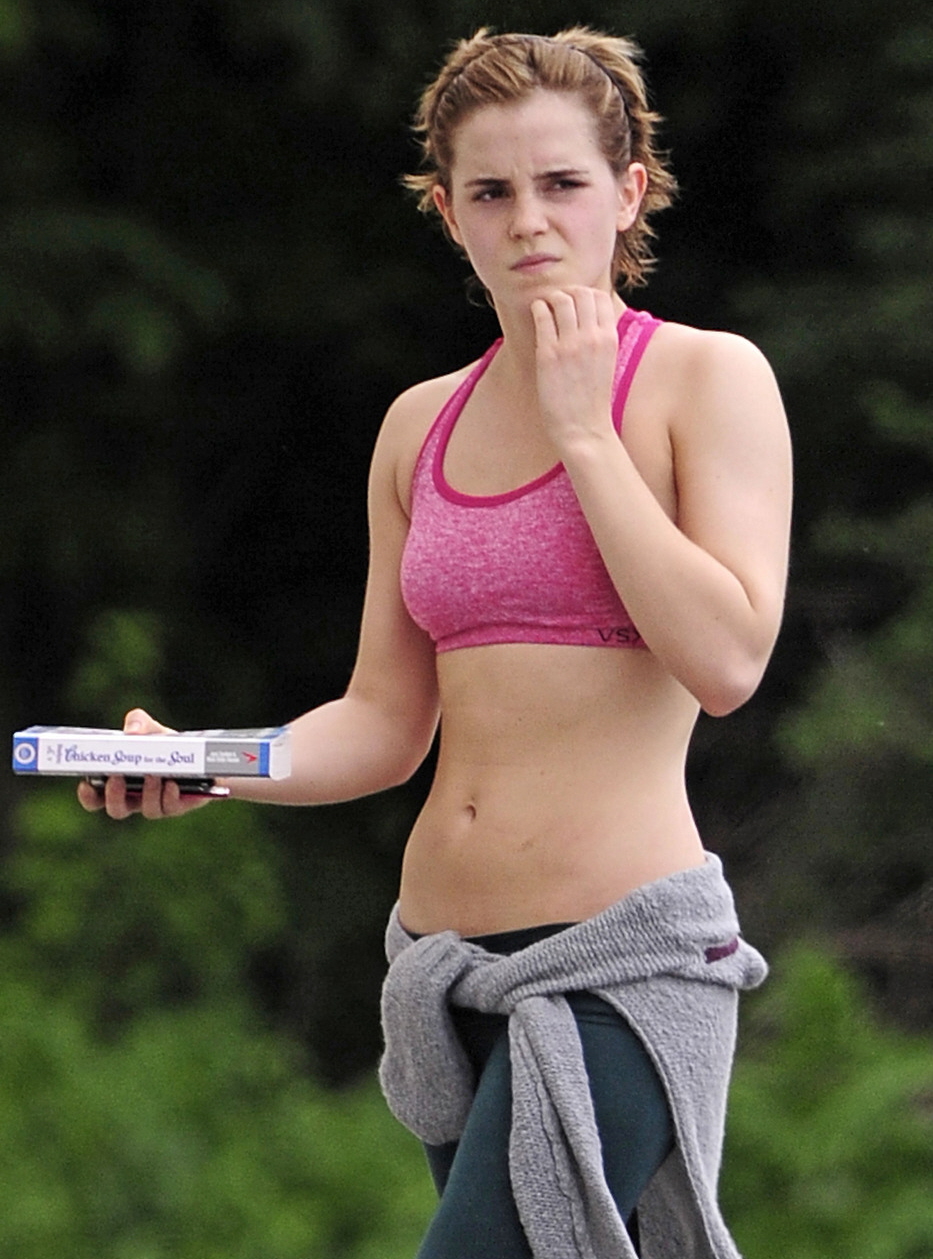 CB was going to cover this a few days ago, but she didn't get to it. Sorry you have to read about Emma Watson from me! For a change, because I get the feeling that some of you Emma-loonies are two seconds away from tracking me down and forcing me to watch all of the Harry Potter films, Clockwork Orange-style, I'm going to TRY to be nicer to Emma. You know what's weird? I'm honestly not trying to piss you off, and I honestly don't DISLIKE Emma. I'm just a little disappointed in her and I think her fans build her up to something she's not, likely based out of affection for a beloved character rather than the reality of who Emma is. I keep hearing "she's a normal girl, doing what every 21 year old would do" – to which I'd like to make three points: one, isn't that the excuse Linnocent has always made? Two, isn't Emma's whole deal that she's better than normal? That she's smarter, more competent, more of a good girl, and simply greater than "normal"? Three, if she's aiming for normal, why did she ditch school to party and model? Emma tries to answer that last one, but I still don't really "get" her answer.
Anyway, please-don't-come-to-my-house, Emma was profiled in last weekend's Sunday Times. I covered some early excerpts from the piece earlier this week – go here for a recap. The full piece was transcribed by Emma's fansite, and you can read the whole thing here. I'm just going to do highlights:
Why she left Brown University: "I was in denial," she says. "I wanted to pretend I wasn't as famous as I was. I was trying to seek out normality, but I kind of have to accept who I am, the position I'm in and what happened." You mean Potter? "Yeah," she replies, "but I feel more comfortable with the fame now. It used to make me really uncomfortable. It's interesting. My dad's always giving me a hard time about my posture. The way I used to stand, it was almost as if I was apologising to everyone. I wanted to hide myself, but now — it's difficult, I still feel shy, but I feel more like I can accept it… Sometimes I think I am the worst person to be in the position I'm in. I'm shy, I'm sensitive and I'm self-critical. It's a terrible combination." She pauses for emphasis. "But those qualities also make me want to be better."

On receiving criticism upon leaving Brown: [Emma] is the definition of propriety, so when offers flooded in while she was at uni, she realised it would be a mistake not to maximise on her moment. Hence the decision to take time out. She says she'll be back to her studies in the autumn, although she won't confirm where. It hasn't been a universally admired move. She says someone had a go at her the other day for accepting the advertising gig if her aim was nobly to sidestep public life. But she has made her peace with it. "I said, 'Do you honestly think that me doing a Lancôme campaign is going to make me any less or more famous than doing Harry Potter?' I have to accept Harry Potter is the biggest film franchise of all time. I have to just roll with it."

On child stars: I tell her child stars always seem both overly mature and emotionally stunted. "That's such an interesting observation," she nods. "I absolutely agree with you. I'm this very weird mix. In some senses, I feel as if I'm 100 years old. In others, I still feel incredibly young, very naive, and as if I haven't seen much of the world at all. I've been incredibly protected, but in other ways I've had to be in situations that nobody my age would, to deal with pressure that nobody my age should usually deal with," she says. Did you grow up fast because of work? "I was lucky — I matured very early because of my parents' divorce," she says. "I had to grow up more quickly than I would have done. I'm the eldest of seven [five half-siblings and a brother, Alex, who is three years younger], and I felt that really brought me up."

Emma sets the record straight about the claims she was "bullied" at Brown: "It made me so sad when all this stuff came out that I left Brown because I was being bullied. It made no sense at all. Brown has been the opposite. I've never even been asked for an autograph on campus. I threw a party for nearly 100 students and not a single person put a photo on Facebook." She rolls her eyes. "Anyway, even if I was being given a hard time, I wasn't going to wuss out of university because someone said 'Wingardium leviosa' to me in a corridor, or 'Ten points for Gryffindor'. I've been dealing with the media since I was nine. If I can't stand up to a few people giving me a hard time, it's a bit pathetic, really. I've had so much worse."

More on the Fame Wall (it should be a Lady Gaga album): "No," she says, giggling. "I say to my friends, 'Why hasn't X called me? Why doesn't anyone ever pursue me?' They're like, 'Probably because they're intimidated.' It must be the fame wall," she muses. "It must be the circus that goes around me. Me, as a person, I find it hard to believe I would be intimidating." What would a man have to do to woo you? "Oh, gosh! Be brave," she cries. Have you ever had a ridiculous chat-up line? "So, so many. I constantly get stuff like, do I have a magic wand I can sort things out with? Or guys come up to me and go, 'Where's Harry? Where's Ron?' Sometimes, maybe because they feel intimidated, they feel they have to knock me down. They know perfectly well who I am, but they'll ask me, 'How are the Narnia films going?'" Pause. "I'm single at the minute."

The end of Potter: "It feels so scary stepping out of Potter, it really does," she says, with the last film out in July. "But people have been so kind. Lancôme saying I'm the icon of a generation, Glamour saying I'm the best dressed… I just hope I can be everything that everyone wants me to be, I guess. But I'm really not pretending to be anything other than someone who got very, very lucky."
[From The Sunday Times UK, via Emma's fansite]
I'll just note what I liked/appreciated: I liked the part about the stupid pickup lines dudes use with her. I mean, that's kind of sad and my heart broke for her a little bit. I also liked that she totally rejected the stories about being bullied at Brown. Well done on that count. I also feel like… I understand how Emma is in a really weird head space right now. She's stuck in her own head, speaking her own kind of hyper-self-aware gibberish about fame and shyness and maturity. I do think she's trying to find her way in the world, and she's experimenting with career options and education and "the fame wall" and all of that. I don't begrudge her that journey, nor do I admire the fact that she has to do it all in the public sphere. I really hope she keeps her head on straight.
(Shout-out to EbonyShiksa, who requested this story on Twitter! Ebony thinks Emma has realized that going to school "isn't as much fan as being a movie star and Emma is worried that things will "pass her by" if she sticks with college.)
By the way, here's the first promotional image of Emma in character for The Perks of Being a Wallflower: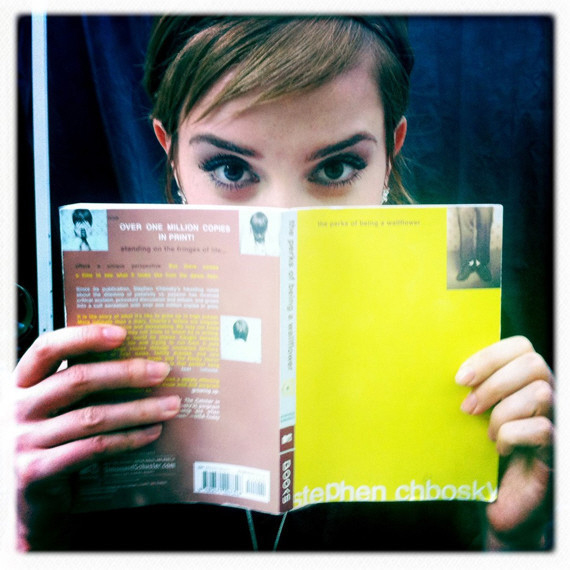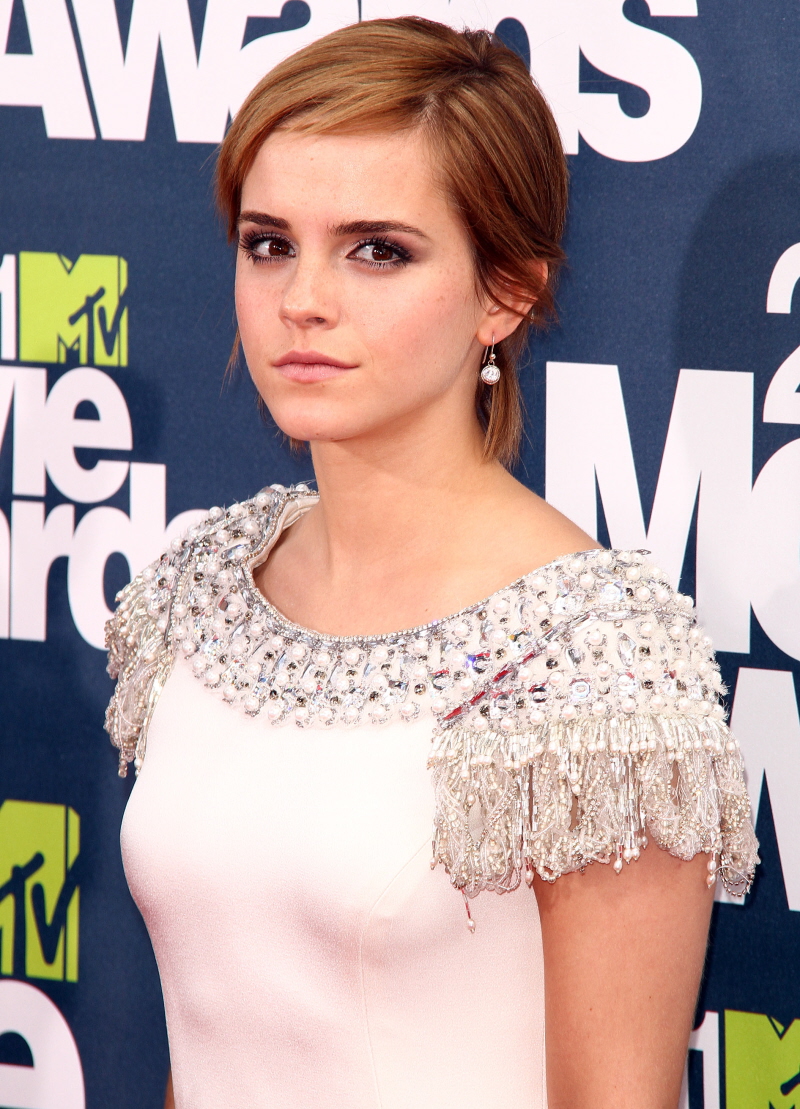 Photos courtesy of Fame & Pacific Coast News.