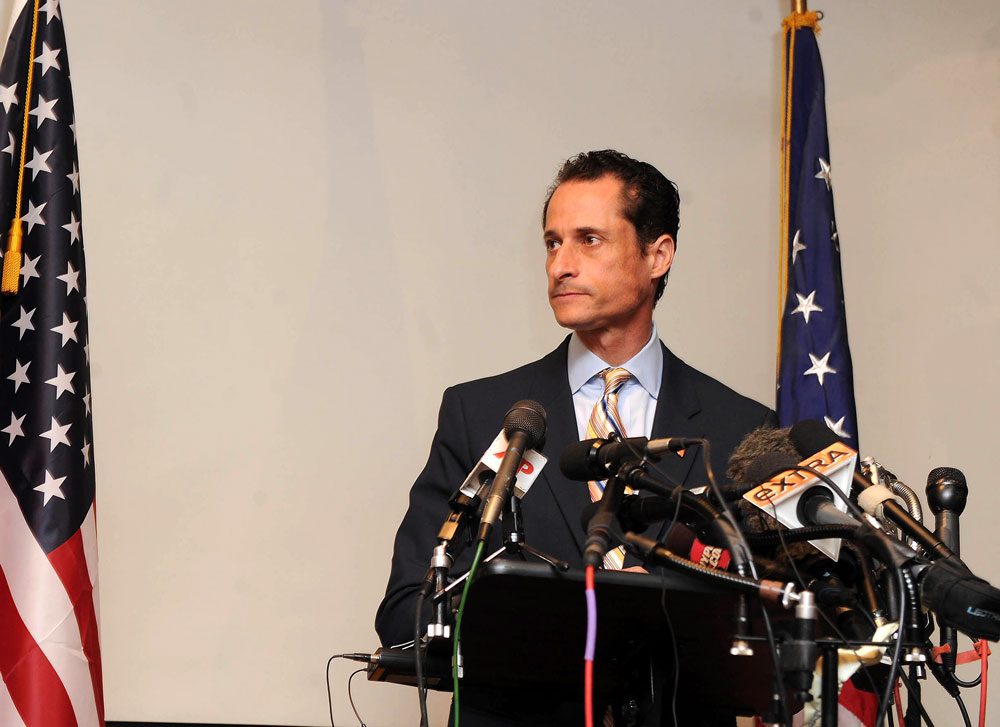 Visit msnbc.com for breaking news, world news, and news about the economy
US Congressman Anthony Weiner resigned from Congress yesterday after holding on for over two weeks after he accidentally tweeted a photo of his crotch and tried to blame it on a "hacker." During his resignation speech, he apologized to his constituents and to his wife, Huma, an aide to Hillary Clinton who just returned to the country after an overseas trip. (Huma is confirmed to be pregnant, although you can't really tell from recent photos of her.) Unlike Governor Spitzer's resignation in 2008 following the hooker scandal, Huma did not stand next to her husband when he announced his resignation. She was photographed out with his yesterday outside their home, though, and the two of them were spotted at a local supermarket last night.
When Weiner announced his resignation at a senior citizen center in Brooklyn attended by press, a guy stood up in the crowd and shouted "Bye bye, pervert!" (That's around 1:28 in the video above and 1:57 in the video on Gawker). DListed identifies him as Benjy from the Howard Stern show. The heckler said stuff like "The people demand to know, were you fully erect?," and "are you more than seven inches?" to which the press corps countered "shut up" and "he's not with us." He basically heckled the whole second half of the speech, and according to the NY Times he was going on for over fifteen minutes. It's Weiner's own fault since no one checked press credentials at the door.
Since that one dude was shouting, Weiner didn't take any questions afterwards and just rushed out. (He wasn't scheduled to take questions, but attendees insisted that he might have if everything went well.) It seemed a fitting end to a dumb scandal in which the guy didn't even get laid as far as we know. We'll probably see him again on cable television in a few weeks. He'll also probably launch some kind of speaking and consulting career, and ten to one he'll make way more money than he did as a Congressman.
Photo credit: Fame Pictures