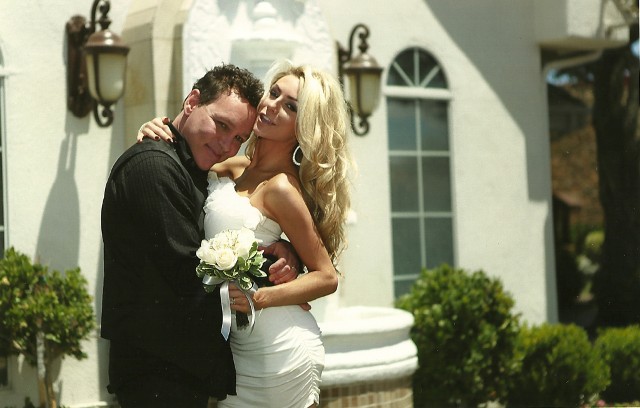 I was skeptical that Courtney Stodden, the 16 year-old beauty pageant winner and god-awful singer who married 51 year-old character actor Doug Hutchison, really is 16. I mean the chick looks like a cougar, she's clearly had a boob job despite denials from her mother, and the whole story smacks of publicity stunt. The bride's new husband is her manager, she acts and speaks much older than her supposed age, and it's just incredibly creepy to take this story at face value – a 16 year-old girl just married a dude old enough to be her grandfather, with her mom's enthusiastic permission.
Only, according to a source from Courtney's hometown of Ocean Shores, Washington, this really is true, the girl is 16 years old. I found this source through an old group on Facebook where people from Courtney's hometown were making fun of the ridiculous videos she's posted on YouTube. The posts were all of people who knew her, and they were made several months before this scandal. I added a few people and emailed them to see if anyone wanted to verify this woman/girl's age. A woman emailed me back and the way she explained it really brought this story home for me:
Yes she is 16, the whole thing is sad, the reason she looks like she is 30 is because her mother has spent her life living through her, and has even gotten her a boob job at a young age. I think the situation she is in isn't entirely her fault, I blame her mother. As much as I, myself, do not like Courtney because of how she thinks everyone was "mean" to her because we are all jealous, it is because she is a stuck up little twit, I feel bad for her, I mean really, what kinda mother would ever let something like this happen? The whole thing is a sad attempt at heightening Courtney's "singing career" even though we all know she really, doesn't have a good voice.
So now this goes from a ridiculous hoax story to a sad little girl with a boob job and fillers in her face getting married off to a creepy old guy who is just as old as her mother! I didn't want this to be true, but it looks like it is. As Kaiser e-mailed me about this "that's the hardest looking 16 year-old since Ali Lohan."
Radar has the marriage certificate from these two, but really I wouldn't have believed this girl was 16 with all the print evidence you could hand me. I was ready to believe her participation in the Miss Washington pageant was some elaborate ruse, like a cousin, a sister or even a daughter had competed and Courtney was assuming her identity. Now that I found someone (on my own, they didn't contact me) from her hometown I believe this story and it's depressing. I just feel bad for her now. The source said it the best "what kind of mother would do this to their kid?" Moreover, what kind of life is this poor girl going to have? She already looks like she's lived a few decades more than she's been around.
Now when I see these photos, I'm like "holy sh*t, she's 16!"