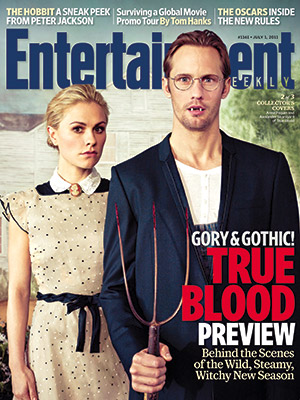 Entertainment Weekly has a series of three covers for their upcoming issue, out this Friday. They feature True Blood star Anna Paquin (Sookie) in American Gothic style poses with Alex Skarsgard (Eric), her real life husband Stephen Moyer (Bill) and potential werewolf love interest Joe Manganiello (Alcide). They're very clever and amusing, with Paquin making slightly different expressions in each. There's a lot of anticipation for this Sunday's season four True Blood premiere, and I have to admit I'm getting anxious for it too. I just don't want to get my hopes up too much, given the highly disappointing first eight minutes that HBO has put out. The (mild spoiler I guess) fairy fantasy fight sequence that was released was so reminiscent of campy Star Trek that I'm not expecting too much this year. Still, there will be plenty of hot guys, sex scenes, and bloody lusty moments and that's usually more than enough for me. I love a good sex scene with some head twisting thrown in, and what other shows are doing that really?
The advance details on Entertainment Weekly's website have Alex being incredibly gracious and grateful to his fans, as usual. I just hear his voice in my head when I read these delicious quotes and I melt a little.
Spoilers for this quoted text I guess, especially if you haven't read the books yet:
Playing the smoking hot vampire Eric Northman is humbling, to say the least, for Swedish actor Alexander Skarsgard. So to say that he's used to the adoration from female fans of True Blood, the subject of this week's Entertainment Weekly cover story, would be a bit of an understatement. (For proof, consider this little detail that EW dug up from Charlaine Harris, the author of the extremely popular Sookie Stackhouse novels that serve as the inspiration for True Blood: She says that fans often ask her to autograph the tomes to "Mrs. Alexander Skarsgard.")

"I'll never get used to that," Skarsgard said of his googly-eyed fanbase. "It's just very, very humbling and flattering. The character Eric means so much to me and I'm having so much fun playing him. Of course it means a lot when you meet fans and you can actually tell there are people out there who really do care about the character. It means something to you, then. That's kind of why you do this whole thing."

Eric fans could have plenty to salivate over this season, which begins June 26 on HBO. This year, True Blood is inspired by book four of the Stackhouse series, Dead to the World, which features a steamy shower scene between Sookie and the tall, light and handsome vamp. Unfortunately, Skargard isn't in the mood to kiss and tell. He will say, however, that sex this year is, um, a little more down to earth. "I did some crazy stuff last year. I almost had sex with a Greek man and I was covered in his goo. Everything from here on is pretty childish. Everything's quite innocent."

For lots more about Eric and the other hot men in Sookie's complicated life, pick up the new issue of Entertainment Weekly, on stands Friday, June 24. And what's that you say? You're not a Skarsgard fan? No worries: We published two other collectible covers to satiate those who prefer Stephen Moyer and Joe Manganiello. No thank you necessary. It was our absolute pleasure.
[From EW.com]
So the "sex with a Greek man" quote threw me a little, but then I realized that he was talking about when his character seduced Talbot so he could kill him and get back at Russell. I loved that plot twist and while I've read all the books I couldn't tell you if it was in there or not. This show is incredible and so many of us are waiting for it to come back on Sunday. As long as Eric will be there, so will we. I hope he's misleading us about the "quite innocent" part for this season, though. That would be highly disappointing.