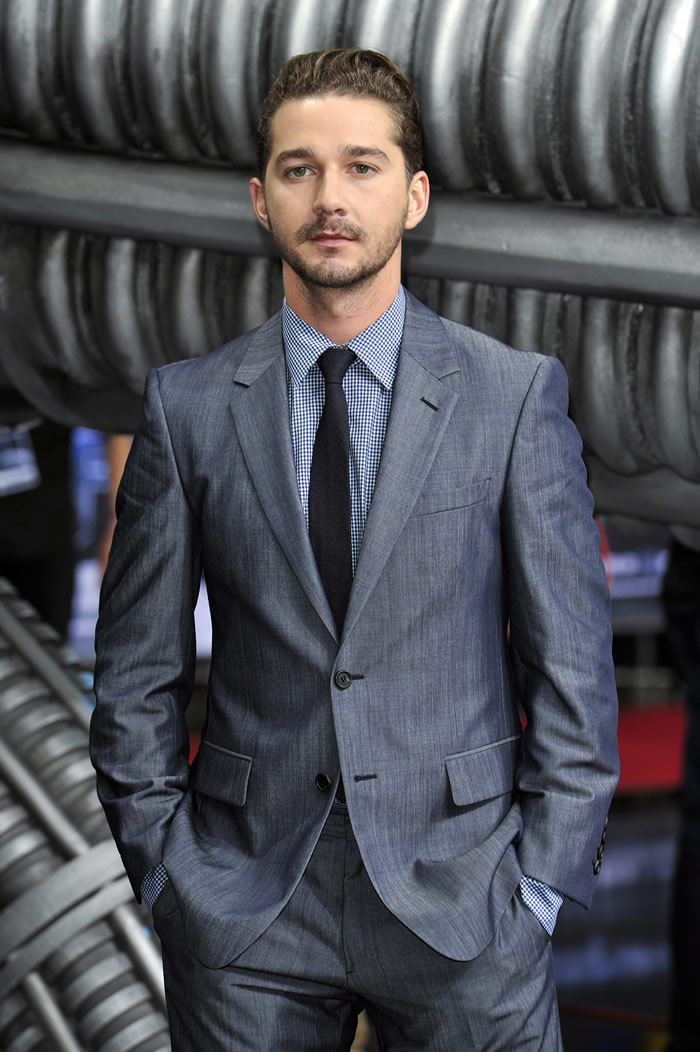 For those among you that are already weary of hearing about Transformers: Dark of the Moon, the good news is that less than one week remains until it hits multiplexes (in 3-D, no less). The bad news is that, until then, we must still endure the remaining media onslaught of vapid interviews from Rosie "Mood Lips" Huntington-Whiteley as well as the general trash talking coming from Michael Bay in relation to Megan Fox. Of course, Shia LeBeouf has also done his share of pish-poshing Fox, who (to her credit) has taken the high road (for once) and said nothing in response. Now, we must also endure Shia talking about himself to LA Times' Hero Complex blog to promote this movie; please note that Shia is carefully toeing the line here in relation to both Bay and Spielberg:
On Not Always Getting Along With Michael Bay: Bay and his leading man were shooting an emotional sequence from the script's third act on a shuttle launchpad at Cape Canaveral. To put himself in a somber frame of mind, LaBeouf plugged his iPod into some speakers and started playing a wistful ballad, Feist's "Brandy Alexander." "Yeah, it's a little feminine, but it touches me," LaBeouf says, starting to pepper his recollection with more expletives than are allowed in the PG-13 film. "I feel something when I hear it. … But Mike doesn't want to listen to 'Brandy Alexander' under the rocket with 50 military dudes around."

Bay unplugged the actor's iPod, LaBeouf says, and replaced it with his own, cueing up the propulsive, orchestral The Dark Knight score. "I take him aside, I'm like, 'Mike, this is the most important moment in the movie for me. The crux of my whole character, my whole arc. That doesn't work for me, dude.' … Now it's two dudes ready to kill each other. … Spit's flying." According to LaBeouf, Bay left the set with the NASA/military entourage, and his director of photography finished shooting the sequence without him. (Bay declined to be interviewed for this piece.)

On His Mentor, Steven Spielberg: LaBeouf was handpicked by executive producer Steven Spielberg to be the human face of the Transformers franchise, which so far has grossed more than $1.5 billion worldwide; the third installment reaches theaters on 3-D screens Tuesday night, and opens wide on Wednesday. He was also the young heart of Spielberg's 2008 Indiana Jones reboot, The Kingdom of the Crystal Skull, fulfilling the kind of relatable adventurer role Richard Dreyfuss did in 1970s Spielberg movies such as Jaws and Close Encounters of the Third Kind.

"That's a gift and a curse," LaBeouf says, of being Spielberg's 21st century hero. "Steven introduced me to the world in a way. The man has been incredible to me. But the work that I've done with him, the character variation is not heavy. It's sort of all in the same vein. … I've gotta anchor these movies that are in these outrageous worlds, and I have to be as tangible as possible. … I have no problem with that, but I don't want to be there forever."

On His Post-Transformers Indie Movie: "When you're a racehorse and you've got 20 trainers, all the trainers want the racehorse to run a certain way," LaBeouf says. "What does the racehorse want to do? [The Wettest County in the World] is the first time they've ever asked the racehorse. I've been running for a team of people for a long time and I don't take any of it back. … I've learned a great deal about a certain type of filmmaking. But I have ambitions toward another type of filmmaking that I haven't been allowed to engage in yet."

On His Checkered Past: In 2007, LaBeouf was arrested for refusing to leave a Chicago Walgreens (the store owner later dropped the charges). In 2008, he crashed his pickup truck, declining to take a Breathalyzer test at the scene of the accident and crushing his hand enough in the accident to require multiple surgeries. (The L.A. County district attorney's office did not file charges due to insufficient evidence, but LaBeouf's driver's license was suspended for a year for his "refusing to take a chemical test.") In February, police handcuffed the actor after he got in a fight in a Sherman Oaks bar. He was there with a group of his Echo Park friends when another patron recognized him, LaBeouf says (again, no charges were filed in the incident).

The same impulsiveness that inspired LaBeouf to ball his fists that night has also driven him to say some professionally reckless things, including telling reporters at the Cannes International Film Festival last year that he was unhappy with the fourth Indiana Jones movie.

LaBeouf says he has been warned by people he respects — including Spielberg — to watch his words in public and smooth some of his rough edges.

"The way Steven described it to me was, 'When Tom Cruise walks outside his house, he doesn't pick his nose. From the minute he leaves his door to the minute he comes back home, he doesn't pick his nose.' Now that's a certain way to live your life that I have no ambitions toward."
[From Hero Complex]
Most of this nonsense is just Shia attempting to convince the public that he has more substantial acting chops than the average action star. Only time will tell whether or not he's correct on that issue, but what I really have a problem with is the difference in the way that Shia and Megan were treated after their respective bad behavior. Megan merely ran her mouth (admittedly, it was more like a case of verbal diarrhea) and was duly punished by Spielberg, who ordered Bay to fire her. Yet Shia also made some very unflattering statements about Indiana Jones and the Crystal Skull, and he additionally had a few run-ins with the law, yet Spielberg merely gave him some fatherly advice in response. That's so typical of Hollywood, isn't it? Punish the women for failing to keep their pretty little mouths shut, but give the men another chance, right?
Also, Shia looks really tiny here in comparison to the rather statuesque Rosie.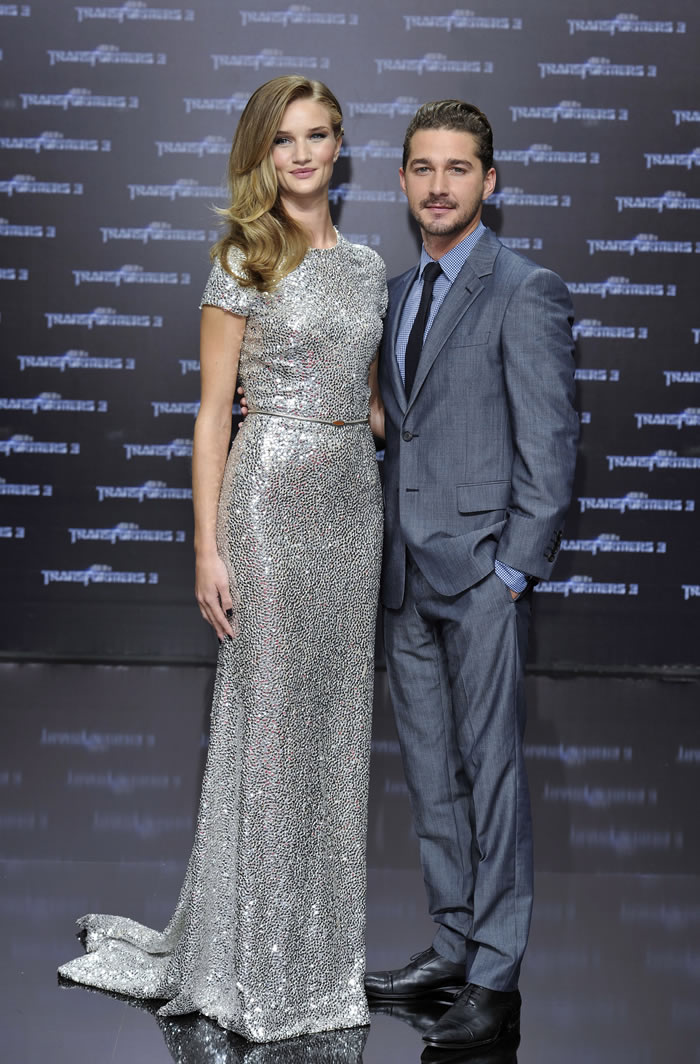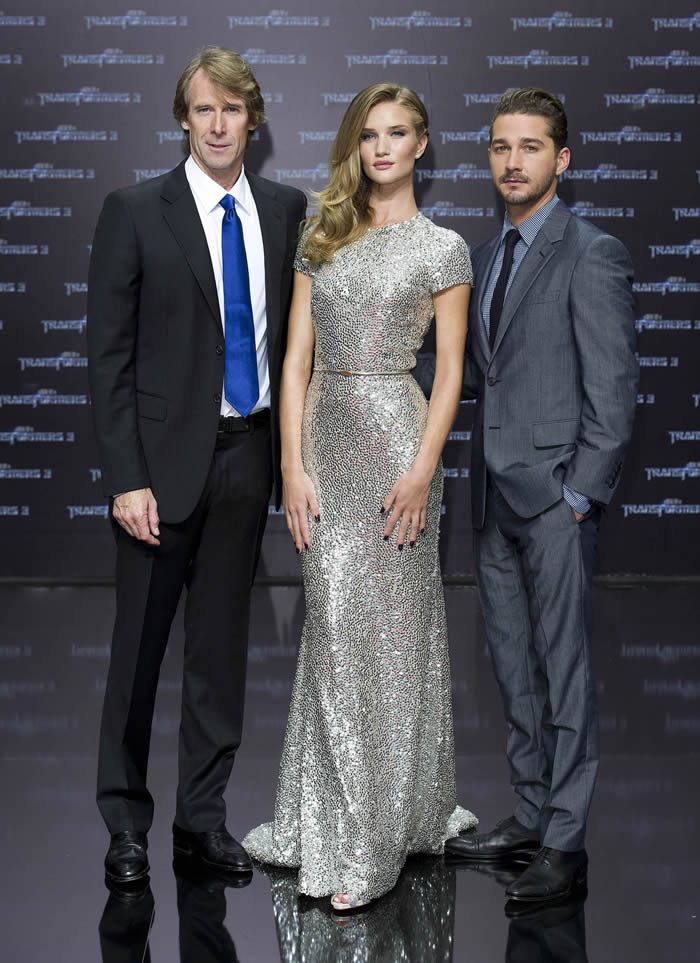 Photos courtesy of Fame