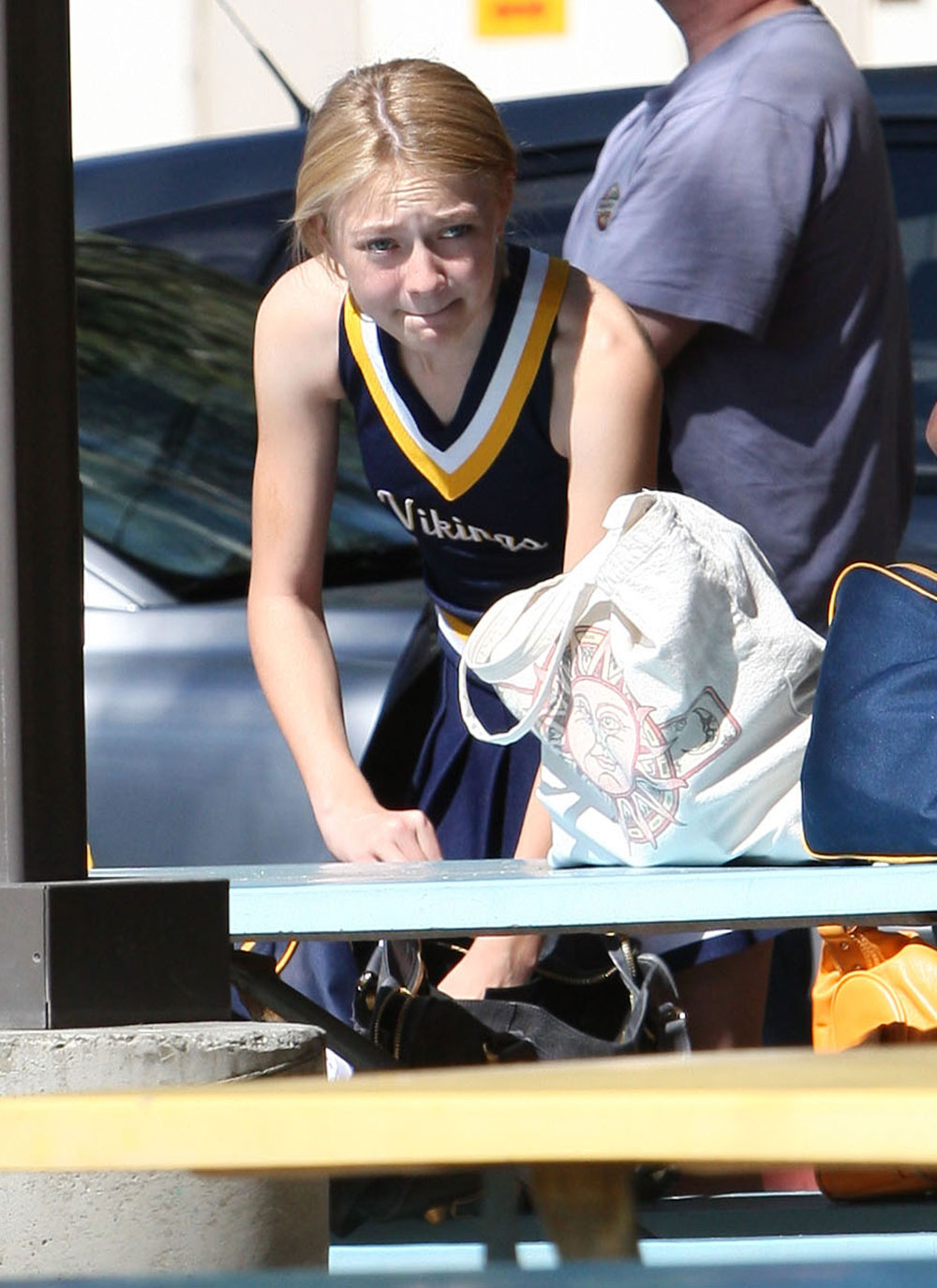 Dakota Fanning is a cheerleader at the school she attends, The Campbell Hall Episcopal school in Studio City, California. The 14 year-old actress was spotted in a Vikings cheerleading outfit laughing and talking to friends outside a football game on Saturday.
About a week ago we ran a story about how Dakota was supposedly taken to task by the director of her recent film Winged Creatures. Australian director Rowan Woods is said to have called her "naughty" and is quoted as saying that she was jealous of her co-star and wouldn't come out of her trailer on the first day. Woods has refuted ever saying that about Fanning, though, and wrote in an e-mail to Defamer that he has nothing but praise for her behavior on set:
I directed Dakota Fanning in WINGED CREATURES.

I am very upset and disappointed on behalf of Dakota that such untruths have spun around the internet in regards to Dakota and WINGED CREATURES and that those opinions be attributed to me. They are not my opinions.

My only WINGED CREATURES interview since completing the movie was this one…

http://news.ninemsn.com.au/article.aspx?id=642285

Dakota Fanning is an incredible actor and a wonderful person. She is brilliant as Anne in WINGED CREATURES. The climactic scene of the movie is the most difficult scene and she hits it out of the park.

My only advice for people that read such things is: watch the movie, judge for yourself. I am proud to be associated with Dakota's amazing performance.

Cheers,
Rowan Woods
[From Defamer]
Despite rumors to the contrary, Dakota still seems to be a down to earth girl who tries to get involved with hobbies and extra curricular activities. She may have a little bit of the movie star attitude, but at least she's earned it and is still striving for a sense of normalcy. We'll have to see how she handles it over the next few years.
Photo credit: Fame Pictures