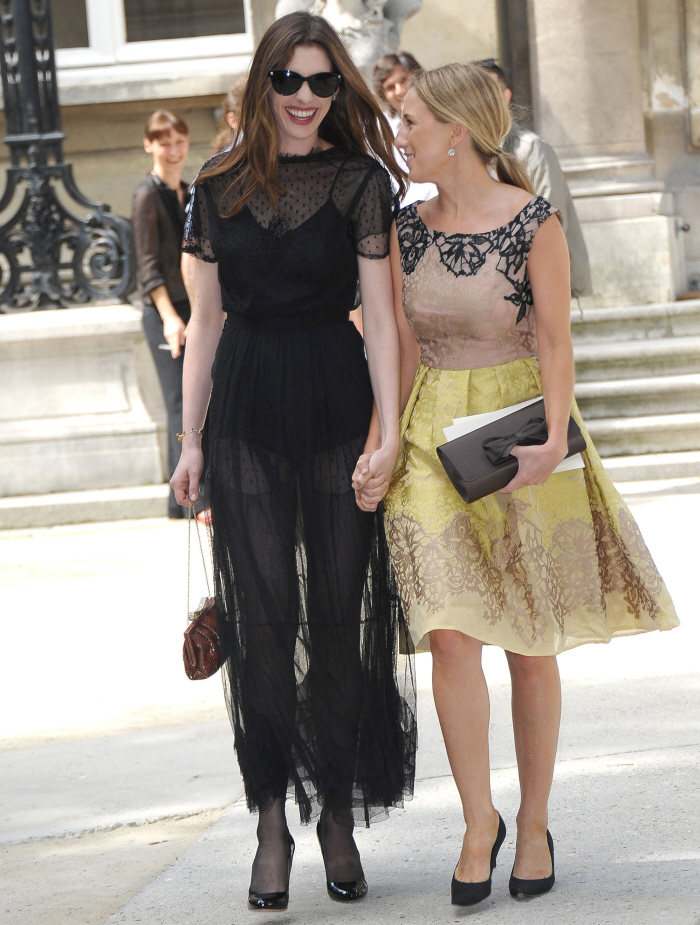 Here are some new photos of Anne Hathaway today at the Valentino show for Paris Fashion Week. Annie is wearing Valentino, of course. At first, I was all "Meh, Mob widow much?" But check out the bottom of the dress – it's totally transparent! Not Anne's usual style, at all. Of course, I'd be hard-pressed to really define Anne's style – Rachel Zoe is her stylist, and Rachel has put Anne in some horrendous things in the past, almost like Zoe is hypnotized by Anne's pale skin and dark hair and eyes, and doesn't know how to dress someone not blonde and tan. Over the past year, Anne has been working a more sophisticated style (especially during her fashion show at the Oscars), but this Valentino number just shows that Anne still needs to learn the power of saying "NO."
Meanwhile, it seems like Anne is looking so fit and slim because she's currently filming The Dark Knight Rises, where she will playing Catwoman. Hollywood Life recently had some details about the Catwoman suit Anne will be wearing:
Although we won't be seeing Anne Hathaway in the iconic role of Catwoman in The Dark Knight Rises for more than a year, an insider tells HollywoodLife.com new details about her much anticipated costume — and it's not going to be like anything we've seen in the previous movies!

"Anne's outfit is more tactical, like the comic book, than the previous Batman movies," a source very close to the costume design tells us exclusively. "She will definitely be wearing the goggles and it's going to be less sexy than Halle Berry and Michelle Pfeiffer's Catwoman costumes. She's going to look more like a robber."

Adds the insider, "But fan boys shouldn't be worried. This costume is going to be form-fitting enough to make Anne look smoking hot."

We cannot wait to see Anne — who says she's been working out non-stop to get in shape for the role — as Catwoman. As we previously reported, a source on set told us the 28-year-old actress is dominating in the role and will blow audiences out of the water.

"Everything from the looks in her eyes, her head movements, her body–everything is so feline. The role is taking her to new places," the insider said.
[From Hollywood Life]
Goggles. Tactical. Feline. Not bad. I didn't hate Michelle Pfeiffer's Catwoman suit, though – it looked painful, but I thought it seemed fun. Hallen Berry's suit was just awful, though. Like a budget stripper in a kitty mask. I wonder if Anne's suit will be latex, leather or perhaps some other material? We'll see.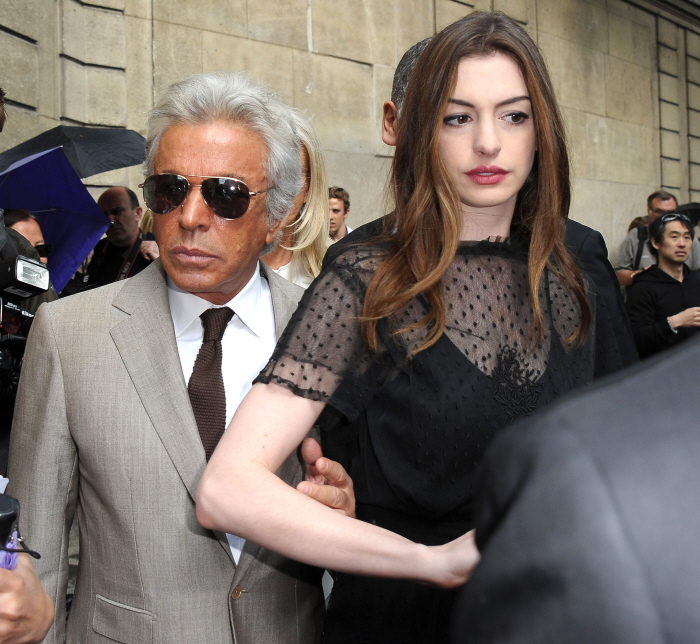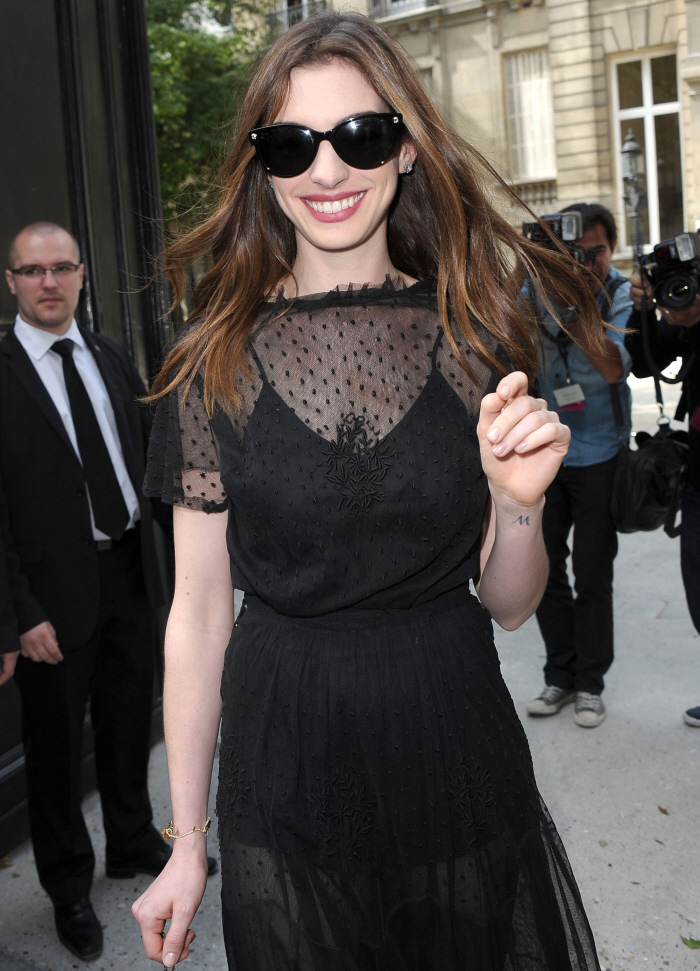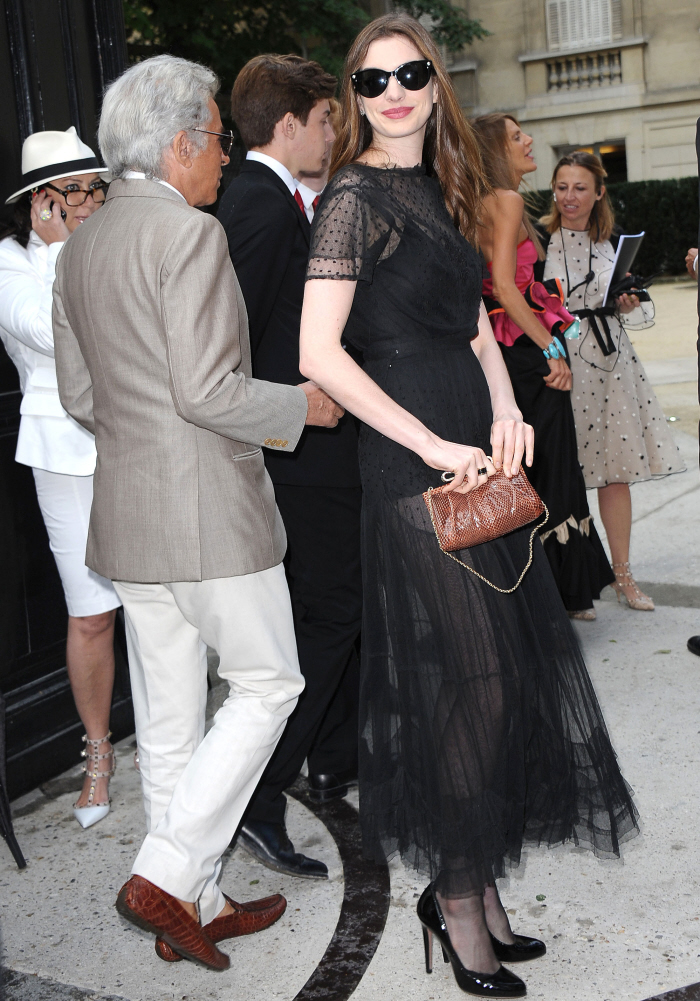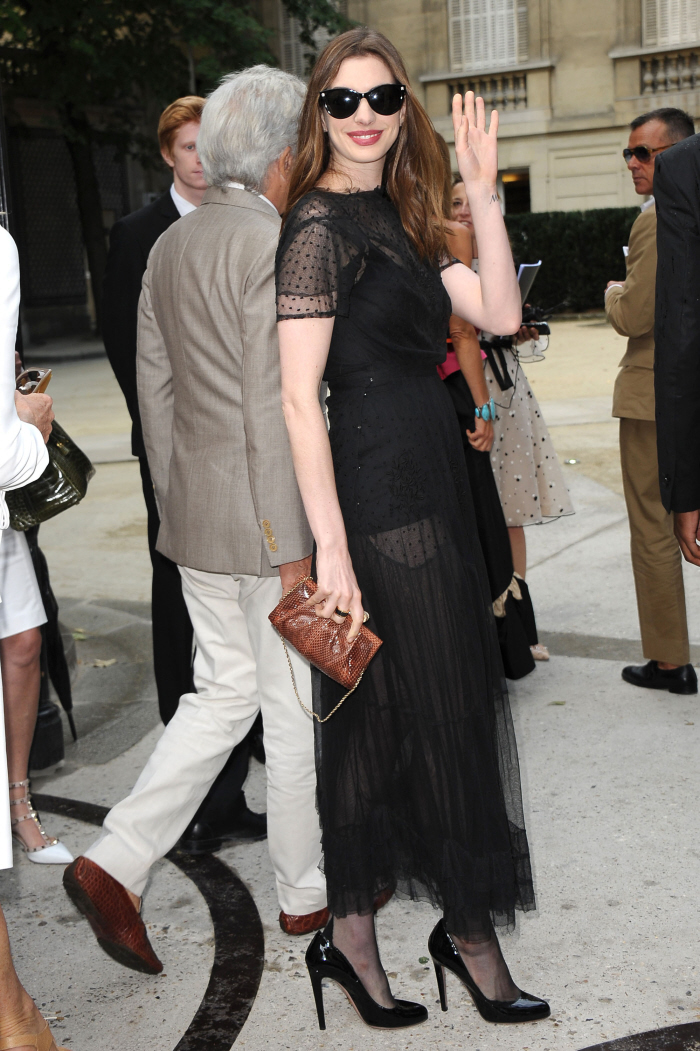 Photos courtesy of WENN.