The first juror in the Casey Anthony trial has spoken to the press. Jennifer Ford, a 32 year-old nursing student, spoke with ABC's Terry Moran to explain how the jury reached a "not guilty" verdict in this very controversial case. (Video of her interview is above.) I found her very convincing, logical and well spoken. Ford explained that the prosecution simply didn't come up with a scenario of how Caylee was murdered and that was why they couldn't reach a guilty verdict. She said that they carefully weighed the evidence, that the 10 hours of deliberation does not mean that they all agreed right away, and that many jurors were upset and crying after delivering the verdict. Here's more, from ABC, and the source has more details that you might want to read if you're interested.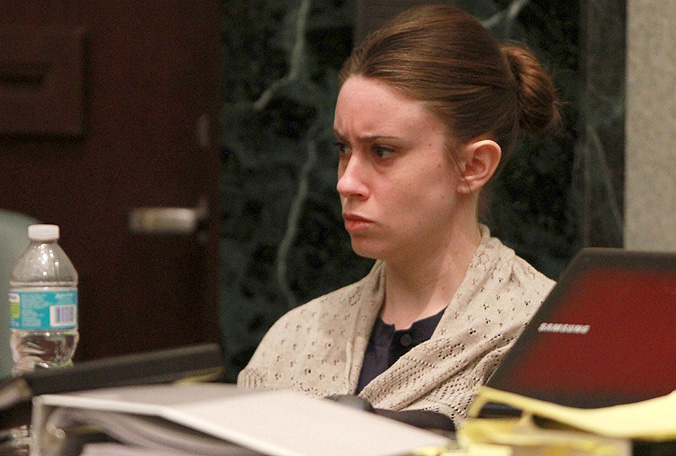 Casey Anthony juror Jennifer Ford said that she and the other jurors cried and were "sick to our stomachs" after voting to acquit Casey Anthony of charges that she killed her 2-year-old daughter Caylee.

"I did not say she was innocent," said Ford, who had previously only been identified as juror No. 3. "I just said there was not enough evidence. If you cannot prove what the crime was, you cannot determine what the punishment should be."

Ford, a 32-year-old nursing student at St. Petersburg College, praised the jurors, but said when deliberations began there were "a lot of conflicting ideas." At first, people came down on both sides of whether Casey Anthony killed her daughter, Ford said, and the first vote was 10-2 for "not guilty."

"I toggled on manslaughter and not guilty," Ford told "Nightline" anchor Terry Moran in an exclusive TV interview. "It doesn't feel good. It was a horrible decision to have to make."

The jury's jaw-dropping not guilty verdict shocked court observers, but it was also a difficult moment for the panel, Ford said in her exclusive interviews with ABC News. No one from the jury was willing to come out and talk to the media in the hours after the verdict.

"Everyone wonders why we didn't speak to the media right away," Ford said. "It was because we were sick to our stomach to get that verdict. We were crying, and not just the women. It was emotional and we weren't ready. We wanted to do it with integrity and not contribute to the sensationalism of the trial."

Ford told Moran she thought Casey Anthony's claim that her 2-year-old daughter accidentally drowned and she lied for three years was more believable than the evidence the prosecution presented.

"I'm not saying I believe the defense," she said. "Obviously, it wasn't proven so I'm not taking that and speculating at all. But it's easier for me logically to get from point A to point B" via the defense argument.

Ford said that she couldn't make out "logically" the prosecution's argument because there were too many unanswered questions about how Caylee died, including how Casey Anthony would have used chloroform to smother her 2-year-old daughter, then put her in the trunk of her car without anyone seeing her.

"If there was a dead child in that trunk, does that prove how she died? No idea, still no idea." Ford told Moran. "If you're going to charge someone with murder, don't you have to know how they killed someone or why they might have killed someone, or have something where, when, why, how? Those are important questions. They were not answered."
[From ABC News]
Some other telling quotes from Ford include "It doesn't feel good, it's a horrible decision to have to make, but I had to do it based on the law," and "If they want to take someone's life they have to prove it, or else I'm a murderer too, I'm not any better." Maybe if the prosecution wasn't going for the death penalty it would have been easier to convict.
The prosecutor Jeff Ashton, spoke with Matt Lauer on the Today Show yesterday morning, and he said that he was shocked by the not guitly verdict after less than 11 hours deliberation. He felt that they presented a clear case to the jury and that "One of the strongest pieces of evidence that we had in the case was that her actions, we felt … [were] just so completely inconsistent with just some accidental explanation for the death."
As for whether he would go after Casey's mom Cindy for perjuring herself by trying to take the blame for the Internet searches, he said he had no idea. Ashton is retiring after this case.
I've been overseas this summer so I have not been as exposed to this case as many of you. It looks extremely bad in that Casey lied to the police repeatedly, fabricated entire scenarios about what happened to her poor daughter and went out partying in the month after her daughter's death. In this case I don't think it's fair to blame the jury for doing their job, though I know many of you will disagree. Given Casey's behavior, she's the one who should be blamed for this, and she will be for the rest of her life. Like Ford said, "Not guilty doesn't mean innocent." It's just a shame that Casey won't have to rot in jail for the rest of her days.
After I wrote all that, People came out with a new story with details from a letter from Casey to another inmate. She wrote that she dreamt she was pregnant, has considered adopting, and that she misses mani pedis and wearing nice underwear. It made me a little sick. The Enquirer is also reporting that Casey is telling people she's pregnant. I hope that's a lie like so many other things that come out of this bitch's mouth. It's possible that Casey, who has only been convicted of four counts of lying to police, could walk free today. I guess we know how she'll celebrate.
Update: Casey was sentenced to four years in prison and fined $4,000 for her four misdemeanor charges of lying to police. She's already served three years and her calculated release date with time off for good behavior is now July 13, next Wednesday.