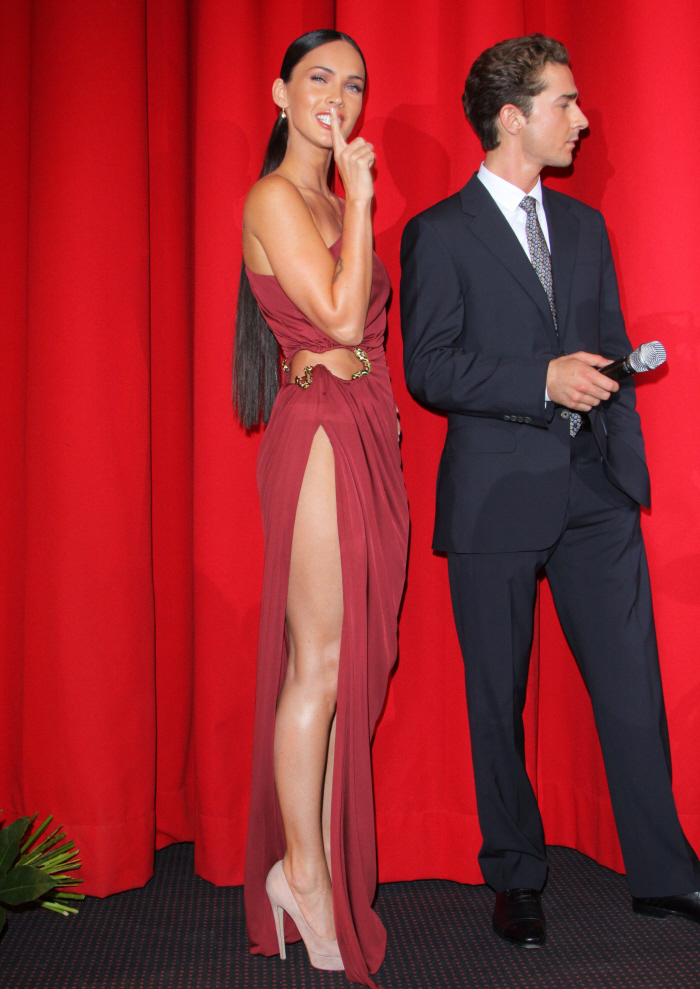 Last month, Shia LaBeouf admitted in a Details cover story that he and Megan Fox had some kind of affair while they were working together on one (or perhaps both) of the first two Transformers films. At some point, people were like, "Um, wasn't Megan Fox still with Brian Austin Green when the Shia stuff went down?" To which some well-placed "source" went to Us Weekly and claimed that at the time of Shia and Megan's hookup, Megan and BAG were on a break. Nevermind that Shia never detailed the exact time frame of his affair with Megan… or that Megan and BAG's relationship, while at times off-and-on, seemed pretty "on" for most of the Transformers time frames. Nevermind that last year, when Brian was asked about the "off" periods in his relationship with Megan, Brian replied: "We've been together for six years. Find a picture of one of us with any other boyfriend or girlfriend—I challenge you. You'll only find pictures of her doing press with Shia LaBeouf or me with my son. That's it. We never once dated anyone else or did anything else."
So, it's looking more and more like Megan has some explaining to do to her husband. Thus, this story from OK! Magazine/Hollywood Life – Megan is holding on to her story that she and BAG were on a break BUT she's still really pissed off at Shia. For why?
Shia LaBeouf admitted to hooking up with Megan Fox while she was on a break from Brian Austin Green and the couple isn't happy he's blabbing about it!

Although Shia LaBeouf is basking in the glory of the multi-million dollar blockbuster Transformers: Dark of the Moon, he is not on good terms with his former Transformers star, Megan Fox, and her husband, Brian Austin Green, after revealing he hooked up with Megan while she and her soon-to-be husband were taking a break! Now OK! Magazine reports that the couple are fighting to save their marriage — at the expense of Shia's friendship.

Megan and Brian have been dating on and off since 2004, however finally tied the knot in a discrete ceremony just one year ago. The couple took a break during Megan's filming of Transformers: Revenge of the Fallen in 2008 — the same time when Shia recently admitted to engaging in a physical relationship with his co-star.

"Look, you're on the set for six months, with someone who's rooting to be attracted to you, and you're rooting to be attracted to them…but the time I spent with Megan was our own thing…" LaBeouf reveals in the August issue of Details magazine.

Though now, OK! Magazine reports that Megan and Brian are desperately trying to save their marriage.

"He has really upset Megan and Brian," a close source explains. "They went through an incredibly rocky period when she and Shia were filming Transofmers: Revenge of the Fallen…having Shia run his mouth now and brag about sleeping with Megan is awful for them."

Though was it really cheating? "…technically [Megan] didn't do anything wrong since they were on break. [Still], they are so angry at Shia." We hope this love triangle dies out very soon!
[From Hollywood Life]
Is it possible that Megan and BAG were on a break, and that's when she and Shia boned, and Megan is just apologetic and upset because her former (secret) lover told the world that they boned in a most ungentlemanly fashion? Of course. But I still don't know why that BAG quote from last year isn't getting more play, and I think that whether or not there was technically a "break" somewhere in there and Megan is completely blameless, in BAG's mind, he was Megan's only love and he had no idea about Shia.
Now, will this whole scandal put a crimp in their marriage, long-term? I don't know. After staying quiet and low-profile throughout the Transformers publicity tour in which her name was constantly being mentioned, Megan has come out of hiding with a series of public moves. There was that completely weird Facebook-Botox thing, and now here are some "candids" from the set of The Dictator, in which Megan has a small part (photos of Megan in blue). I'm not sure what she's doing, but it's interesting.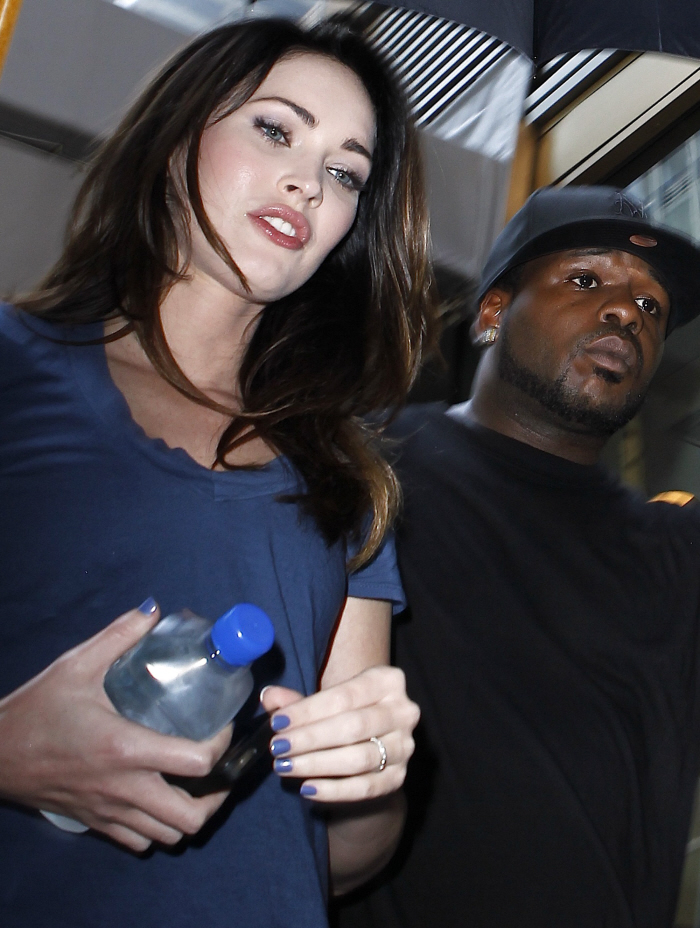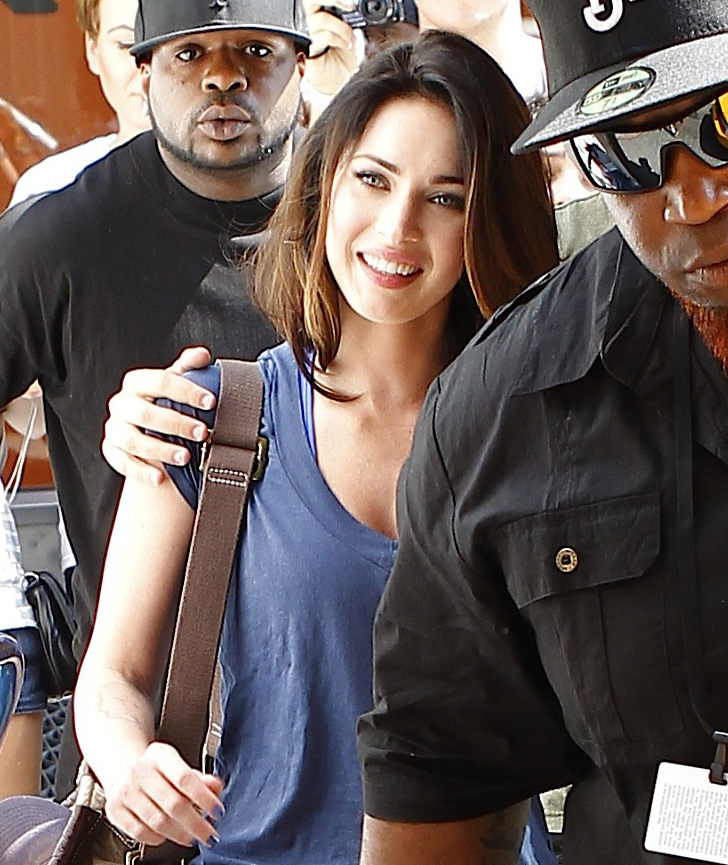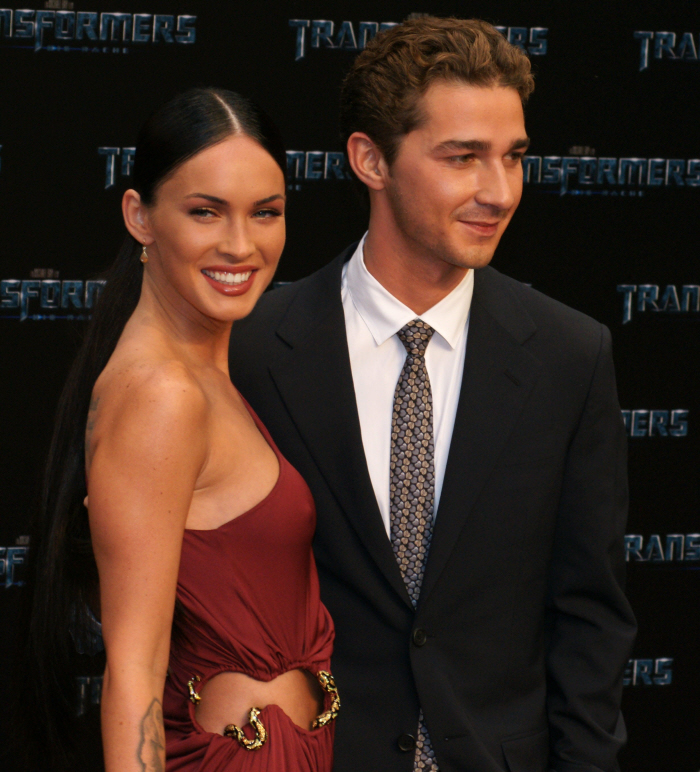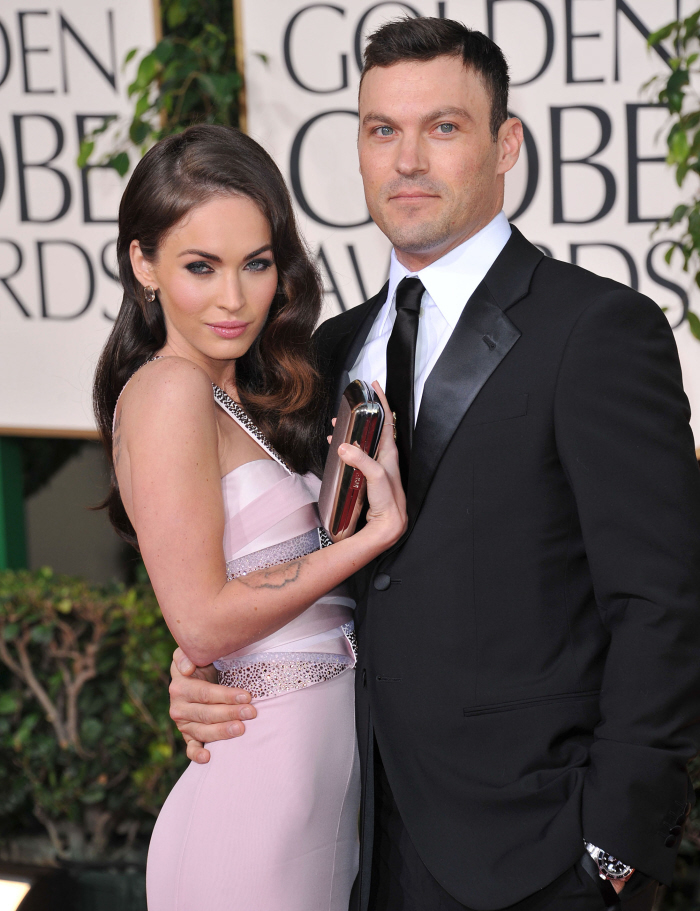 Photos courtesy of WENN.