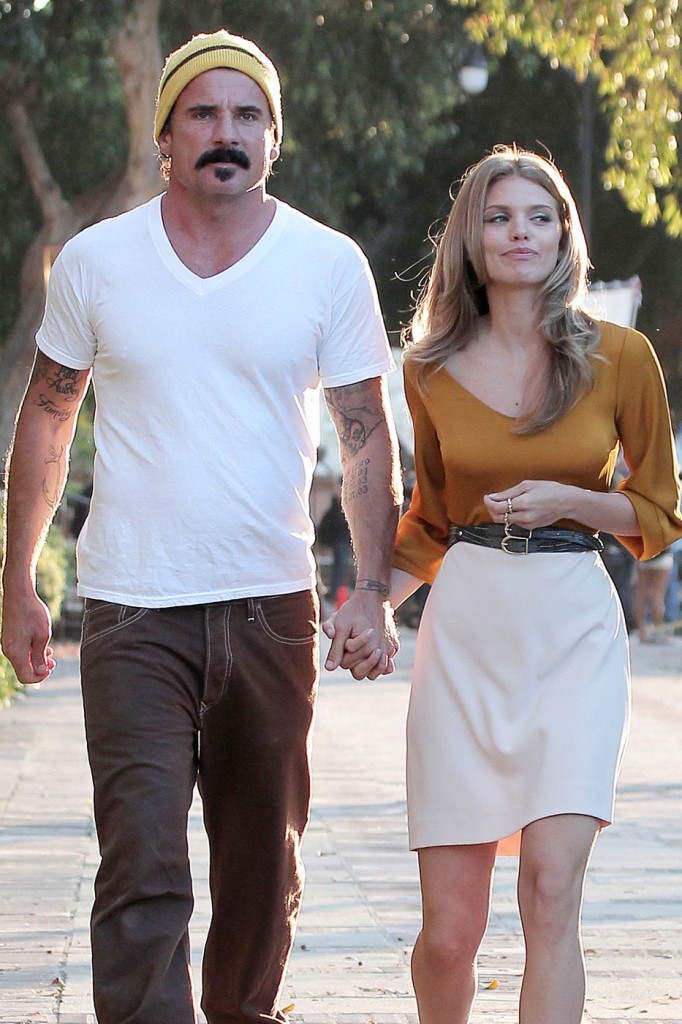 The last we knew of Annalynne McCord of 90210's love life, she was on-again with her lunk of a self-involved douche, Kevin Lutz. She has crap taste in men and didn't know when to say when with Lutz. (She was with a model named Aaron O'Connell after Lutz, but we barely heard about it.) It looks like she's moved on, though, as she was spotted during a break from filming arm in arm with Dominic Purcell of Prison Break. I found this guy very hot on Prison Break, but he's grown a huge moustache and a soul patch and now he's dating McCord, who is 18 years younger than he is. It just seems immature. He does look to have color coordinated his beanie and white t-shirt with McCord's 90210 outfit, though, so maybe he's sweet on her. This wasn't their only outing. People has details and a photo of another: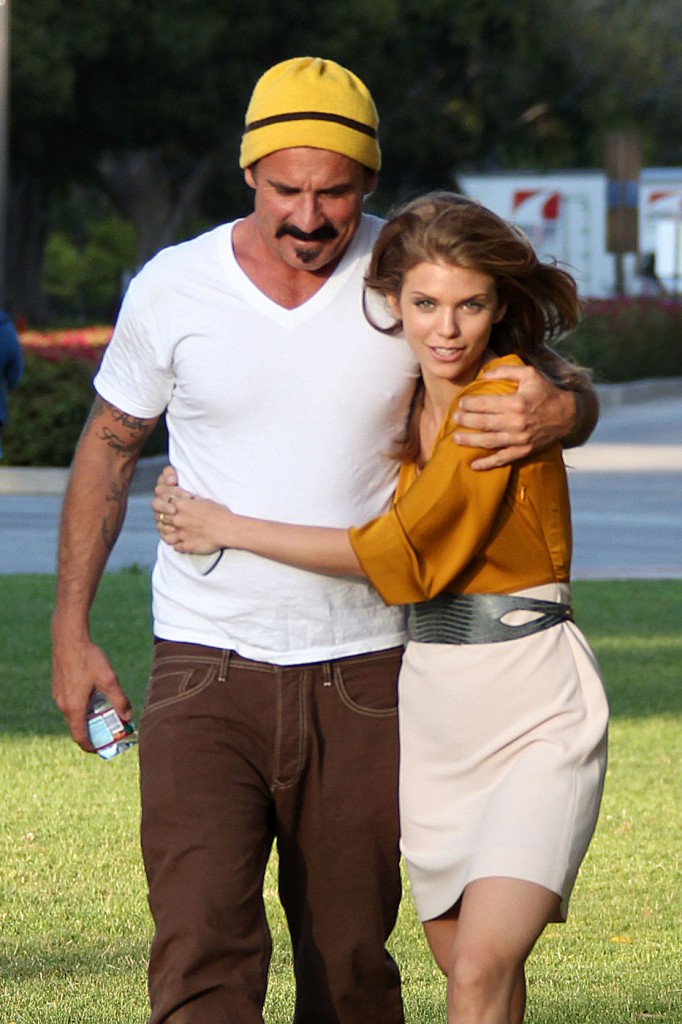 Life's a beach for new couple AnnaLynne McCord and Dominic Purcell.

A month after they were first spotted laying on the P.D.A. at a Beverly Hills lounge, McCord, 23, and Prison Break's Purcell, 41, enjoyed each other's company Tuesday on the beach in Los Angeles.

The two linked arms as they walked along the sand, McCord wearing a black cover-up over her bikini.

Purcell was previously married to Rebecca Williamson, whom he split from in 2007.
[From People]
At least they were both single when they got together. I know that sounds like it should be a given, but with Hollywood relationships it deserves praise. He seems too old for her, but if they're happy good for them I guess. I kind of love that Kellan Lutz's ex is with a new man who could easily kick his ass.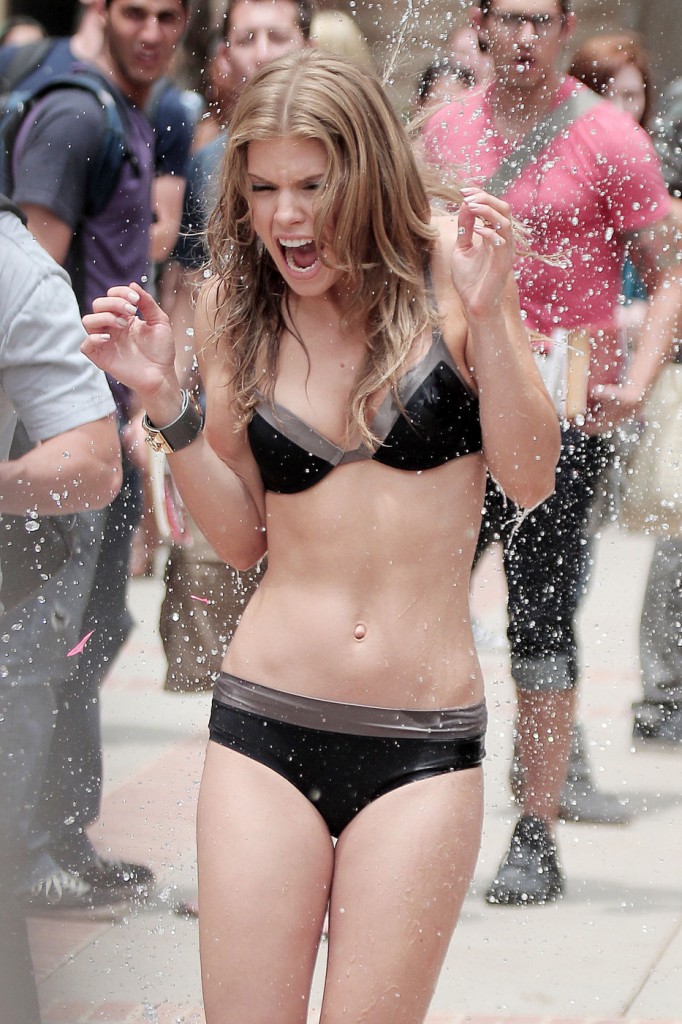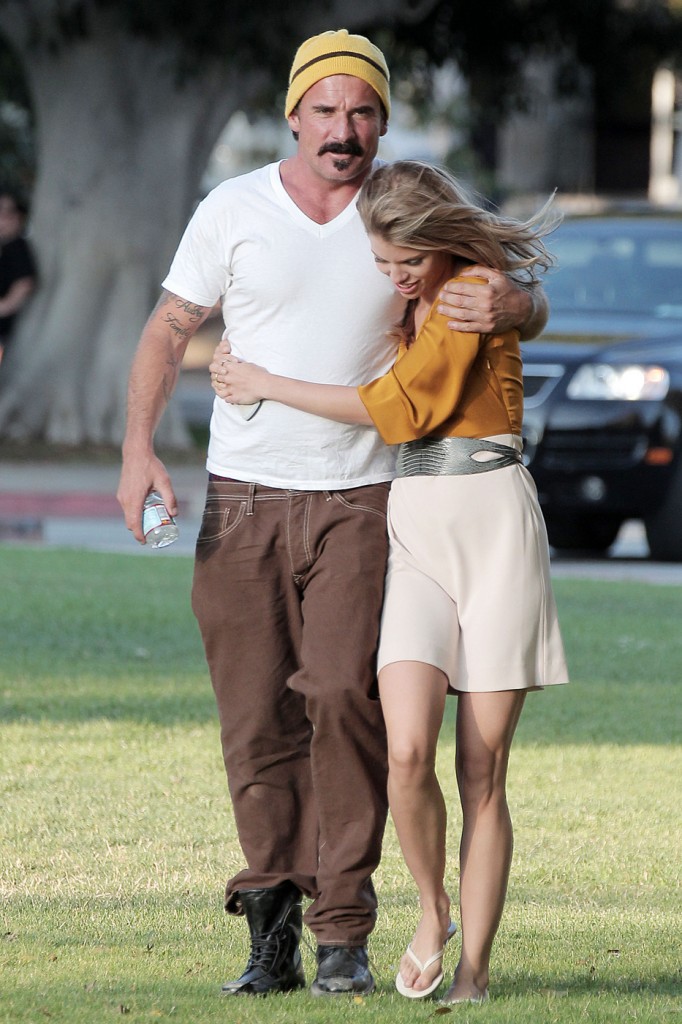 Photo credit: Perkins, Shirley/PacificCoastNews.com. McCord is also shown filming a scene for 90210 where she gets water bombed or something. That photo is credit: Gaz Shirley, PacificCoastNews.com