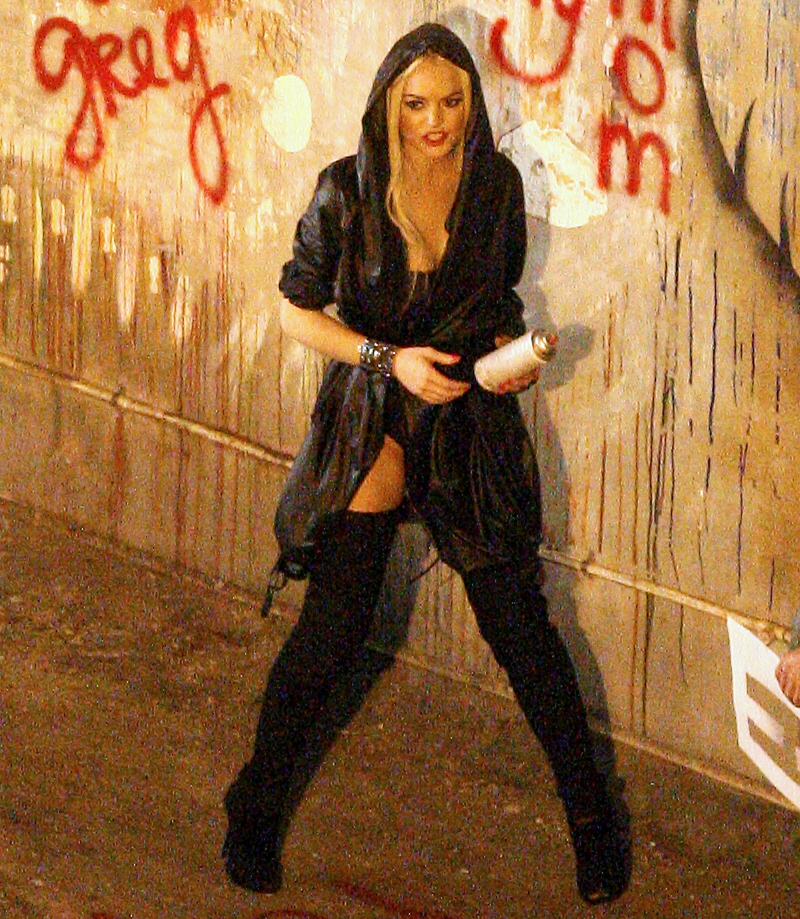 Here are some more photos of Linnocent from another day/night of shooting that music video. Yes, Linnocent is a music video girl now. She is not shooting a video for her new single or anything, this is for a band called The Miggs, who must suck. Hard. As for Linnocent's costume… er… I guess she's wearing panties or something underneath that jacket? I hope so. I think so… it looks kind of like her ensemble is a black one-piece swimsuit, a hooded thigh-length jacket and a thigh-high boots? So, basically, she's going to steal this outfit for her future street walking…? She looks pretty crackie, in any case, but when doesn't she look crackie at this point?
Meanwhile, do you guys remember Linnocent's Vanity Fair Italia cover shoot and interview from just a few weeks ago? I asked Italian-speakers to translate part of the interview for me, and they followed through! In the interview, Linnocent was described as pulling out her infamous furry pink jacket and showing the Vanity Fair reporter a gun. Linnocent then allegedly told the reporter, "I've got a permit to carry a firearm, but it's not loaded, I keep it in the house in case someone tries to get in." Now, weeks later, Linnocent's publicist is denying that. Seriously?
Lindsay Lohan is setting the record straight about a controversial new interview in which it is alleged she boasts that she owns a gun.

In the August issue of Vanity Fair Italia the embattled starlet poses for a steamy photo shoot and interview with famed photographer Alan Gelati, during which, he claims: "[Lindsay] brings out a pink fur jacket and a gun: 'I've got a permit to carry a firearm, but it's not loaded, I keep it in the house in case someone tries to get in.'"

However, Lindsay emphatically denies that she ever said that, and insists that she doesn't even own a gun.

"Lindsay has never, ever owned any type of firearm in her life. I have no idea why someone would say that," Lindsay's publicist, Steve Honig tells RadarOnline.com.

In the interview, Lohan also (allegedly) commented on her recent lucky escape from serving time in jail, after being sentenced instead to house arrest following a probation violation: "Unless you're a killer, I don't see a reason to stay there. I never hurt anyone but myself."

Meanwhile, Lohan has a progress report hearing on July 21 for her misdemeanor grand theft case at the LAX Airport Courthouse. Lohan won't be required to be there unless Judge Sautner is concerned about Lilo complying with terms of her probation.
[From Radar]
A denial from Linnocent's publicist means absolutely nothing. The bitch is a pathological liar and she only hires enablers, so who knows if Linnocent lied to this guy, or if he's just lying to us. I believe Linnocent has a gun. I believe she keeps it in her sketchy pink fur coat. I believe she's gets cracked out of her skull and pulls the gun out to show to whoever is in front of her, be it a journalist, a dealer or her sister.
By the way, here's an interesting thought: why did Linnocent's publicist come out to deny this particular story WEEKS after the Vanity Fair interview went public, especially considering there was a particularly damaging NEW magazine interview that came out just this past week in PLUM Miami? Next month, will Linnocent's hack publicist finally get around to denying the stories in that magazine? I would love to hear Linnocent's denial for claiming that she should have been up for a part in Black Swan.
Oh, and Linnocent also took part in another photo shoot with her enabler, Tyler Shields. You can see the full shoot here, but here's one photo I think you'll like: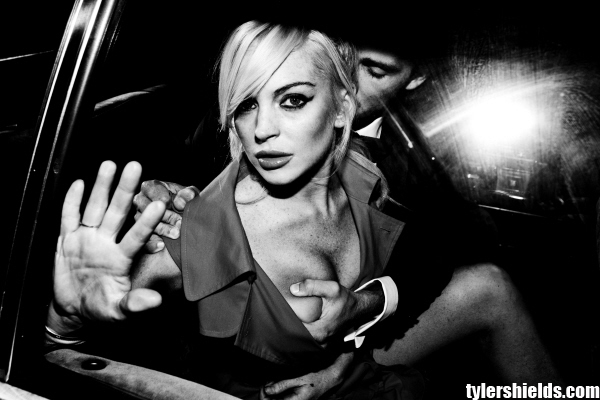 More from her music video shoot: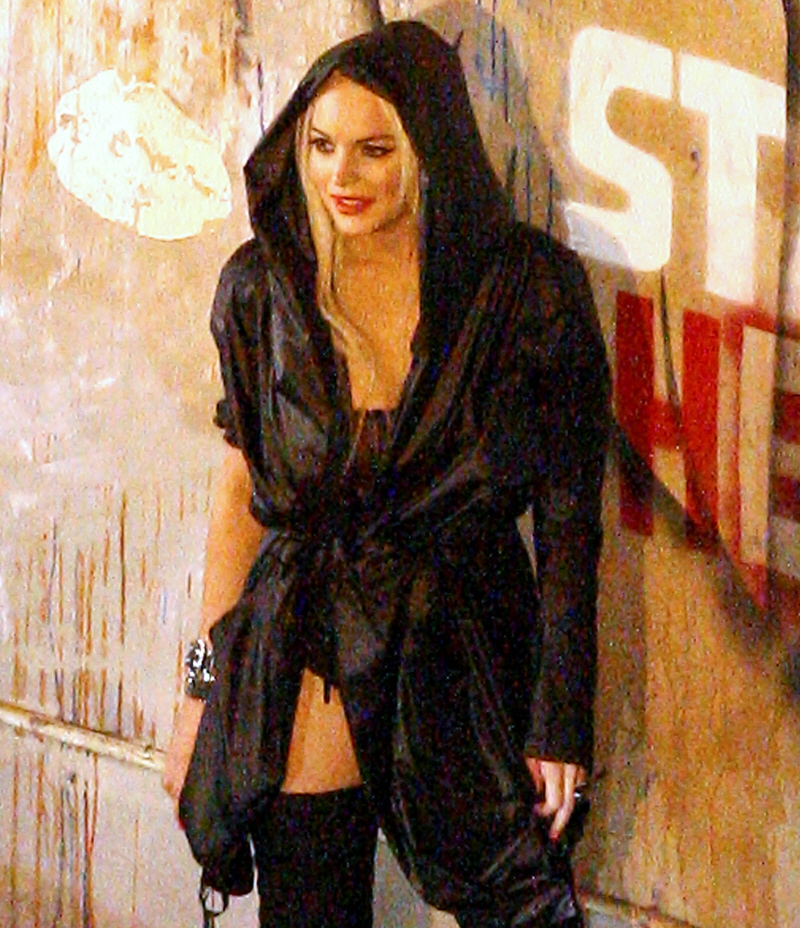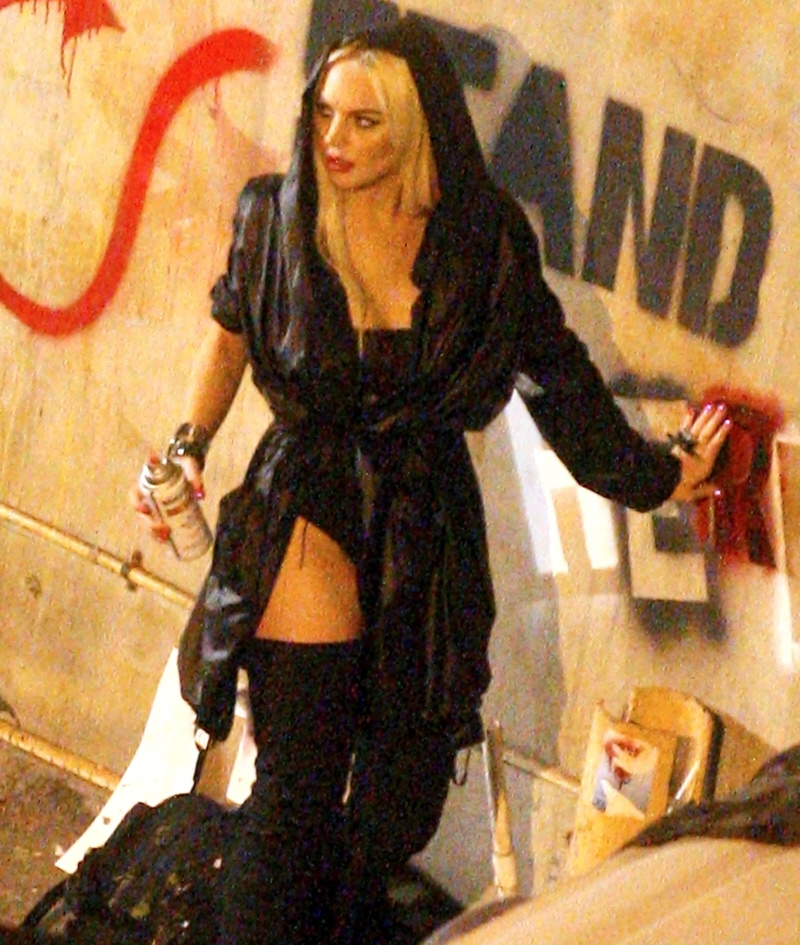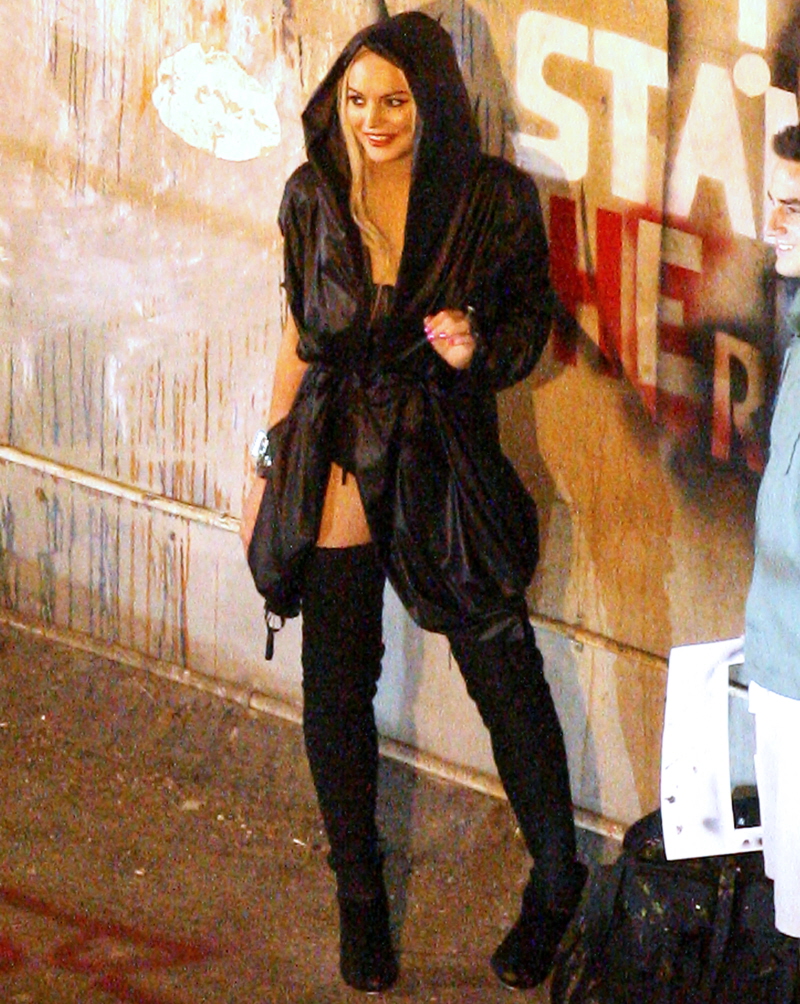 Photos courtesy of Fame.