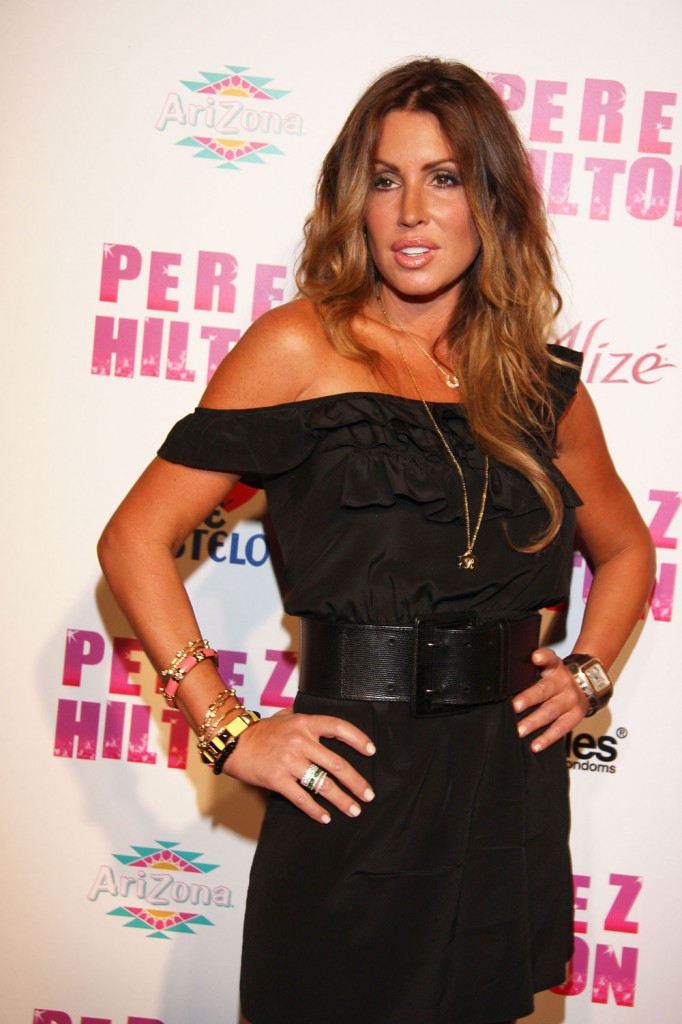 This is the type of story that the term schadenfreude is made for, since it involves Rachel Uchitel being beaten at her own game. According to TMZ, Rachel was persuaded by her lawyer, Gloria Allred, to return the bulk of the $10 million package she extorted settlement Tiger Woods gave her in exchange for not holding a press conference revealing details of their affair. Since Rachel is a famewhore (or just leave out the fame part) at heart, she possibly violated the confidentiality clause in her settlement by going on Celebrity Rehab, doing multiple interviews and generally keeping the story alive, even though she claims innocence since she never went on the record about her experiences with Tiger. So Allred advised Uchitel to make a deal with Tiger's lawyer and give most of the money back, only Allred worked out a nice package for herself where she got to keep her lawyer's fee. She really is the head madam of the stripper mistresses and she'll sell them out in a heartbeat. Excuse me while I point and laugh.
TMZ has learned … Rachel Uchitel has given Tiger Woods back most of the settlement money he paid her … and now Rachel is preparing to sue Gloria Allred, the lawyer who struck the deal, allegedly because Gloria sold her out for money.

As TMZ reported, Gloria negotiated a $10 million settlement for Rachel … just hours before Rachel was going to hold a tell-all news conference about Tiger Woods. The settlement included a confidentiality agreement, which prohibited Rachel from talking about Tiger.

We've learned the agreement stated … if Rachel violated the confidentiality clause … she would not only have to return the money she received but Tiger could sue her for damages as well.

Sources tell TMZ … several months ago Tiger's lawyer, Jay Lavely, contacted Gloria and said they were going after Rachel because they believed she violated the confidentiality agreement by allegedly speaking with TMZ and going on "Celebrity Rehab" to treat her "addiction to love" — though she never talked specifically about Tiger on the show.

We're told Rachel felt strongly she had not violated the agreement, but Gloria allegedly convinced her she would lose if push came to shove, so Gloria struck a deal with Lavely — that Rachel would return the lion's share of the settlement money.

But our sources say … what has Rachel fuming is that Gloria allegedly made a deal with Jay Lavely — that Gloria would still get all of her attorney's fees. Rachel believes Gloria sold her out … allegedly making a deal with Tiger's lawyer to strong-arm Rachel into giving the money back and in return Gloria would get her fee — a fee Gloria would not have received if Rachel went to arbitration and lost.

We're told Rachel went along with the deal, but as time went on she felt she had gotten screwed, and then hired a malpractice lawyer who has made a demand on Gloria to either pay Rachel what she gave back or get sued.
[From TMZ]
How stupid do you have to be to jeopardize $10 million for a $500k gig on a reality show with D listers? The fame was so important to this idiot that she ended up losing the lottery money she earned for being the first Tiger mistress to go public. Given the sh*tstorm that followed, her silence wasn't worth four figures not to mention eight. She was just one of over a dozen that we know of.
Tiger was one of countless hookups for Rachel too. A source recently revealed to TMZ that while Rachel was seeing Tiger she was also dating a guy named Jamie Dingman. Dingman, an investment banker and the son of a billionaire, is currently dating Tiger's ex, Elin Woods. A "friend" of Rachel's told TMZ that back when Jamie was with Rachel he knew that she was also seeing Tiger and told her "That's ok. I'll date his wife, Elin." Elin sure knows how to pick 'em.
Rachel Uchitel is shown in 2007 with her Celebrity Rehab costar, Jason Davis. Gloria Allred is shown with Tiger Mistress Joslyn James on 4/5/10. Credit: WENN.com