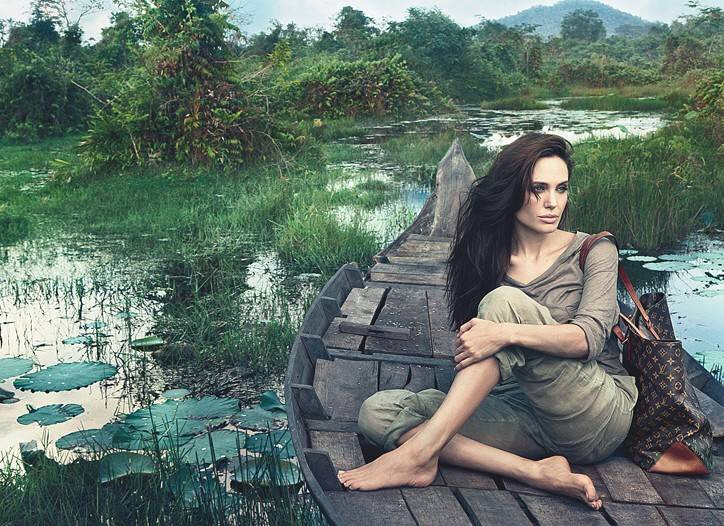 Angelina Jolie's Louis Vuitton "Core Values" ad campaign has been released in a slow, effective drip. First, we saw the print ad – which Louis Vuitton claims was Angelina without makeup. Then we saw the first "commercial" with Angelina – it was fine, not really doing the hard sell, but it was pretty and it made me want to go to Cambodia. Now the full-length "commercial" has been released. It's 10 minutes long! Now… you bitches know that I love some Angelina, but I swear to God, this is ripe for a Funny or Die parody.
Angelina talks about how it's very common for Cambodian families to just get on an elephant and watch the sunset together…? LOL, I mean, I'm sure that people do that in Cambodia and all, but she just makes it sound like it's something every family does in Cambodia, like the whole country shuts down at dusk because everybody's on their elephant, looking at the sky.
Angelina also discusses her realization that she should adopt from Cambodia: "It dawned on me that my family was here. I thought about adoption, but hadn't all made sense. It hadn't come together and I wasn't ready to be a mom, but I saw this little boy. I don't believe in fate or destiny or things like that but something suddenly felt right. I came back a third time and met my son." She also says her "dream" has always been to cross the Sahara. Good God.
Oh, and she's wearing eye makeup.