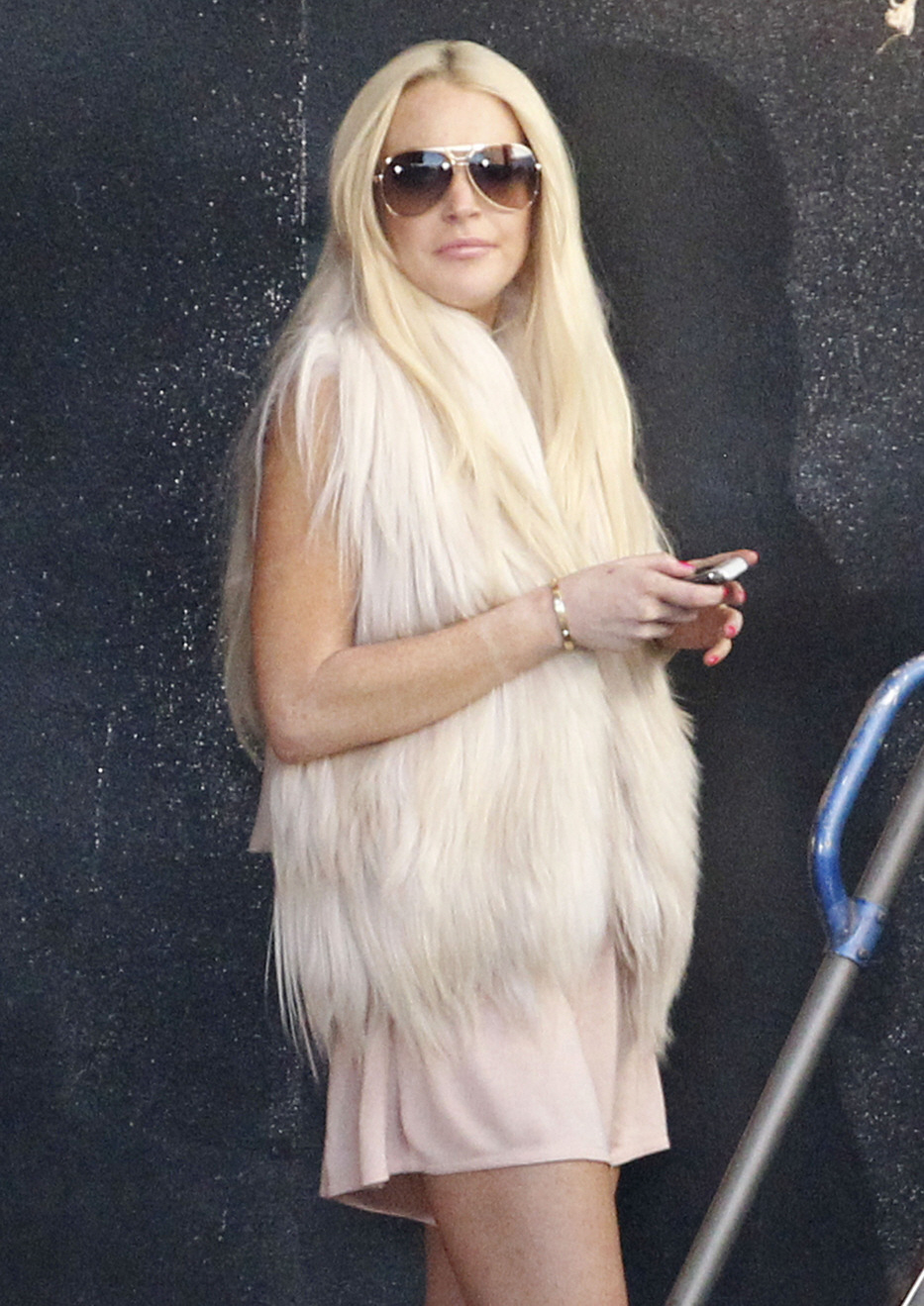 We've gotten emails begging us to cover Linnocent's appearance in court today. Why? I don't get it. At this point, doesn't every single person here realize that Linnocent will forever and ALWAYS get away with every single rotten, sketchy, illegal, cracked-out, ridiculous, nasty thing that she does? She never faces consequences for anything.
So, anyway, Linnocent had to come to court to see Judge Stephanie Sautner about her probation progress report. If you'd like to see pics of Linnocent's arrival, go here. She wore stilletos, a long black skirt, and lots of layers. No crack tittays on display – maybe because she was before a female judge? Eh, I doubt Linnocent thinks like that. As far as progress made… well, Linnocent hasn't done much, of course. She'd rather TALK about how much she'd love to be doing community service (while doing blow) rather than actually do her court-mandated service.
Judge Stephanie Sautner made it clear — she is extremely impatient with Lindsay Lohan and her progress in completing probation. Judge Sautner made it clear, Lindsay had better complete her community services within 1 year of the date of sentencing — or else! The judge said, "I'm not going to give her five extra minutes. I don't want to hear, 'Oh, I couldn't do it because I was on the set of the John Gotti movie.'"

The judge was frustrated that after 2 months, Lindsay has only completed 4 days of 60 days of community service. The judge was also upset that Lindsay had not enrolled in psychological counseling — as she's required to do. The judge is giving her 21 days to sign up with a personal counselor — not a group counselor.

The L.A. County Probation Dept. was asking Judge Sautner to violate Lindsay's probation, because of 3 alleged violations. Two of them were outright bogus … the third was Lindsay not returning a call from her probation officer. Lindsay did in fact belatedly return the call.

Judge Sautner made it very clear — if Lindsay doesn't get her act together, the judge will revoke her probation. So jail for Lindsay still looms.
[From TMZ]
Radar also explains that Shawn Chapman Holley agreed with the judge, that Linnocent knows she must complete her community service and she can't use the "I'm working on a movie!" excuse. Linnocent has already paid her fines, and taken one of four shoplifting courses. If Linnocent doesn't start psychological counseling (that poor shrink), Linnocent's probation will be revoked. "Revoked" meaning "go to bed without ice cream!" – which translates, in Linnocent-speak, to "go clubbing, do some lines in the bathroom, and fill your water bottle with vodka."
Also – here's a sad/interesting fact: Linnocent's Screen Actors Guild insurance has lapsed. That happens when an actor hasn't had a union acting job in years. Because Linnocent no longer has insurance provided by her guild, she'll probably have to dip into her prostitution money, I'm guessing, to pay for her therapy.
Linnocent's next probation report/court appearance will be in October. Unless, you know, she screws up again.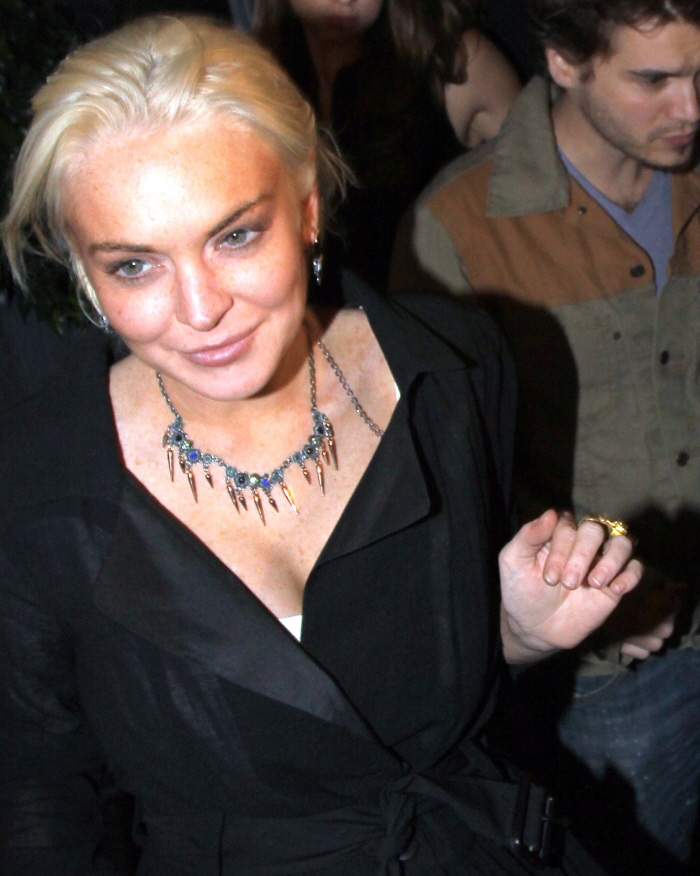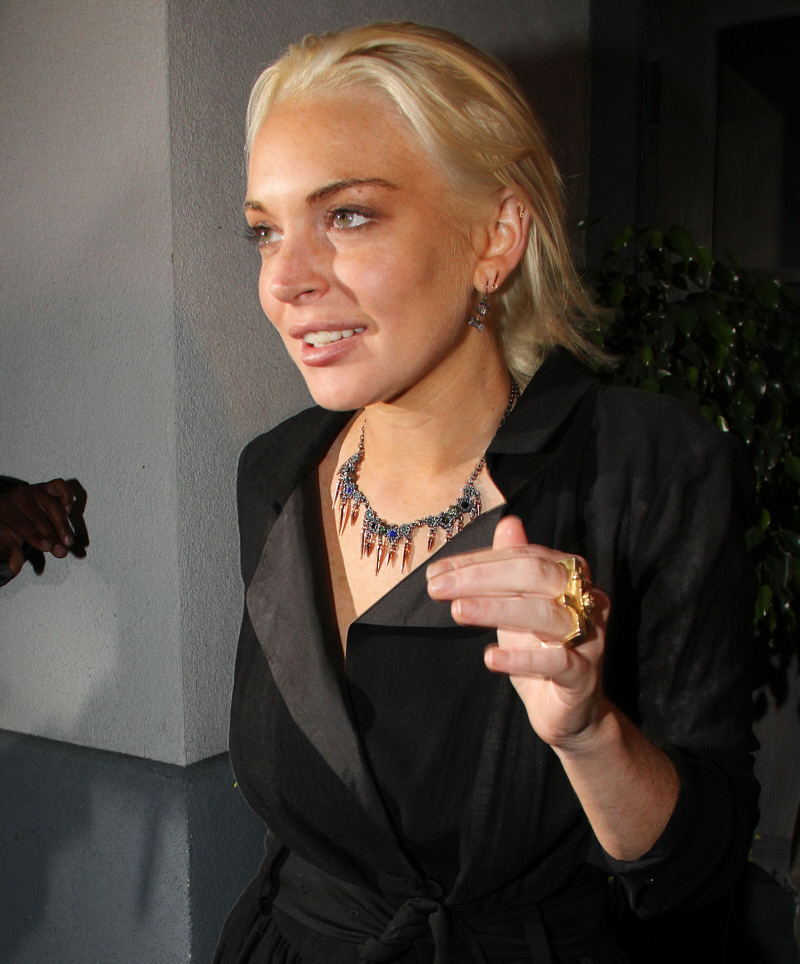 Photos courtesy of WENN, Fame & PCN.