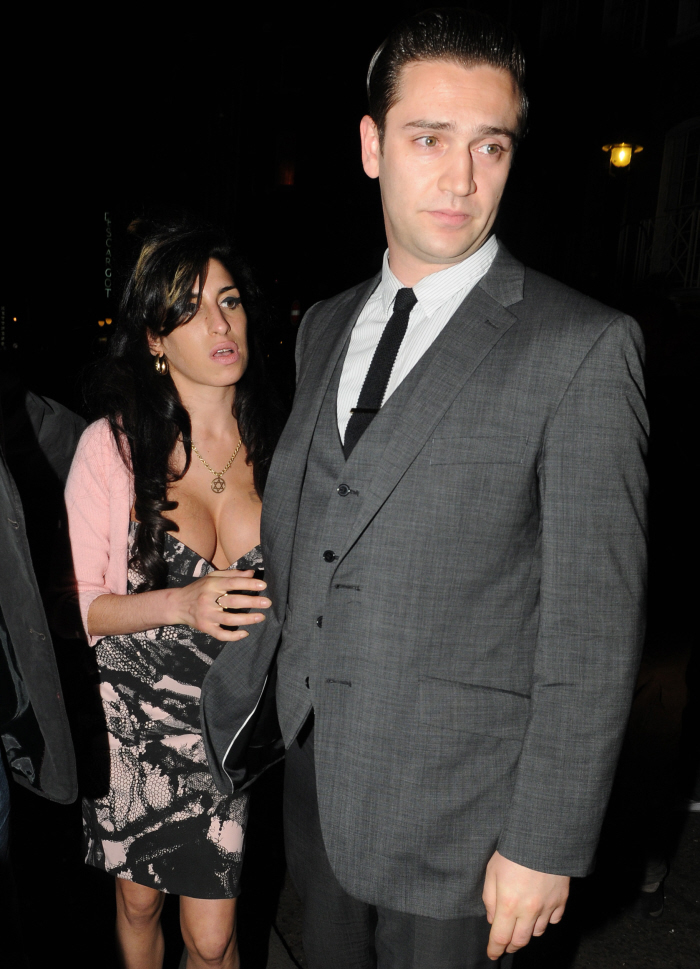 Yesterday, the preliminary autopsy results came back on Amy Winehouse, but we still don't know exactly how she died because it's going to take weeks to find out toxicology. In the meantime, there is more news. Amy's family plan to cremate her today in London. Blake Fielder-Civil will not be getting out of prison for the funeral, nor do Amy's parents want him there. Amy's album Back to Black has skyrocketed up to number one on iTunes, and I suspect Amy's music will be topping many charts yet again around the world. But the biggest news today is that Amy's boyfriend at the time of her death, Reg Traviss, has finally given an interview. He seems genuinely broken up, and I do think he loved Amy and was trying to take care of her:
AMY Winehouse's heartbroken boyfriend spoke yesterday of his grief over her death – and admitted: "I can't describe what I am going through."

Film director Reg Traviss, 35, wept beside fans who paid tribute to the singer outside her North London home. And he said after the 27-year-old's "untimely" death on Saturday: "I want to thank all those who are mourning the loss of Amy – such a beautiful, brilliant person and my dear love."

Distraught Reg said Amy had been upbeat and full of life in the days leading to her death. He said Amy had been excitedly choosing clothes to go to a pal's wedding on Sunday. He added: "Amy kept trying to decide what to wear. She had laid out her dresses to make up her mind. She was really looking forward to it."

But on Saturday the film director's world came crashing down when he learned Amy had been found dead in bed at her home. Reg said: "The last three days have been hell. We have suffered a terrible untimely loss and want peace now. I can't describe what I am going through and I want to thank so much all of the people who have paid their respects and who are mourning the loss of Amy, such a beautiful, brilliant person and my dear love. I have lost my darling who I loved very much."

Reg, speaking of Amy for the first time since her death, gave an account of her final days that scotched rumours she had been in a drug-fuelled haze.

He said: "She has been full of life and so upbeat recently, exercising everyday and doing yoga. This terrible thing that happened is like an accident."

Reg, son of a London publican, had being seeing Amy for two years. Amy's family were delighted. They saw clean-cut Reg as the perfect boyfriend after her catastrophic marriage to junkie Blake Fielder-Civil – the man blamed for getting her hooked on hard drugs. Dad Mitch had given their relationship his full blessing. A source said: "Reg has been dignified throughout his relationship with Amy. The family love him dearly. He's a good guy. What happened in their life together remained private because he was determined to help get her back on her feet properly. He wasn't interested in the limelight – unlike a lot of her exes."

Reg, who spent yesterday with Mitch, Amy's mum Janis, brother Alex and manager Raye Cosbert, did his utmost to keep Amy safe from her demons. But he spent a large part of the past 12 months working on his latest movie, Screwed. Filming took him away from home. That left Amy to her own devices in London – and at the mercy of those who preyed on her addictions. The source added: "When Reg was around, Amy was a different girl. He was a calming influence and kept her away from trouble. He really cared for her. When he was away working, the parasites always crept back in and dragged her into the gutter." One of Amy's last public outings with Reg was at the low-key premiere for Screwed last month.

The exact cause of Amy's death is not yet known. A post mortem carried out yesterday was inconclusive and the results of toxicology tests will take weeks to process. But the singer's family believe she was killed by either a heart attack or a fatal seizure. Amy had regular heart palpitations and had suffered a number of seizures – caused by the terrible pounding her body had taken during years of abuse.

A source said: "Amy's family are expecting the outcome to be a heart attack or seizure and will be really shocked if it's not. They staunchly believe it had nothing at all to do with recent drug binges. In the end it was her booze addiction that killed her. She had had a number of seizures in the past six months due to the amount she was drinking. She was putting so much away towards the end, her heart just couldn't take it."

In May, while on the way into rehab at the Priory, Amy stopped at a cornershop and downed a bottle of vodka. Doctors at the famous clinic monitored her heart and told her she was drinking herself to death. When her European tour was scrapped last month after a shambolic drunken performance in Belgrade she hit the bottle even harder. Two weeks ago, she blacked out three times in a week after vodka binges. Amy recently bumped into her former stylist near her home in Camden, North London, and was so drunk she failed to recognise her.

A source added: "She would drink herself into oblivion. It was heartbreaking to see Amy that wasted."
[From The Sun]
When Reg and Amy got together, it was widely reported that Reg practiced some tough love with her and told her that he would be out the door if she continued to be such a liquor-soaked mess. But I always thought they were on-again/off-again, especially when Amy looked like a mess over the past few months. I thought Reg had gone off and left Amy to fend for herself. I don't mean that as an accusation – I think if he did dump her a few times over the past year, it was likely self-preservation on his part. It's very difficult to watch someone you love kill themselves with drugs and alcohol.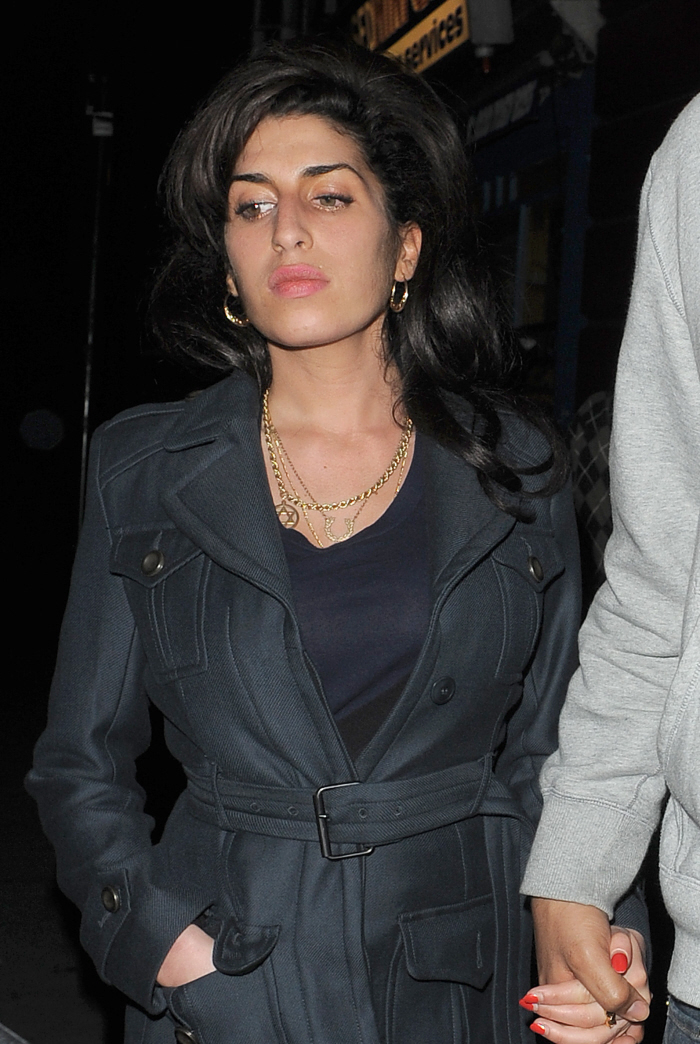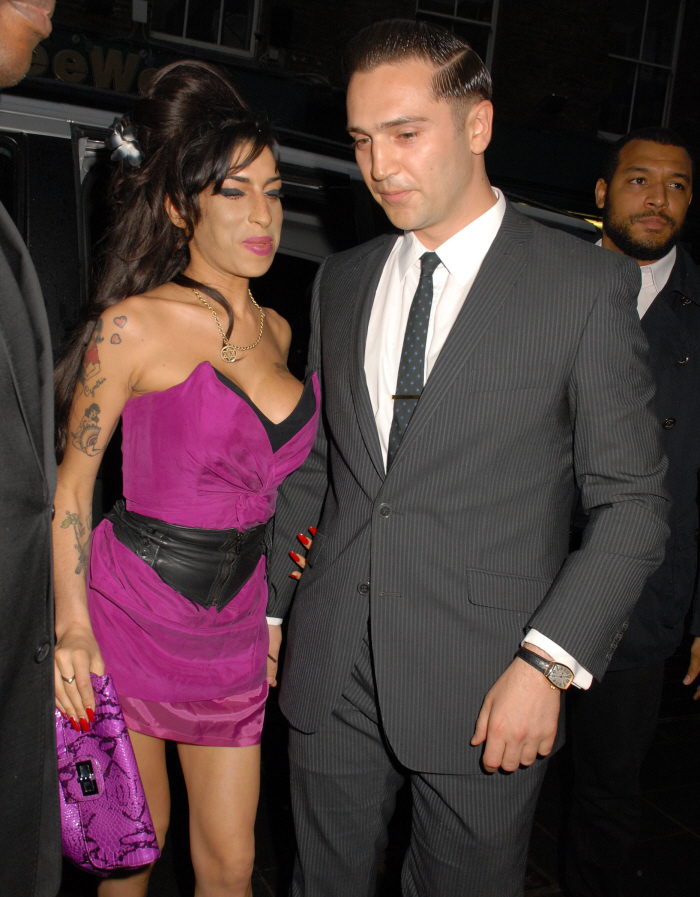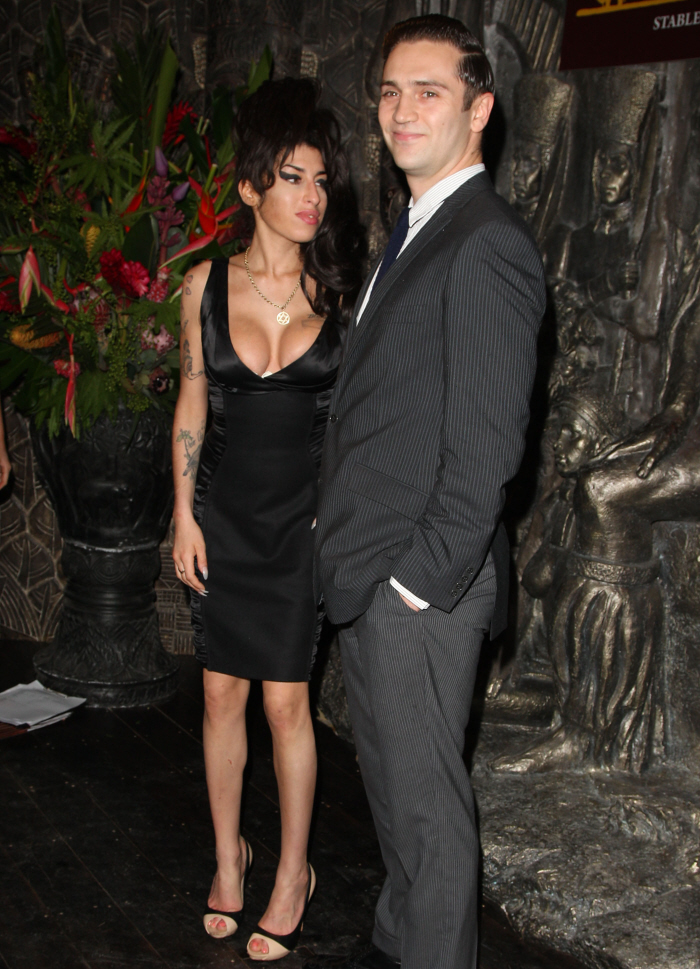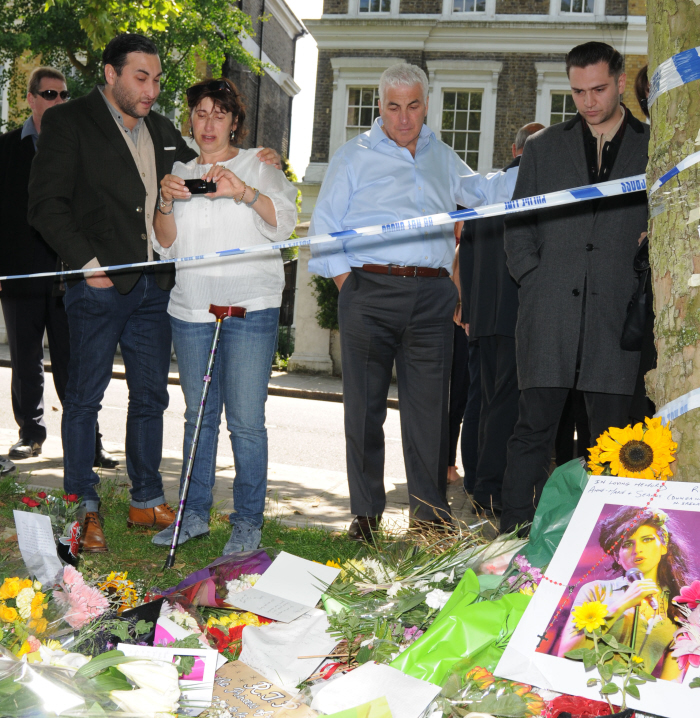 Photos courtesy of WENN.