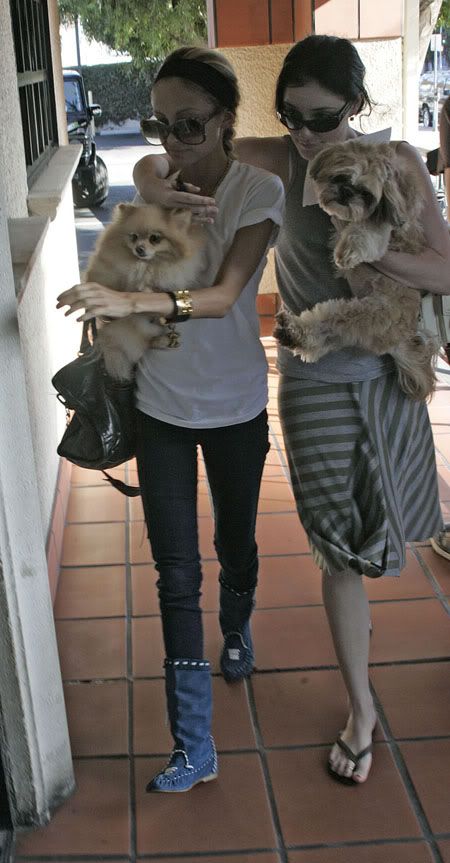 Nicole Richie needs some intensive therapy and a big 'ol IV. The girl is wasting away. She seemed like she was doing better this summer, but then quickly lost the little bit of weight she had gained and now looks like she's going to snap in two.
Her dad said a doctor evaluated her and said that her weight loss was due to stress, but was it a doctor that specializes in eating disorders? Is she really going to a clinic to get help as recent candids suggest?
Scarlett Johansson has spoken out about the Hollywood trend to be rail-thin, calling it unhealthy and unrealistic:
Johansson refuses to starve herself, despite constant pressure to conform to a slim figure. She says, "I try to stay fit and eat healthily, but I'm not anxious to starve myself and become unnaturally thin. I don't find that look attractive on women and I don't want to become part of that trend. It's unhealthy and it puts too much pressure on women in general who are being fed this image of the ideal, which it is not.
"I think America has become obsessed with dieting rather than focusing on eating well, exercising and living a healthy life. I also think that being ultra-thin is not sexy at all. Women shouldn't be forced to conform to unrealistic and unhealthy body images that the media promote. I don't need to be skinny to be sexy."
Commentors on the board where we found the pictures note that the woman out with Nicole may be a new assistant. She is shown taking her dog to the vet on 9/15.
Pictures from Nicole-Style.com via JJB.