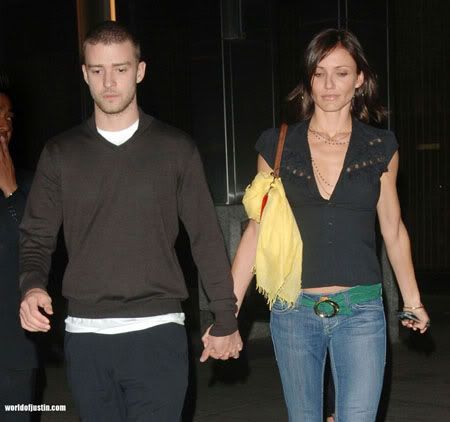 Cameron Diaz may have finally realized that she needs a new boyfriend if she's ever going to get married. Timberlake made an obnoxious statement on the Ellen Degeneres show implying that it will be decades before he ties the knot with Diaz, his girlfriend of over three years.
Now Diaz has been spotted out with a new guy, and Timberlake is said to be acting single as normal.
Actress Cameron Diaz has found a new man after boy-toy lover Justin Timberlake told talk show host Ellen DeGeneres live on air he won't be ready for marriage for another 15 years reports Australia's NW Magazine.
Sources spilling to NW, say Cameron Diaz doesn't want to be a 50-year-old bride and has put herself back on the market. " Cam saw Justin's comments as a public slap in the face and felt angry and insulted" says a pal
The 34-year-old partied hard at New York's Marquee club with her new mystery man last week. The actress seemed smitten with the man, who appears to be closer to her own age than 25-year-old Justin.
Across town, JT was having just as much fun without Cam while promoting his new album FutureSex/LoveSounds.
"He had a listening party at G Spa … and his eyes were wandering," says a pal of the singer. "He has not talked about her [Cameron] at all and comes off like a single guy."
Cam feels she has given the three-year relationship her best efforts, even consoling Justin after Edison, Alpha Dog and Southland Tales – all flopped.
"Justin's worked so hard," says a source. "He's proud of the effort he put in and all three performances, but he can't help be disappointed at how things have gone.
"Cameron has been so supportive, though. If it wasn't for her, I'm not sure he would carry on with the acting. It's reminded him of just what an amazing woman she is."
If that's true, then good for Cameron. She's not my favorite actress, but she deserves a guy who will commit to her and who doesn't talk smack about her in public.
It seems like Justin checked out of the relationship a while ago. Looking at these pictures of them together on September 9th, he doesn't seem to thrilled to be out with her. Cameron looks happy and comfortable, though.
While Justin may be having trouble breaking into film, his music career is skyrocketing. His new album "Futuresex/Lovesounds" is at the top of the UK charts, while his first single "SexyBack" is number 1 on the US charts.
Here are Justin and Cameron out together on 9/9. Pictures from TimberlakeNow.net.