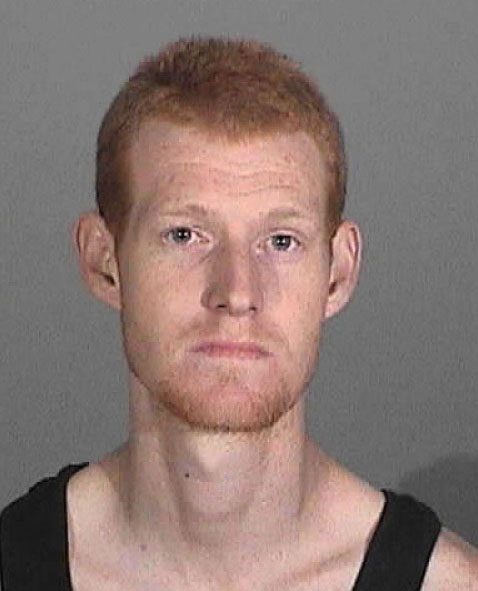 After Amy Winehouse died and everyone said all those thoughtful things about addiction (at least some people did, others remained clueless) I began to take a different view of it. It just seems freaking sad to me and so useless. This story in particular makes my heart hurt a little. Redmond O'Neal, who had to to attend his mom Farrah Fawcett's funeral in handcuffs, was arrested on possession of heroin yesterday. He was in violation of probation for an earlier arrest for drugs and was sent to jail without bail.
Redmond O'Neal has another mug shot to add to his portfolio and RadarOnline.com has the latest.

The 26-year-old was arrested in Santa Monica, Calif. on Tuesday after he ran a red light and police found heroin in his car during a routine inspection.

"At approximately 8:45 a.m. a motor officer observed an argument at a store on Lincoln corner of Michigan," a police spokesperson told RadarOnline.com. "O'Neal was one of those involved in the argument.

"The officer then watched as he got into his vehicle. He proceeded to go northbound on Lincoln before turning west bound on Olympic, it was at this time the officer observed him going through the red turn arrow."

The spokesperson continued: "The officer stopped him for the traffic violation. A search of his vehicle was done and narcotics were recovered."

O'Neal is currently being held without bail.
[From Radar Online]
I tried to review Redmond's storied history with the law and the details were so complicated it was hard for me to figure out which arrest he was in violation of. Here's a partial recap. He was arrested in September, 2008 along with his dad, Ryan O'Neal, when cops raided the home they shared, (as part of a probation investigation, natch) found meth, and charged them both with possession. (The Enquirer ran a follow up story claiming the two did drugs together regularly and that Ryan was incredibly abusive to his son. Another one of Ryan's sons, Griffin, claimed on Larry King that his dad gave him cocaine when he was just 11.)
Redmond was ordered to rehab for meth possession for that charge while all Ryan had to do was attend some drug awareness classes. Redmond was arrested again in April, 2009 when he tried to bring heroin with him to visit a friend in jail. (This seems to be the charge he violated probation for with this latest arrest.) His mom Farrah died in June, 2009.
While on a 24 hour pass from court-ordered rehab in December 2009, Redmond used drugs. He was sent back to jail for 30 days, and then went back to rehab yet again, graduating from his court-appointed drug program in August, 2010. So the kid went to rehab many, many times after multiple arrests and he was supposedly clean last year.
Redmond's mom Farrah left most of her $4.5 million estate to him, leaving nothing to her parasitic boyfriend, Ryan. So we have a young man who is a millionaire addict who lost his mom to cancer and has an abusive druggie for a dad. Maybe his siblings can reach out to him, but it doesn't sound like he can be helped much at this point. Like Lilo, jail may be the best place for him. Oh and Redmond's older half brother, Griffin, was hospitalized and released yesterday after a car accident in Escondido, CA. He seems to be ok now though.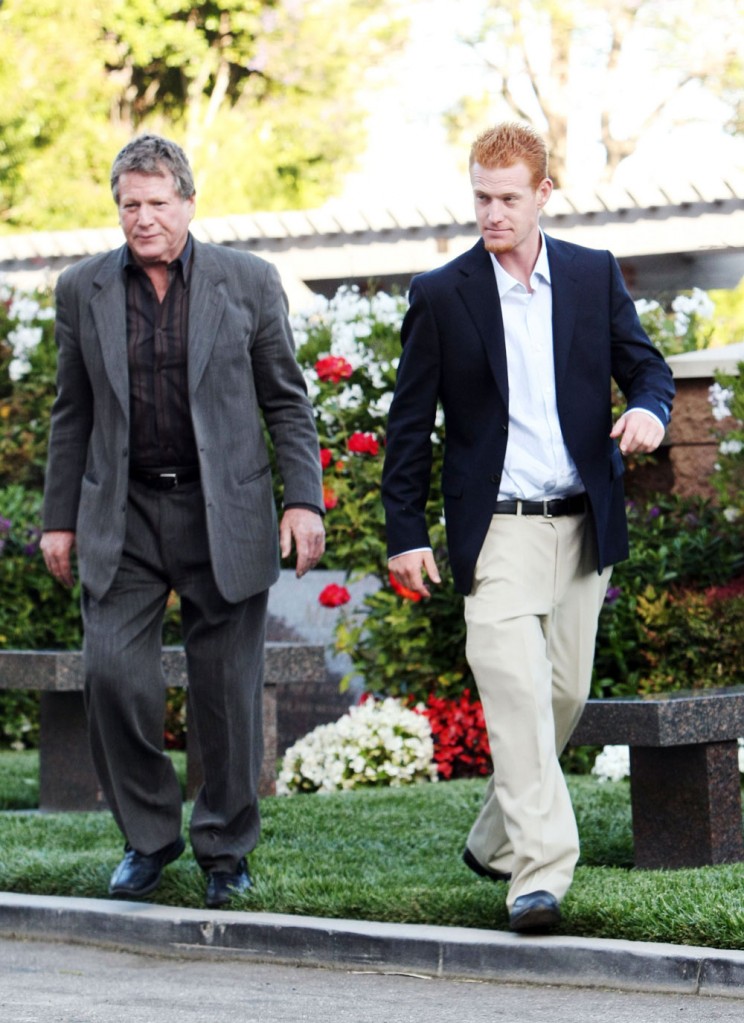 Header photo is Ryan's mug shot. Photos above are of Ryan and Redmond paying respects to Farrah on the one year anniversary of her death on June 25, 2010. Credit: Fame