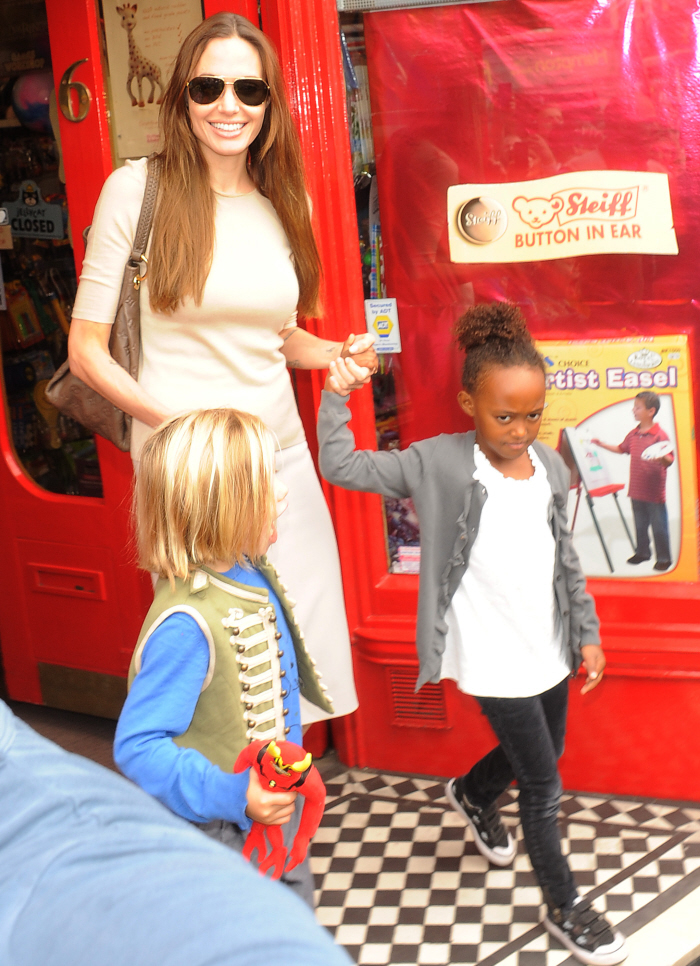 If you've been watching the news of the London riots with horror, thinking to yourself, "But what about all of the famous people that live in or around London?!?" this story is for you. Us Weekly has an "exclusive" story all about how the riots were affecting Brad Pitt and Angelina Jolie. I'm ashamed to admit that I actually found this story interesting. Here, let me put on my Brangeloonie tin-foil cap. There we go, safely secured with Empress Zahara-approved barrettes.
So the story is basically this: Brad has been filming World War Z in England for several weeks now. I thought they were filming in one of Britain's famed studio sets, but someone decided to let Brad film in real locations, so he's currently in Falmouth, Cornwall, which is "five hours away" from London (seriously?). While he's filming in Cornwall, Brad simply abandoned Angelina and their kids in Richmond, which is only "six miles away" from central London. So Angelina has been on edge and Brad has been making phone calls (big protector, that one).
Angelina Jolie and the kids are staying calm and brave amid the violence and chaos in London. Although the British capital is experiencing some of the worst rioting in its long history, Angelina Jolie and her six children with Brad Pitt aren't going anywhere — for now.

With Pitt, 47, filming World War Z in Falmouth, Cornwall over five hours away, Jolie, 36, left the family's rented home in London's Richmond neighborhood Tuesday afternoon for a visit to Pottery Cafe. At the nearby spot, she and the kids — Maddox, 10, Pax, 7, Zahara, 6, Shiloh, 5, and 2-year-old twins Vivienne and Knox — painted and decorated pottery items.

"Angie was a little nervous, but felt safe," a source tells Us Weekly. "[Security] had an extra man on the job."

Indeed, a source tells Us the shocking civil unrest in the city unnerved the actress. "This morning, she was really scared and worried about the safety of the kids," the staffer tells Us. "But, as the day has gone by, we've been able to get a clear picture on what's going on. She felt safe enough to take the children out. Of course, we are not going anywhere near central London." (Located near a popular shopping thoroughfare, the family's Richmond-area home is about six miles from the city center; rioting has broken out in London suburbs as well as other English cities.)

Pitt, meanwhile, checks in from his movie set on the coast. Adds a second insider: "Brad is…worried. He's pretty safe because he's in Falmouth, but knowing Angie and the kids are in London is what's making him worried. He has been calling the house regularly, to make sure they are OK and calm."

"People should be in no doubt that we will do everything necessary to restore order to Britain's streets and to make them safe for the law-abiding," Prime Minister David Cameron told reporters during a Tuesday crisis meeting. So far, over 500 arrests have been made in London alone, with several buildings going up in flames; over 100 police officers have been injured, and one person was found dead of a gunshot wound.

The trouble began last Thursday, when Mark Duggan, a 29-year-old father of four and suspected drug dealer, was shot and killed by officers in London's Scotland Yard; Duggan is believed to have fired no shots himself before being killed. The rioting itself reportedly grew out of an initially peaceful memorial vigil, held that night in Tottenham, Duggan's North London neighborhood, that spiraled out of control.

16,000 police officers are currently patrolling the London streets. A soccer match set for Wednesday at the city's huge Wembley Stadium has been canceled.
[From Us Weekly]
Granted, Angelina has been in much worse situations, so I have no doubt that worse comes to worst, Angelina will strap all of her children to her back, grab her machine gun and shoot her way out of London. But I can't believe Brad just abandoned her and the kids and he's only been checking in with phone calls! WTF? I would be pissed. She and the kids are only in bloody England because he's filming there.
By the way, Angelina totally took the kids out yesterday – there were photos of her and all of the kids at a "Pottery Café" in Surrey, which you can see here. Some of the kids were dressed in costume. Can I just say – I love Knox. He's such a funny little guy. A Vivienne is such a girly-girl.
Here are some photos of Brad Pitt NOT protecting his real family on the Cornwall set of World War Z. That redhead is the chick from The Killing (she's playing Brad's wife).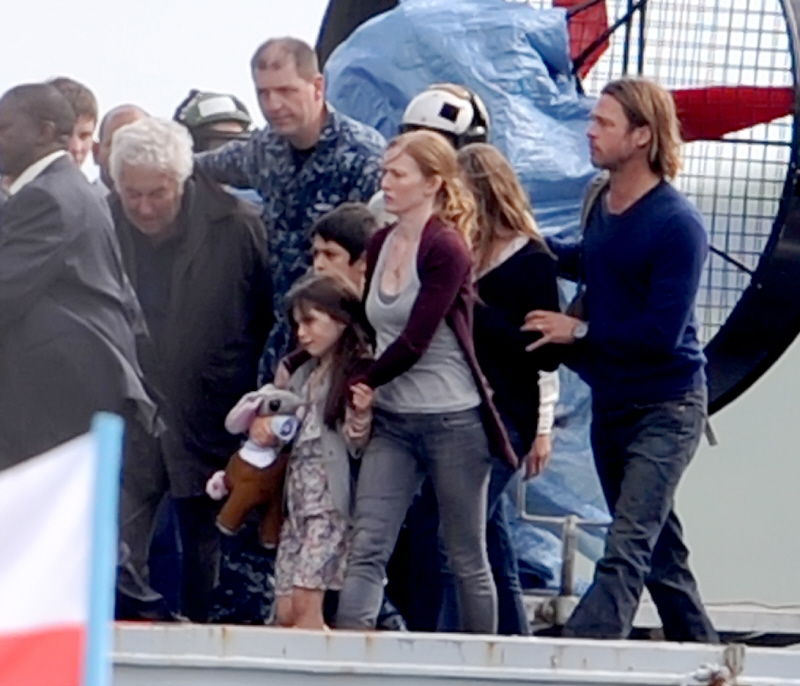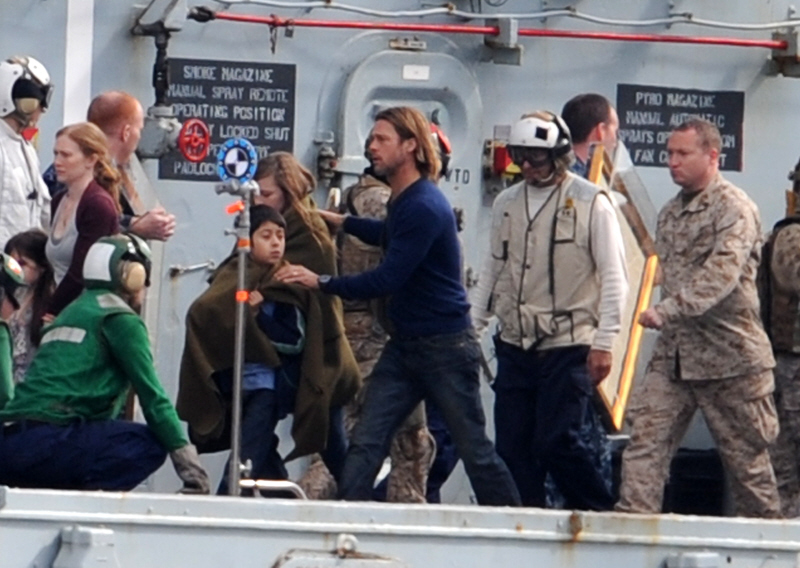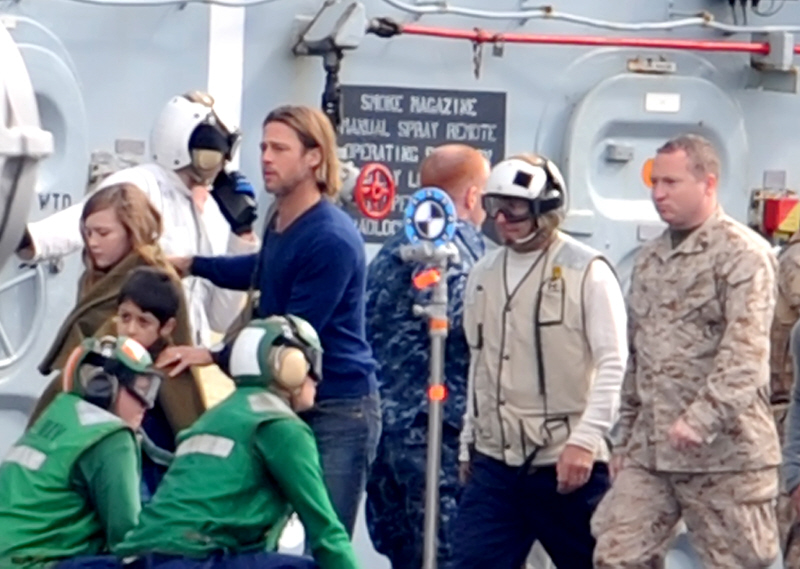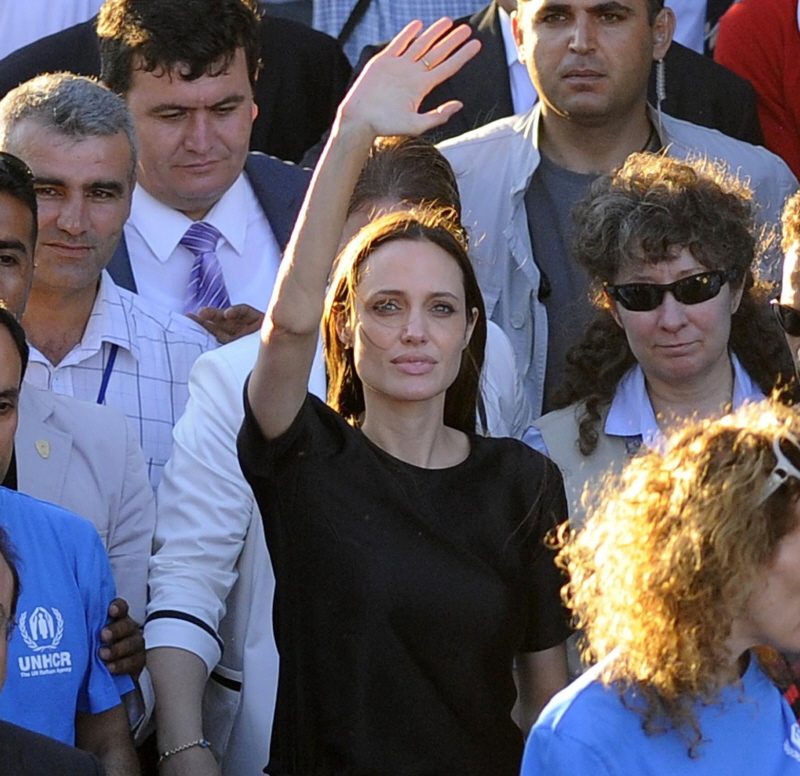 Photos courtesy of Fame & WENN.