Brad Pitt's new "wife" could be a gorgeous, sexy, talented redhead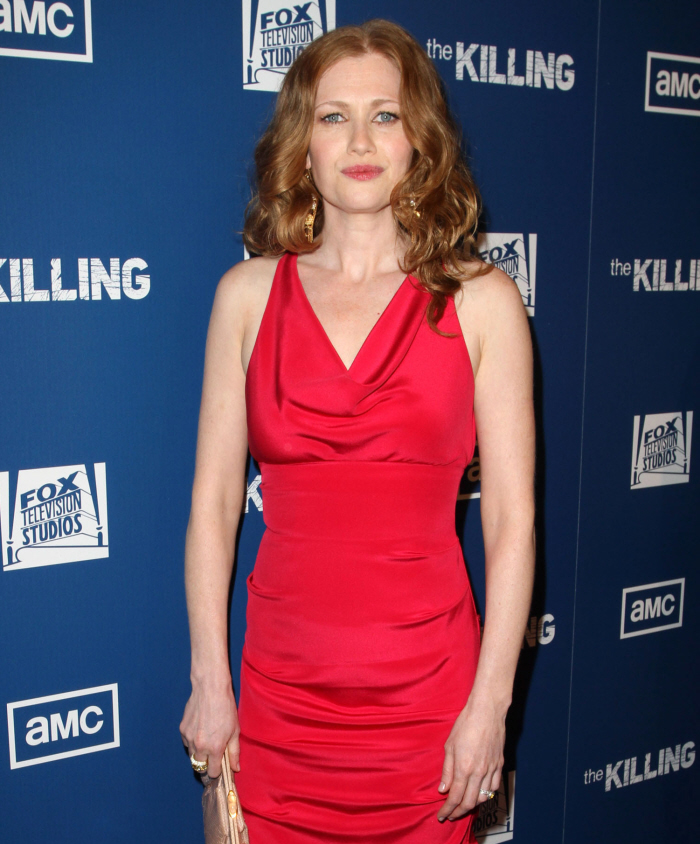 Have you guys been watching The Killing on AMC? I wasn't watching it until this past weekend, when I got caught up in the marathon and then had to watch the whole thing on DVR. I'm now obsessed – it's a really thoughtful, interesting, well-done detective story with excellent performances and great production value. And the miniseries has helped launch a barely-known character actress (if you don't watch Big Love, that is) into The Next Big Thing. Her name is Mireille Enos, and she plays Detective Sarah Linden, a woman whose empathy and compassion is scrawled all over her face. But it's getting more difficult to hide Mireille's beauty behind oversized fisherman sweaters and non-existent makeup – the woman is stunning. And now she's going to be working with Brad Pitt. Maybe. Probably.
Paramount Pictures, once shaky about the prospects of the Marc Forster-directed zombie extravangza World War Z, is now on track to make the picture this summer. I'm told that Mireille Enos, star of the AMC hit series The Killing, is in talks to play Karin Lane, the wife of Gerard Lane, the character played by Brad Pitt in the adaptation of the Max Brooks book. In The Killing, she plays Sarah Linden, the homicide detective trying to solve the murder of Rosie Larsen. This will be the first major-studio starring role for Enos, who starred for three seasons on HBO's Big Love. She's repped by Innovative and Authentic.

There had been speculation that Paramount would not bite on the Plan B-produced WWZ because it has a $125 million budget. But as Deadline reported, the studio brought in a couple of risk-sharing partners that will include David Ellison's Skydance. That cleared the way for the movie version of the book that looks at the aftermath of a global zombie war 10 years after the conflict, with a researcher for the UN Postwar Commission interviewing survivors in countries that were decimated by flesh-eaters. It was thorough, and a thoroughly creepy read. Matt Carnahan wrote the most recent draft of the script, after earlier drafts by Michael J. Straczynski.
[From Deadline]
I can see it. I can also see some juicy rumors about Mireille and Brad's sexy times if she ends up getting cast. Except that I doubt the tabloids would bite at it, would they? Because she's not well-known enough. And it's easier for them to just run stories about Brad and Aniston. But the idea of Brad and Mireille together… is hot. So is the idea of Angelina and Mireille together. How about Brad, Angelina and Mireille? Also hot. That's what happens when you add a ginger to the mix: anything goes!
By the way, I am SO not interested in World War Z. It sounds like a boring waste of money to me.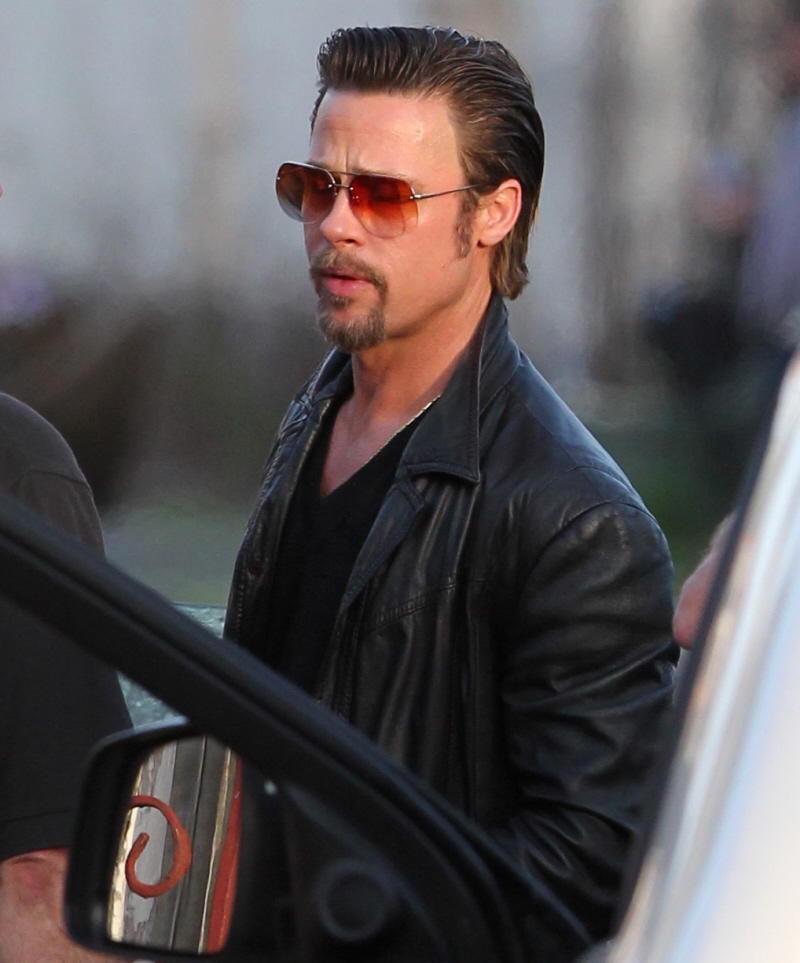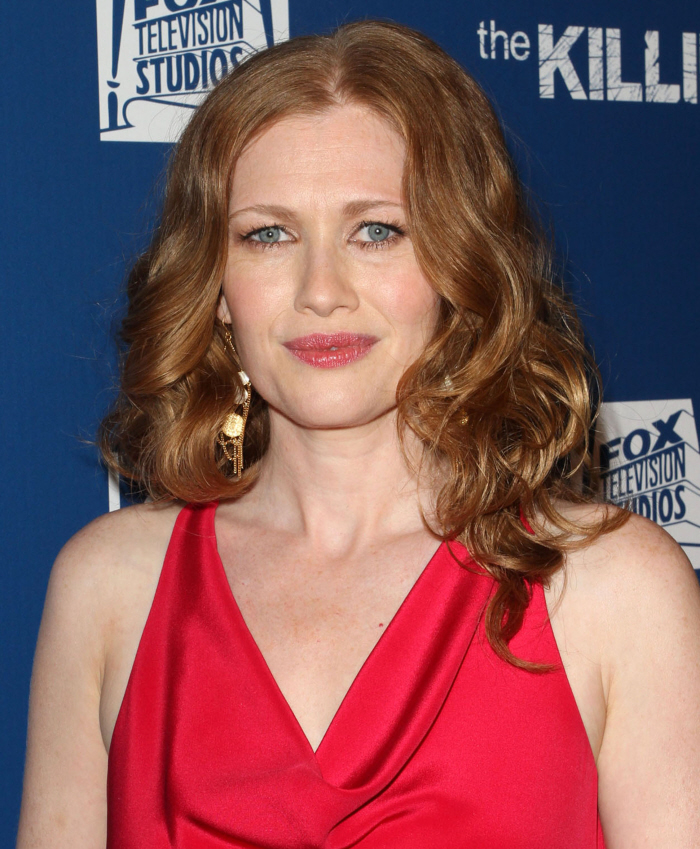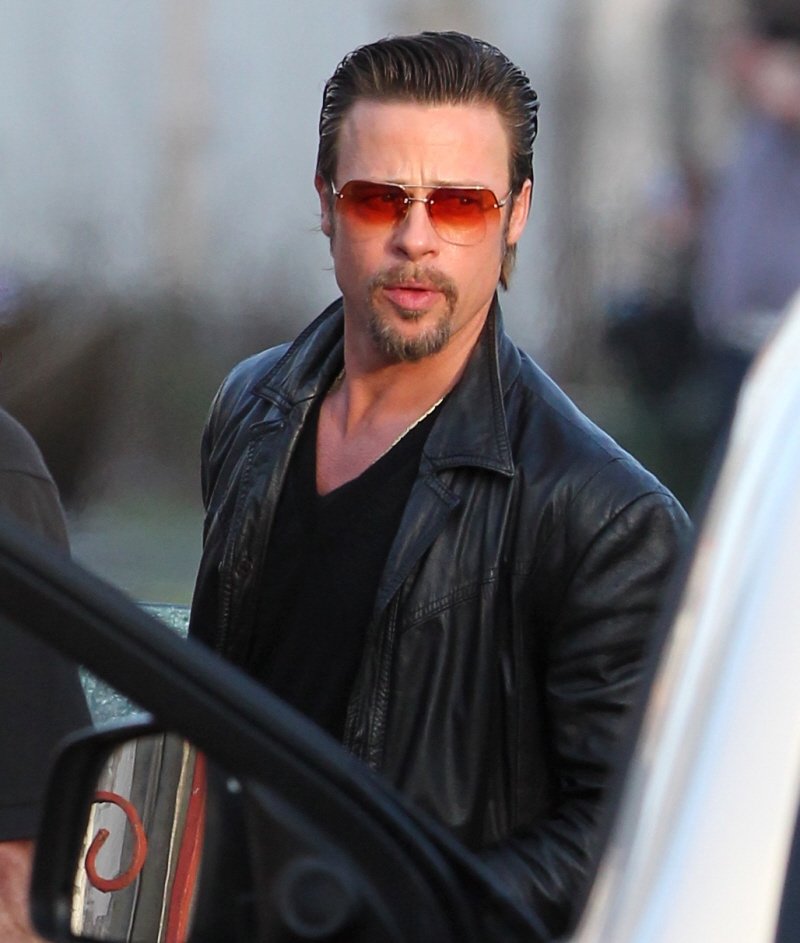 Photos courtesy of Fame & WENN.

Written by Kaiser

Posted in Brad Pitt, Mireille Enos

- Mariah Carey lip synced on American Idol [CDAN]
- Colin Firth is looking good [Lainey Gossip]
- Internet celebrity charged with murder! [D-Listed]
- What is Paz Vega wearing? [Go Fug Yourself]
- New bachelors on The Bachelorette [Reality Tea]
- Goodbye to The Office [Pajiba]
- Bachelor Sean's fiance cheats on him [Evil Beet]
- Britney Spears out with her man [Popsugar]
- Nina Dobrev works it [Popoholic]
- Cindy Crawford needs to lay off the 'tox [Celebslam]
- Who said it: Carrie Bradshaw or The Dalai Lama? [Buzzfeed]
78 Responses to "Brad Pitt's new "wife" could be a gorgeous, sexy, talented redhead"