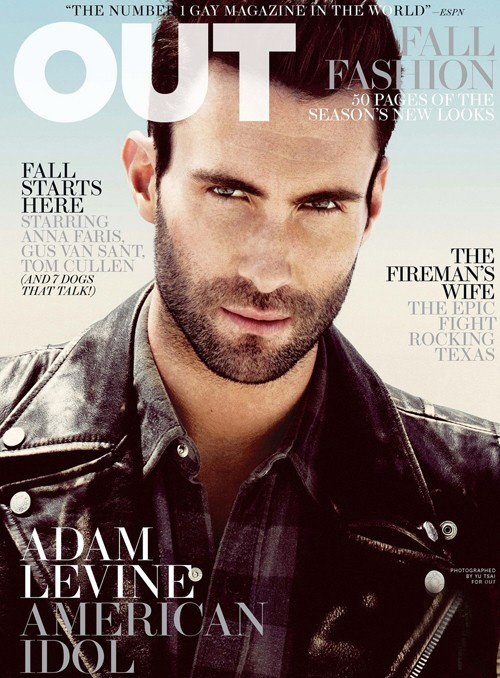 Is it okay if I say that I've always considered Adam Levine rather douchey? I can remember seeing an interview with him years ago, when Maroon 5 just released their debut album, and in the interview he just seemed so smarmy and full of himself. That general air of douchebaggery has always stuck with him in my mind… but I'll admit when I'm wrong. This isn't really one of those times, though. I just read Adam's cover interview in Out Magazine (full piece here), and while there's still something rather smarmy about him, I have to admit, there is another dimension to him. At times he almost seems… sweet? No, it can't be. Here are some highlights:
Working on The Voice: "I talk about it in a very heavy way, but it's definitely had a pretty profound impact on my life," he says. "That show's become a part of me. Being in a position where you can help these people out and — of course I get paid, and of course it's good for my career as well. But there's a lot of real talent, and it makes me excited to know I'm part of that."

Adam on his brief moments of homoeroticism: Levine has a high, nimble voice and a light, loose-limbed step, but other than a brief kilt-wearing, John Mayer–kissing phase (they go way back — Mayer took Maroon 5 on one of their first big tours), he's hardly the queerest performer in mainstream music today. "There's no way to hide my straightness," he says, "but if people didn't think there was a small chance I was gay, then I wouldn't be doing my job very well. Look at the best ones, guys whose sexuality was always questioned. Bowie. Jagger. Freddie Mercury. I wouldn't be the front man of a band if that question hadn't come up at some point."

On nakedness, sexuality: "I just love being as naked as possible all the time — it feels really natural to me. I'm extremely comfortable in my sexuality, so I can think, Oh, that's a good-looking dude. Acknowledging that someone's attractive and wanting to f-ck a dude are two different things. With a lot of guys who are hypersexual, it comes from some sort of disdain or dislike — they're guys who love getting laid but don't really respect women. That doesn't mean that I haven't been totally promiscuous and slutty in my lifetime, because I have."

He grew up in a liberal household, and his younger brother is gay: Levine, 32, grew up in a liberal Los Angeles home — his parents both went to Berkeley — but it wasn't his own sexuality that defined his open-minded beliefs. It was his younger brother's. "I can single-handedly dispel any ideas that sexuality is acquired," he says, laughing. "Trust me, you're born with it. My brother is gay, and we knew when he was two. We all knew." Instead of a family freak-out, the Levines doubled down. "We all really wanted to provide some cushion for him and constantly let him know that it's OK," Levine says. "A lot of people don't want their kid to be gay and will fight it at all costs. But I've got news for you—it's a losing f-cking battle. The more you fight it, the more f-cked-up your kid's gonna be. You've just gotta embrace it from the beginning. That's the only way to deal with it as a family. Otherwise, you're just screwing yourself over, and you're gonna make your kid miserable."

It Gets Better and Perez Hilton: The singer signed on early to the It Gets Better Project. "High school f-cking sucked," he says in the clip, "but if you can get through it, there's a whole world that exists beyond people treating you badly." His participation was motivated as much by his own experiences with gossip. "Perez [Hilton] asked me to do it," he says. "I found it strange that one of the biggest bullies on Earth is asking me. I was really not a fan of his. I thought he was part of the problem. In doing this, I was hoping for a change in him, and I saw one. The guy has changed his tune quite a bit. I respect that."

Homophobia versus racism: "I'm realistic about the world, but I do have a very sunny perspective on things," he says. "When the 'F word' and the 'N word' are equally taboo, when you can't just walk around saying that word — which you can, to be brutally honest — that'll be when it's really real. Homophobia and racism are very different and have a very different history behind them. But for some reason, we're a little bit behind with homosexuality. The fact that gay marriage isn't legal everywhere at this point is a joke. But there are things now that you never thought would have existed, so I think that we're kind of in good shape."

On American Idol forcing gay contestants to stay in the closet: "What's always pissed me off about Idol is wanting to mask that, for that to go unspoken. C'mon. You can't be publicly gay? At this point? On a singing competition? Give me a break. You can't hide basic components of these people's lives. The fact that The Voice didn't have any qualms about being completely open about it is a great thing."

The Voice is the best: He acknowledges that the music industry may still have a double standard for gay artists but says The Voice can help correct that. "It's a great show because it doesn't alienate anybody. If you're a talented person, and you want a career, and you're trying to join an extremely intimidating and also completely dismantled industry — skip all that other bullsh-t, and go for what can be immediately effective."
[From Out Magazine]
Finding out that he came from a super-liberal family made sense to me – his parents must be hippies, and they must have focused so much on raising self-confident kids. Perhaps I read Adam's self-confidence as douchey arrogance. And for that, I was wrong…?
I did roll my eyes at the part about how he's naked all of the time and all of the stuff about his sexuality. I mean, I've seen his videos. He's basically making mini-(softcore) pornos with his girlfriend, who is the requisite long-limbed model type. As if you had any doubt that he's straight!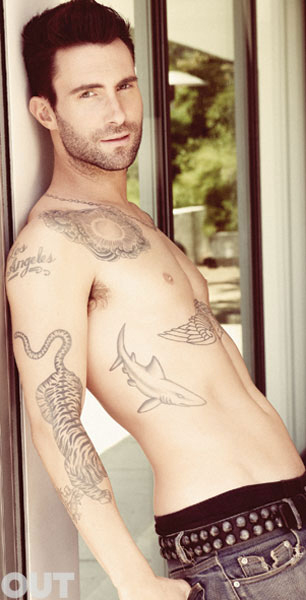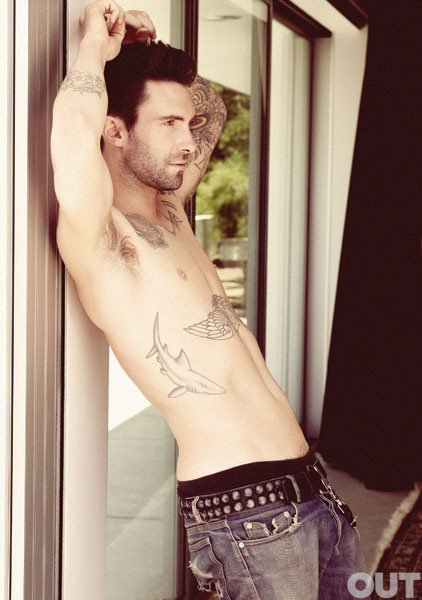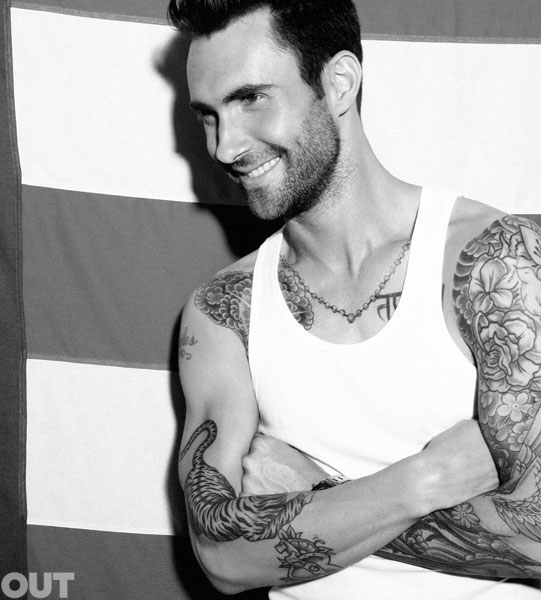 Photos courtesy of Out Magazine.