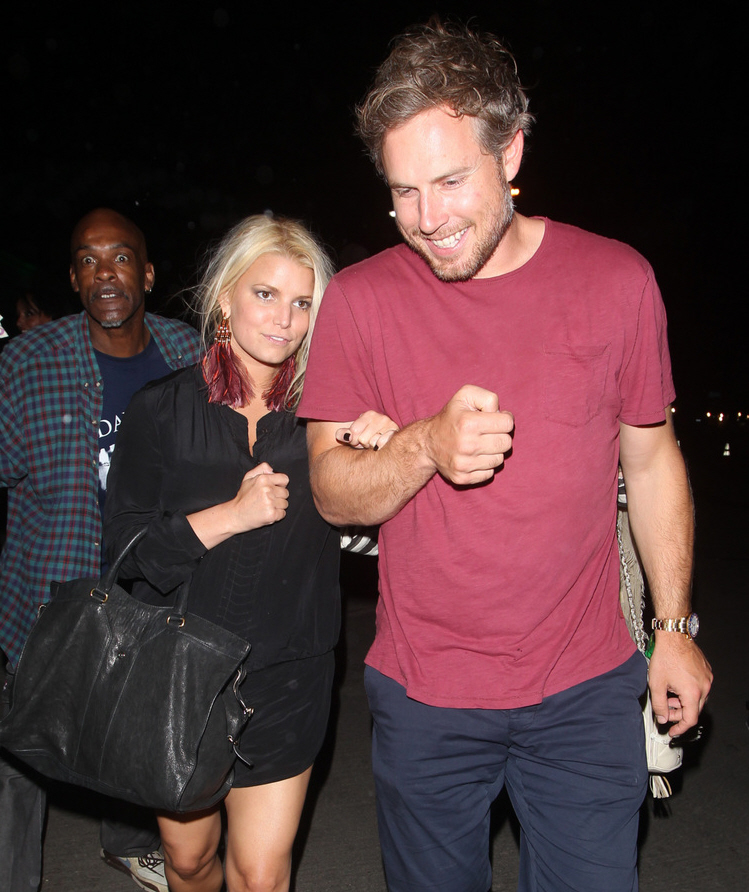 These are some new photos of Jessica Simpson and her fiancé Eric Johnson at last night's Adele concert at the Greek Theater in LA. Lots of celebrities came out for Adele – Christina Aguilera, the Glee kids and SPARKLES! I love that Sparkles loves Adele. I love that Jessica Simpson loves Adele. Everyone loves Adele! Yay! As for Jessica, at first I thought she had chopped off her hair and dyed the back hot pink… but these are just really fug earrings. Disappointing, I know. For some reason, I kind of think Jessica would look cute with hot pink hair, and I generally hate that look on adult women. For Jess, I'll make an exception, though.
By the way, you can't see much of Jessica's body in these photos, but to me, she actually looks slimmer than she has in the past, which means that she's actually following The Tracy Anderson Method effectively (unlike Kim Kardashian, who is gaining weight with The Method). Still, in last week's In Touch Weekly, sources claimed that Jessica was considering pushing back her (alleged) November wedding because she hadn't lost as much weight as she was expecting:
"Instead of losing weight, Jessica has gained it," reveals a friend. The problem is that between planning the perfect wedding and running her $1 billion fashion empire, Jessica's been running herself ragged.

"She works so much that she doesn't have the time to spend with Tracy Anderson," explains the friend. Jessica has been so busy, she's also neglected her diet, and the weight's crept on.

"She's always eating on the go," adds the friend. "She gave herself one year to get in perfect shape, but now the wedding is just a few months away – and she's panicking," reveals the friend.

Jessica is so distraught about her failed attempts to say no to tasty treats, she's even considering pushing her big day back.

"She was rethinking her plans because she fears that she won't look good in a wedding dress," the friend reveals.

Jessica was planning a wedding for November 11, 2011, but with three months to go, she's having serious doubts that she would be ready. "She wants to postpone," confirms the friend.

Which is a problem – since Jessica and Eric have already block-booked rooms at the ritzy St. Regis Princeville Resort in Kauai, Hawaii, and charters a private jet to fly out their guests. So instead of giving up, "Jessica is going to put everything on hold until she sees if she can lose the weight and get her body in perfect shape for her wedding day."
[From In Touch Weekly, print edition]
Eh. I really hope Jessica isn't as worked up about her weight as the tabloids are. Even when she's heavy, she's still prettier than most girls, and I think, shock of shocks, Jessica actually found a guy who doesn't care what her dress size is. Eric loves her and her bank account, just the way it is. That being said, I do wonder if Jessica is actually going to get married in November. Does anyone else think that Farty might be rethinking the whole thing for non-weight-related issues? I don't know, it feels like it.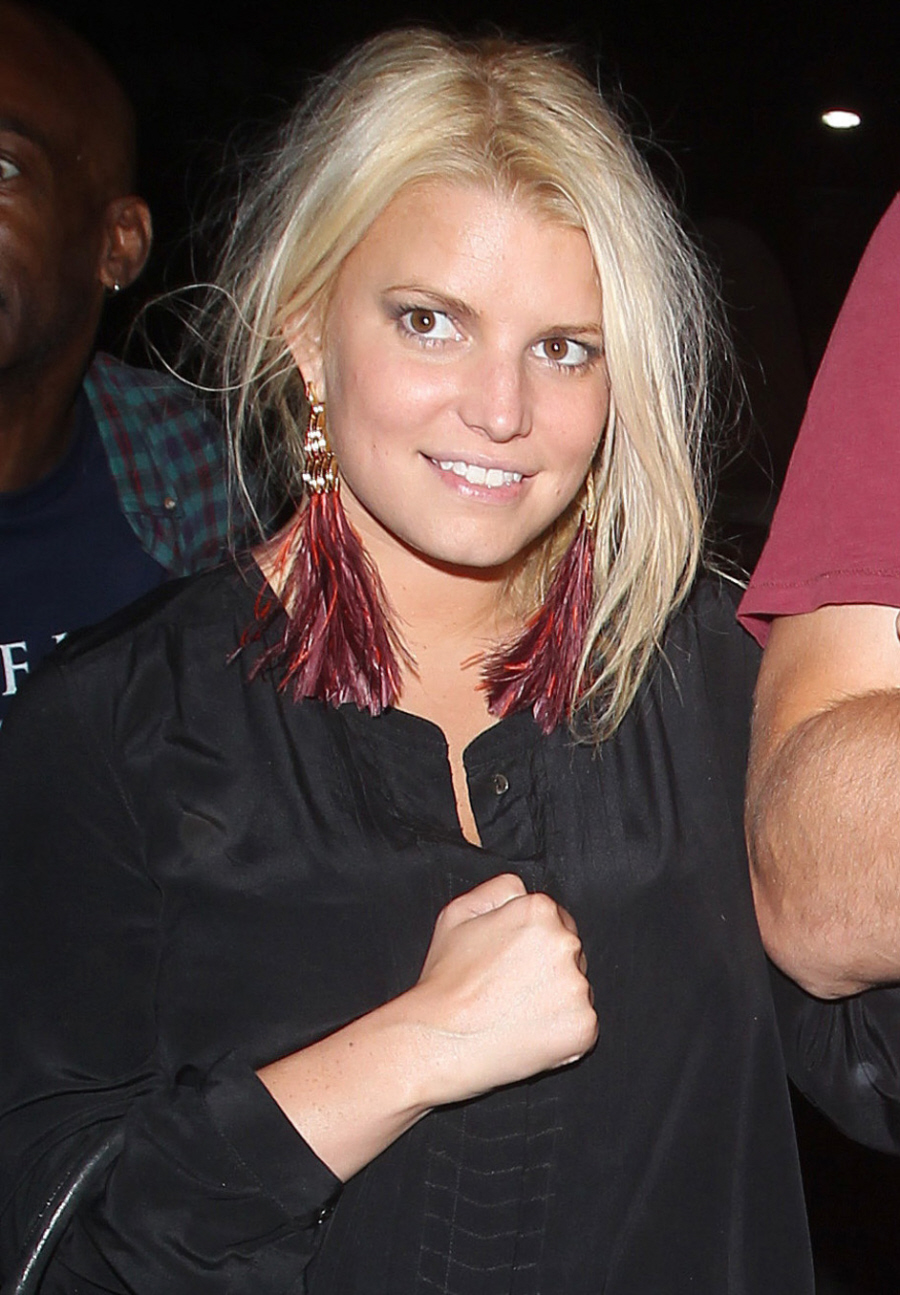 Look how good her legs look – Farty is working the program! And this guy photo-bombing Jessica and Eric is ridiculous.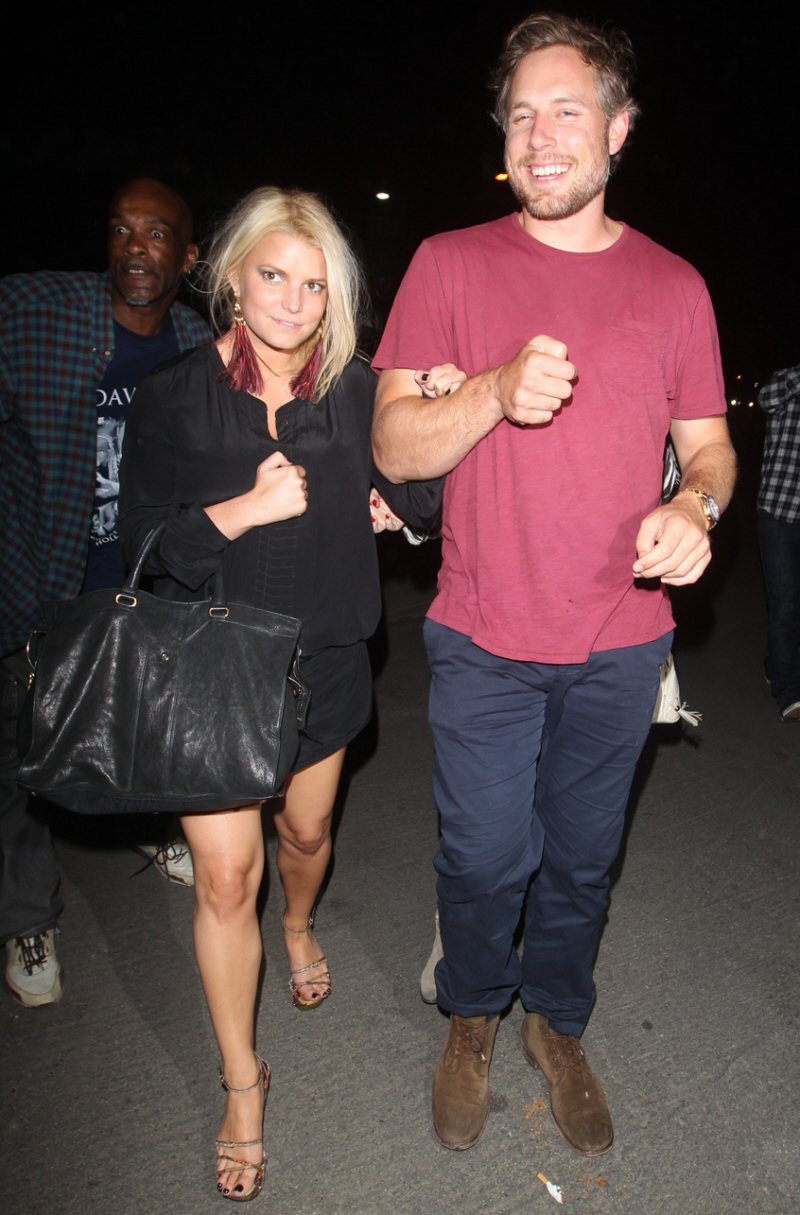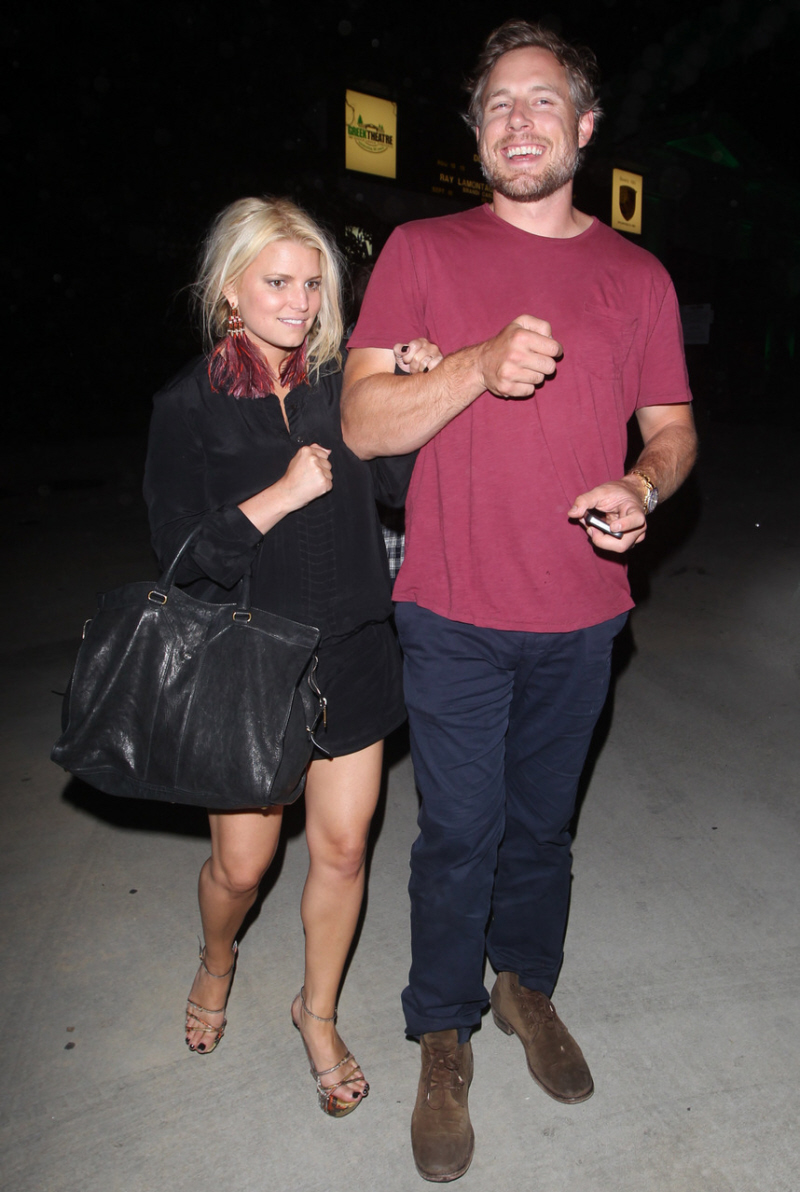 Photos courtesy of Pacific Coast News.