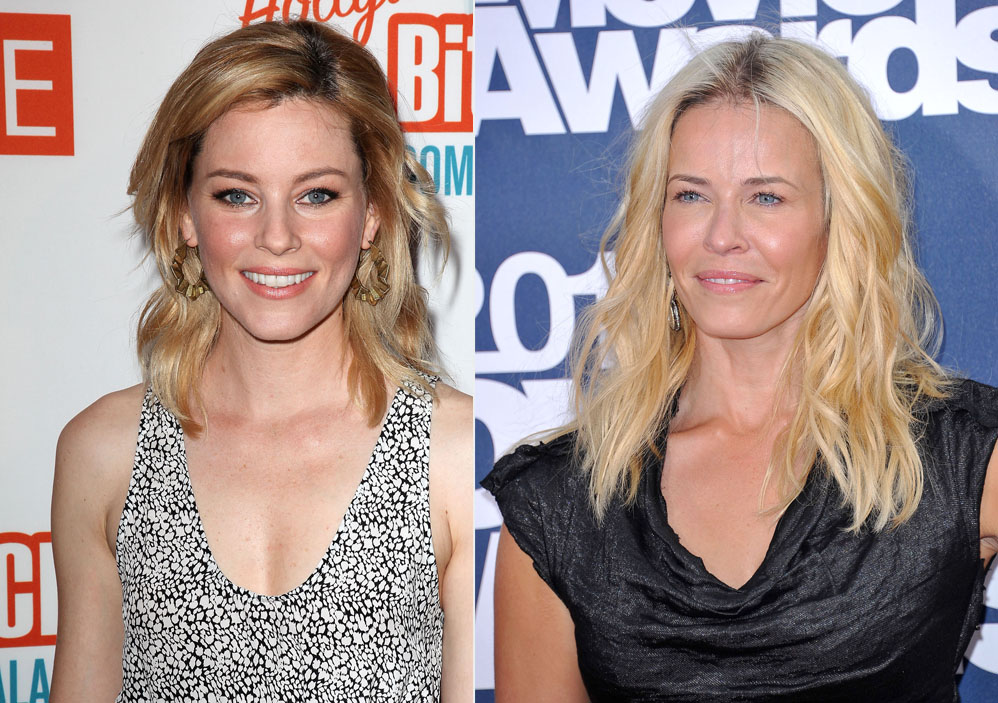 Elizabeth Banks was a guest on the Chelsea Handler show on Monday, where the two revealed that they're sometimes mistaken for each other. Chelsea bitched that people compare her to Elizabeth but think she's older than her (since she is but continues to lie about it) and Elizabeth told a funny story about how a guy mistook her for Chelsea, his girlfriend's favorite author, and she went with it because she didn't want to ruin it for him.
During an appearance on Chelsea Lately Monday, 37-year-old Banks admitted that while she's often mistaken for the Chelsea Chelsea Bang Bang author, she rarely corrects people when they're wrong.

"I was sitting in Toronto and a guy walked up to me and said, 'Oh my god, my girlfriend loves you. She would die if I didn't get your autograph. This is so exciting!'" the Our Idiot Brother actress recalled. "He's like, 'I just love your books. I mean, My Horizontal Life….' I was like, 'Oh, he thinks he's meeting Chelsea Handler.' I couldn't ruin it for him!"

"I was like, 'It's nice to meet you,'" Banks told the man, acting as Handler. "I was just hanging out, being Chelsea, drinking my vodka and having a good time. He couldn't have been happier."

Handler experienced a similar situation in April when Bill O'Reilly mistook her for Banks at the White House Correspondents Dinner.

"People always say, 'They look alike, but Chelsea's obviously much older.' Meanwhile, we're the same age," Handler, 36, quipped. "It's like, what is wrong with everybody? Why can't I just get a break?
[From US Weekly]
Chelsea's story wasn't as clear cut a case of Bill O'Reilly mistaking her for Elizabeth. She said that O'Reilly was talking to her at the White House Correspondents dinner, but that she said "I think you're confusing me with Elizabeth Banks,' because I wanted to get the f#&% away from him…
I said if I ever get caught with an underwear shot in public I'm just gonna blame you."
Banks joked "I blame Rachel McAdams."
If that ever happened where someone legitimately mistook Handler for Banks you know they'd be saying "Wow, Banks is looking so rough."
Banks also told a funny story about her first day on the set of 2001's Wet Hot American Summer with Paul Rudd. She said that she immediately had to make out with Rudd. "That was it. We just made out. Like horribly, licking , sucking, noisy, like really gross. We did it on a floating dock. I couldn't get up on to the dock to save my life… they had to bring over a P.A… He held on underneath the dock with his hands up and his feet up and I used his stomach as a ladder. Me getting up on the dock in the movie is me standing on this poor kid."
Banks is promoting My Idiot Brother with Paul Rudd and Zoey Deschanel. It's about a stoner guy (Rudd) who stays with each of his three sisters after he's busted selling pot. It's out in the US next week and it looks decent and maybe funny. Here's the trailer. Kaiser just covered the premiere photos, which featured some laughably bad fashion by the female cast.
And here's the interview with Elizabeth on Chelsea Handler.