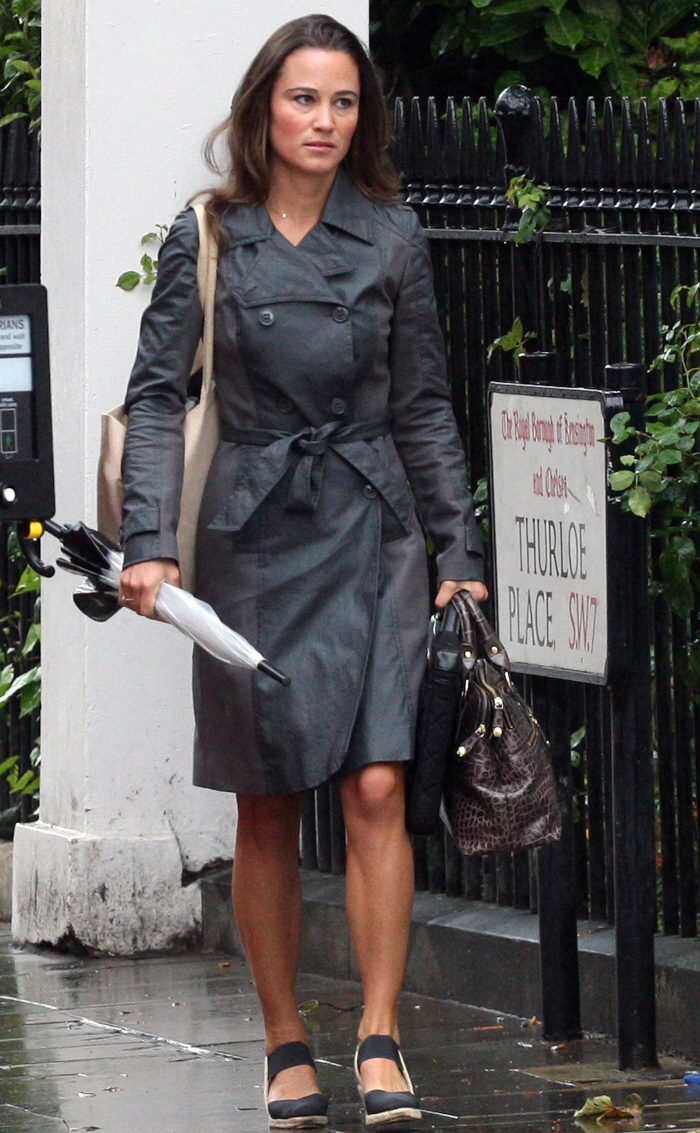 Here are some new photos of Pippa Middleton in London from the past few days. Even though I don't think Pippa Middleton is anything special (or interesting), I get a little tired of everyone saying that she's fug. She's not. She has angles where she's really pretty, and angles where she's just sort of average-looking. I think she looks like a average-pretty girl who tries to emphasize her positives and take care of herself. She fake-bakes too much, her style is pretty bad, and she shouldn't go so long between waxes (or she should invest in a slip), but overall, I think she's attractive. And I'll give the Middleton sisters one thing: although I don't usually care for their style, they both have great taste in jackets and coats. I love this grey coat Pippa is wearing. I would wear the hell out of it.
Anyway, here's the random Pippa story today – she and her on-again boyfriend Alex Loudon are having a "trial marriage". Meaning that they're just shacking up together without getting engaged. In other words, "The Duchess Kate Nine-Year Plan".
Pippa Middleton's parents had better think twice about putting their wedding outfits into storage.

We can reveal that, hot on the heels of Kate Middleton and Prince William's big day, little sister daughter Pippa, 27, is getting very serious with long- term boyfriend Alex Loudon.

Though she's been linked to Prince Harry and pursued by Hollywood hottie Justin Timberlake, Pippa's made it clear Alex is the only man for her.

She's moved her vast collection of wedge heels into the investment banker's pad as part of her plan to see if they're ready to take the next step.

'They're experimenting with a "trial marriage" to find out how they cope with living together – so far, so good,' says our source.
[From Now Magazine]
I would love to know what went down with Pippa and George Percy. She hasn't been spotted with him in a while, not since she did the walk of shame in the wee hours of the morning after spending the night with him, at his place, back in June. My theory is that Percy's parents, the Duke and Duchess of Northumberland, put the kibosh on their son spending any serious time with a Middleton upstart. I know, I know – Pippa and George already dated, back at university. But Pippa dated every eligible dude back then, and now she's the sister of the future queen. It's different!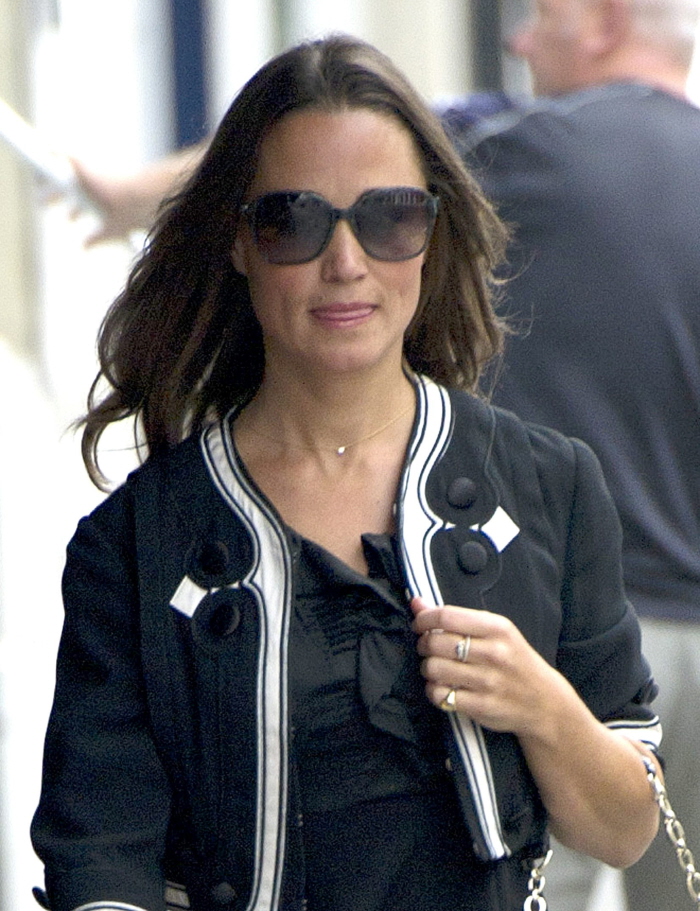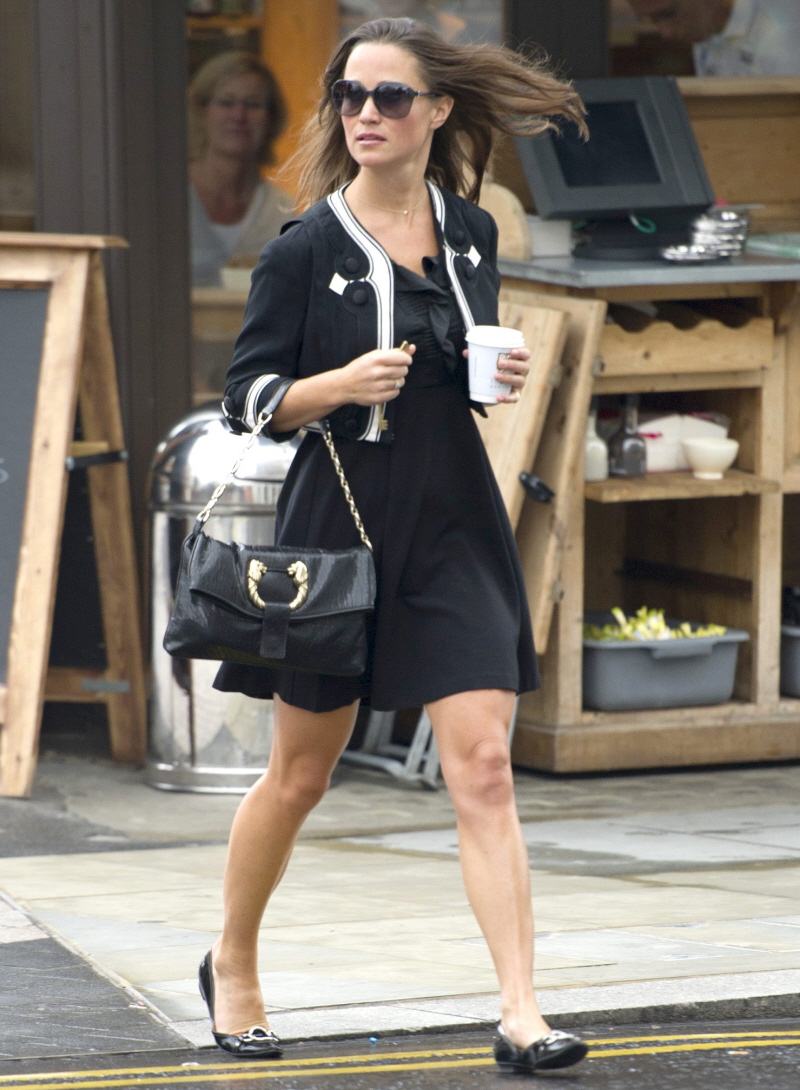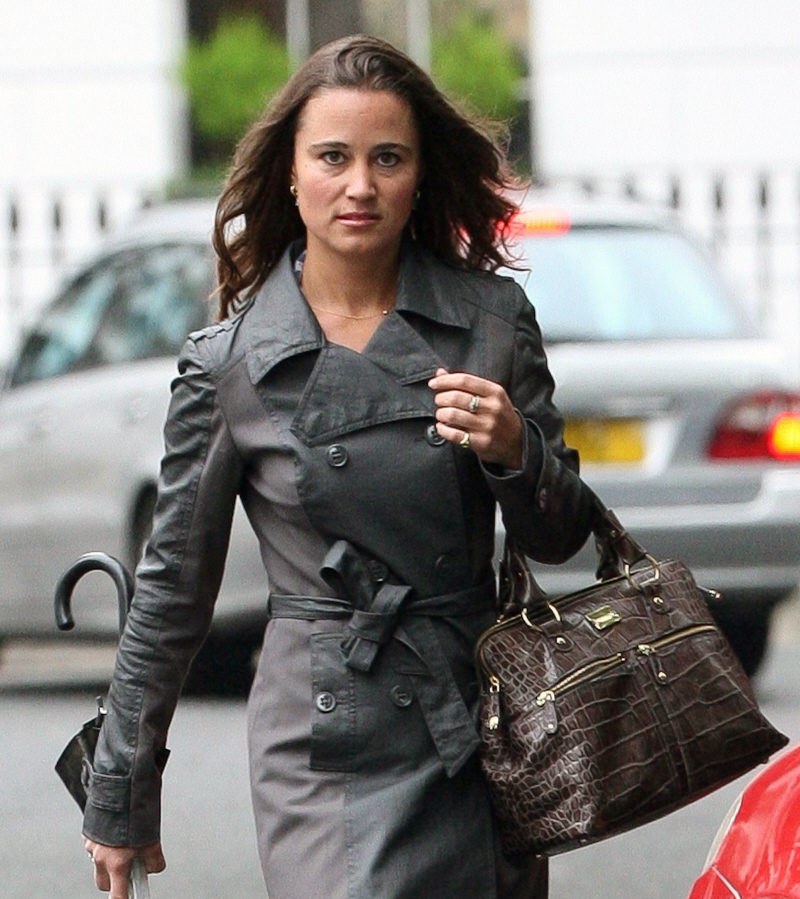 Photos courtesy of Fame.