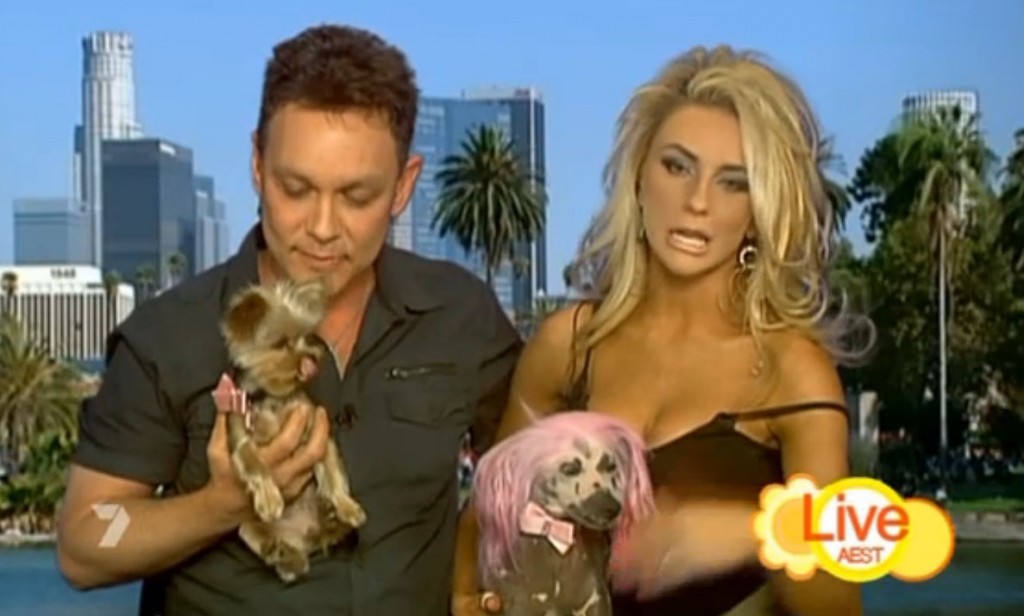 Today is the 17th birthday of that chick who married a 51 year-old and spends her time coming up with creative and disgusting tweets celebrating her awkward sexuality. (Or she lets her creepy new husband who is older than her dad write them on her behalf. Whatever.) Courtney's devious stage mom, Krista, will talk to any outlet that will listen and will go on about her daughter's great career and how amazing her new son-in-law is. She's like Dina Lohan, only that much more transparent and neglectful. To RumorFix, Krista Stodden said that "there are major networks interested" in buying the rights to her daughter's story, as if it's all that compelling that antiquated marriage laws to escape statutory rape charges still exist in America. That's the only story I see here, along with a sad little girl who has learned to cope with her reality by developing Stockholm syndrome and becoming a parody of a sex kitten. It's possible this is a whole media put-on, a la Joaquin Phoenix, as many of you have suggested. I'm hoping that's the case but I'm not betting on it.
Anyway here's some crap Courtney's mom has said recently. I picture her slurring into a cordless phone, a 1/4 full bottle of Smirnoff and a carton of orange juice on the counter next to her.
"There are major networks calling us wanting to do a movie on Courtney's life because they are interested in her and they find her fascinating. The movie will be similar to the 1978 film Harper Valley P.T.A., a story about a town that's so small they couldn't handle the sexuality and beauty of one of the residence. Similarly, the town Courtney grew up in tried to keep her down, but she didn't let that happen because she is so strong and just kept her head up."

When we asked Krista which networks are interested in a movie about her country-singing daughter she told us, "I don't want to name names."

Although nothing is 100% confirmed, Krista informs us that it's "definitely something people are talking about and extremely interested in doing." – RumorFix

Ocean Shores native and wedding shocker (and singer/model/beauty kween) Courtney Stodden turns 17 today, Courtney's mother, Krista Stodden tells KBKW News that the newlyweds were hoping to celebrate at Disneyland "but here in California we have a heat wave so I don't know if they're going to be standing in those long lines, they might plan something else today."

Stodden said the controversial couple will soon be featured in their own reality show. "We're in production right now, it's going to be a very interesting reality show just because of the age difference. People are just interested in what a, now I can say 17 year old, has in common with a 51 year old." – KBKW via ONTD
We last heard about a potential reality show for these two when they talked about it during an insane appearance on an Australian morning show last week. I hope when her mom says they're "in production" on a reality show she means they're "shooting a pilot and desperately trying to shop it to anyone that will listen." I hope no one touches this with a very long pole, is all I'm saying. Hoax or not it's way too out there. Then again, reality shows like Toddlers and Tiaras exist and people watch them. The sh*t they air is outrageous.
Happy birthday to Courtney. She wrote last night that she was "Celebrating the last night of being sweet-n-sexy 16 by wearing NOTHING but my tasty bday-suit! Mmm; Yummy!

" Courtney's husband told Radar that he "surprised his 17-year-old wife with her first birthday gifts from Victoria's Secret, her favorite store." This has got to be a put on. Especially since she should have tweeted some nonsense about her new birthday lingerie already.