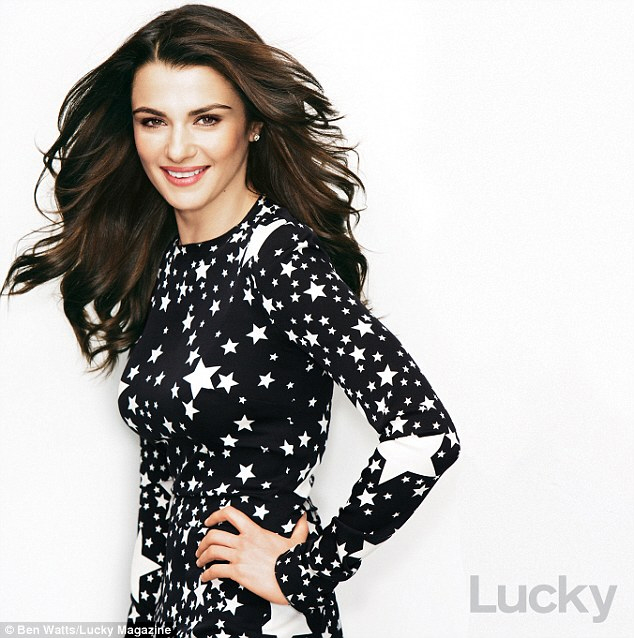 Rachel Weisz covers the latest issue of Lucky Magazine – I think it may actually be the September issue, and it just got released later than most magazines? Perhaps. Anyway, Rachel, Lucky, etc. The photo shoot is cute but not particularly groundbreaking, but this is one of Rachel's most extensive interviews since marrying Daniel Craig (although chronologically, this interview took place just days BEFORE her wedding). And she talks about babies. Please, God, let babies happen with this couple. I want to see Rachel knocked up and I want to see Daniel being forced to walk the red carpet with her, holding her hand because she's overflowing with his seed. Pleasepleaseplease. Here are the highlights from the interview (the full piece is online here):
Rachel on shoes and developing a character: "Shoes can turn you into someone else in an instant. I did a film called The Brothers Bloom, and I wore really clunky boots—and I was this eccentric weirdo. And then in The Whistleblower"—an independent film released this August, where she plays a cop who exposes a European sex trafficking ring—"I wore police boots that made me walk tough." And there's her latest: Dream House, a thriller opening in September. "I am a wife redoing a home we just bought, and I wear a lot of light sneakers that are all cute and homey and make me feel kind of doo-doo-doo, I'm domestic and painting."

Rachel claims she's never recognized on the streets: "This is New York, where everyone is a star in their own movie; no one gives a f–k."

More on shoes: "I've had this conversation with a girlfriend for 15 years that is kind of a joke, and kind of deathly serious, about finding the perfect pair of shoes," Weisz continues. "I always want to feel like I can take off if I have to—the British expression is, 'shoes that let you run for the bus'—but I love high heels too! Sometimes it's fun wearing very high heels and feeling needy … needy is great, because you feel you need to rely on someone."

The part of the article about Daniel Craig (it sounds revisionist to me): That someone, as it turns out, is a man whom Weisz will, just a few days after this interview, marry: Daniel Craig, the sixth (and, I believe history will judge, best) James Bond in the 49-year-old movie franchise. They had known each other casually for years but became close when filming Dream House, in which they play husband and wife. Both were recently single (Craig was previously married in the early '90s and had just broken up with a long-term girlfriend; Weisz has a five-year-old son, Henry, with Black Swan director Darren Aronofsky), and by June they were married, in a tiny ceremony in upstate New York that included only their children and two close friends as witnesses. Whatever else they may share—and Weisz is extremely circumspect about the relationship—there is a mutual fondness for fashion: A few months ago the two were spotted shopping at Louis Vuitton in London's Mayfair.

Rachel on Alexander McQueen: "His pieces are works of art, but he had such a bizarre relationship to his own body …he was always on diets and …well, my perception is that his clothes were almost like torture instruments." In her day-to-day life Weisz dresses down in what she calls "good quality city street wear": Today it's a simple white T-shirt plus jeans and brown high-heeled canvas boots from American label Rag & Bone. "These may be the perfect boots, actually," she says, waving her foot in my direction. "I can walk all day in them."

Her childhood home in Hampstead Garden Suburb in North West London: Her suburb was, she says, "a very freaky place" with no shops or pubs (the woman who designed the area was a teetotaler, and it was in the original deed to the area that no alcohol could be sold there); the only place people could gather was the church. "I don't know if the houses are haunted, but I think the suburbs are where bad things happen because it's the place where people try to live out bourgeois values and …well, if you don't let out what you really are, it's gonna come out in weird ways. You know? I think weird sh-t happens in the suburbs."

Her career dreams before becoming an actress: "Actually, I wanted to be a detective. And a paleontologist. I was really into fossils. Though perhaps I was just trying to impress adults that I knew that word." Despite being an indifferent student until she was a teenager, Weisz went on to study English at Cambridge University, where she cofounded the theatrical troupe Cambridge Talking Tongues.

BABIES: Eventually, the conversation rolls back around to family, and I can't help wondering: Does she plan to have any more children? She smiles. "Oh, I wouldn't make one just for the sake of giving my son a sibling. But …you never know." She smiles again, nervously, proclaims her fondness for Baby Gap and then-an interesting thought in passing, considering the azure peepers of her new husband: "There's nothing like a blue-eyed boy in a stripy blue shirt."
[From Lucky]
Is the part about babies evidence that Rachel is currently knocked up? Eh, I don't know. She wore a tight little red dress one month ago, and there was no bump. But if Beyonce has taught me anything, it's never a sure thing to dismiss the Bump Watch. At the very least, I'd say that Rachel actively WANTS to have another baby and she and her new husband are going at it all of the time trying to conceive. HOT. Jesus, just writing that gave me a little biscuit twinge. Mm… I want to see Daniel push Rachel against a wall and… do something. Anything.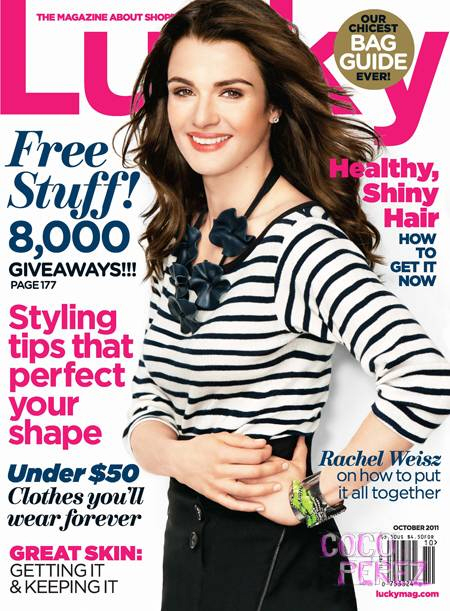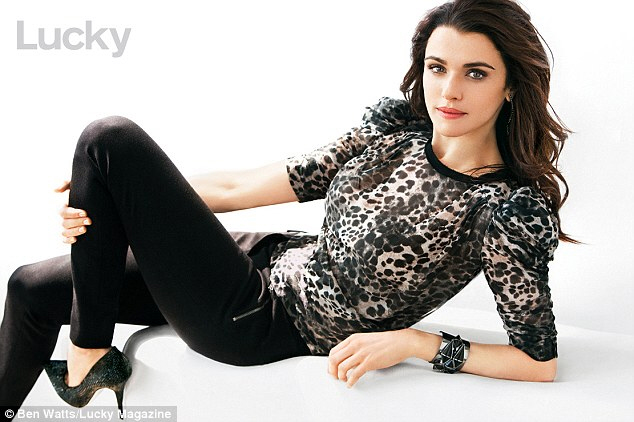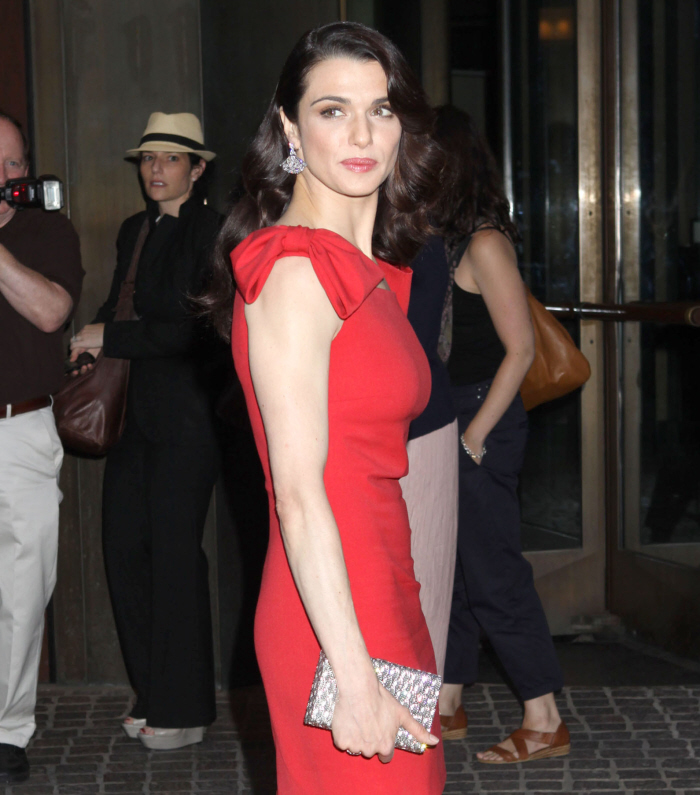 Photos courtesy of Lucky and WENN.