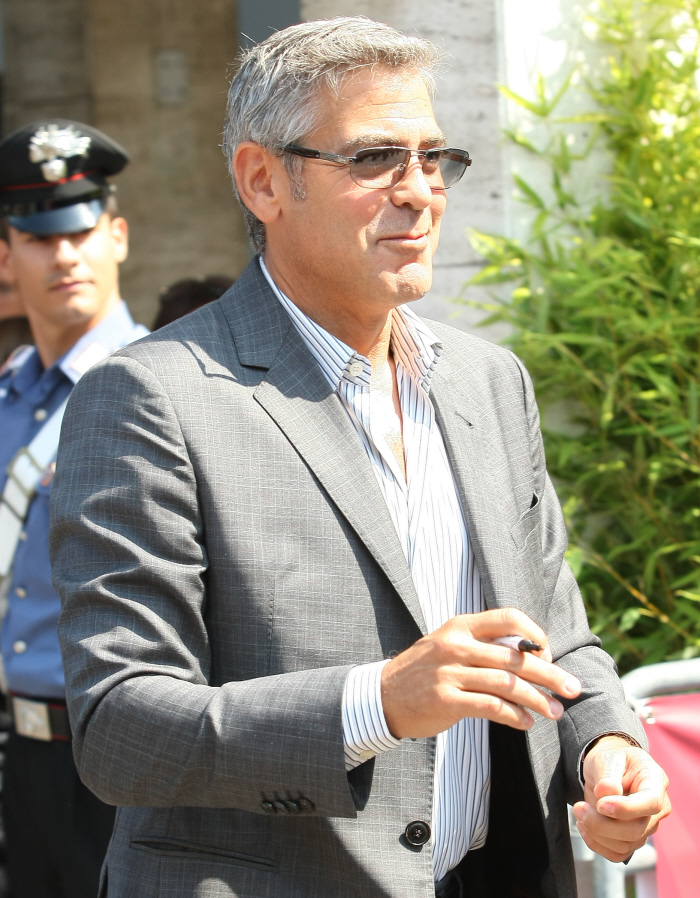 These are new photos of George Clooney in Venice! He's there for the start of the Venice Film Festival, and I believe his film The Ides of March (which Clooney directed and stars in) premieres there tonight. Clooney is like the unofficial mayor of Venice at this point, and he's maybe Italy's brightest star. So when Clooney arrives, he's treated like a rock star. He looks good, I think. I like his hair these days, although I'm still concerned that there's some kind of wiglet situation happening here. I'll ignore it.
So, here's a question: will Clooney walk the Venice Film Festival red carpet solo? After priming us with the possibility of Stacy Keibler being his new piece, it's looking more and more like that was over before it really began. Keibler hasn't been around in weeks, and Clooney has been hanging out with his dude friends (and Cindy Crawford) in Lake Como for a while. Maybe Clooney just needed some "me time". Or maybe Stacy Keibler is full of crazy.
Perpetual bachelor George Clooney prepped for the Venice Film Festival's opening night by taking a weeklong, motorcycling man-cation with Bono and Rande Gerber. Sources tell us that Clooney has cooled things with former female wrestler Stacy Keibler and has been spending time with his friends.

He began his boys-only trip with the U2 singer and husband of Cindy Crawford last week. The trio jumped on matching touring motorcycles and hit the open road, heading through the French Riviera and stopping at Bono's beachside villa in Eze-sur-Mer. The rocker has famously entertained the likes of Brad Pitt, Angelina Jolie and Robert De Niro at the manse he owns with The Edge.

The three rolled into Monaco, a source said, and partied at legendary nightclub Jimmy'z along the way. They then all headed to Clooney's place in Lake Como, Italy, where they were joined by supermodel Crawford and actress Evan Rachel Wood.

Clooney floated into Venice yesterday on a boat with Gerber and an entourage for the festival's opening and premiere of his Oscar hopeful, "The Ides of March."

His co-star in the political drama, Ryan Gosling, couldn't make it to Venice because he's shooting "Gangster Squad" with Sean Penn. Sources say Clooney invited Charlie Rose to the premiere as his special guest.

Meanwhile, Clooney and his ex, Elisabetta Canalis, who split in June after nearly two years, seem to be taking very different paths. While he hits the movie-festival circuit, she has been cast with Chaz Bono and Nancy Grace as a contestant on "Dancing With the Stars." Keibler was also a "DWTS" contestant.

Clooney's next stop will be Telluride, Colo., where sources say "Ides" will screen and Clooney will be honored. The buzzy fest keeps its lineup secret till the day before it begins.

Reps did not respond to our requests for comment.
[From Page Six]
Marisa Tomei was also staying with Clooney at the Lake Como mansion, apparently. If you were taking bets, who would think Clooney was hitting on, Marisa or Evan Rachel Wood? My guess is "both".
In other Clooney news, he just pulled out of Steven Soderbergh's The Man From U.N.C.L.E. because the role would have been too stunt-intensive. A source told E! News, "He said he just can't do the action and stunt scenes. In fact, I think he's planning on having another operation during the time he would have been filming." Apparently, Clooney still hurts from his old Syriana injuries.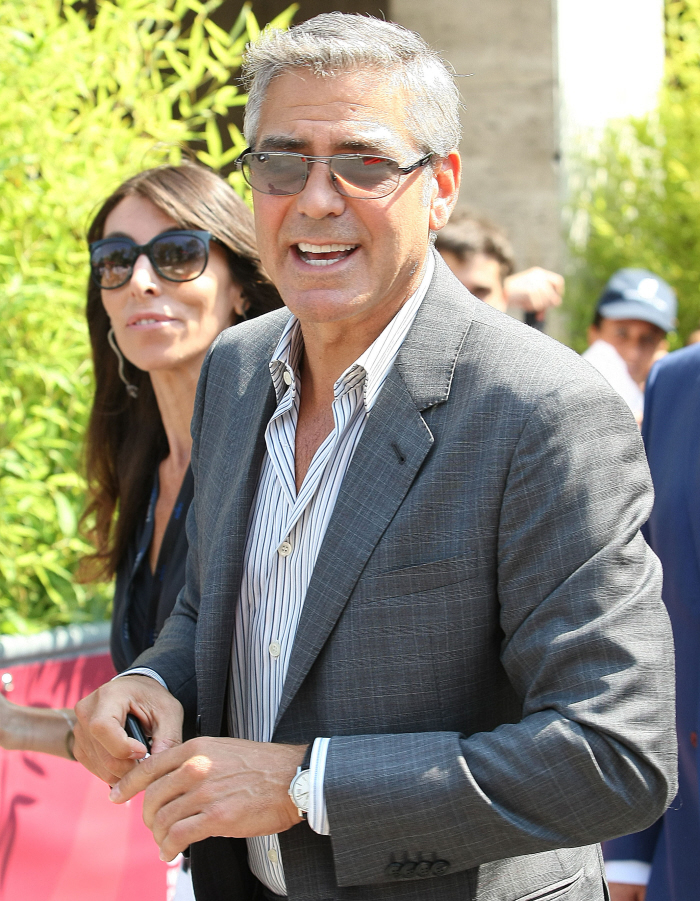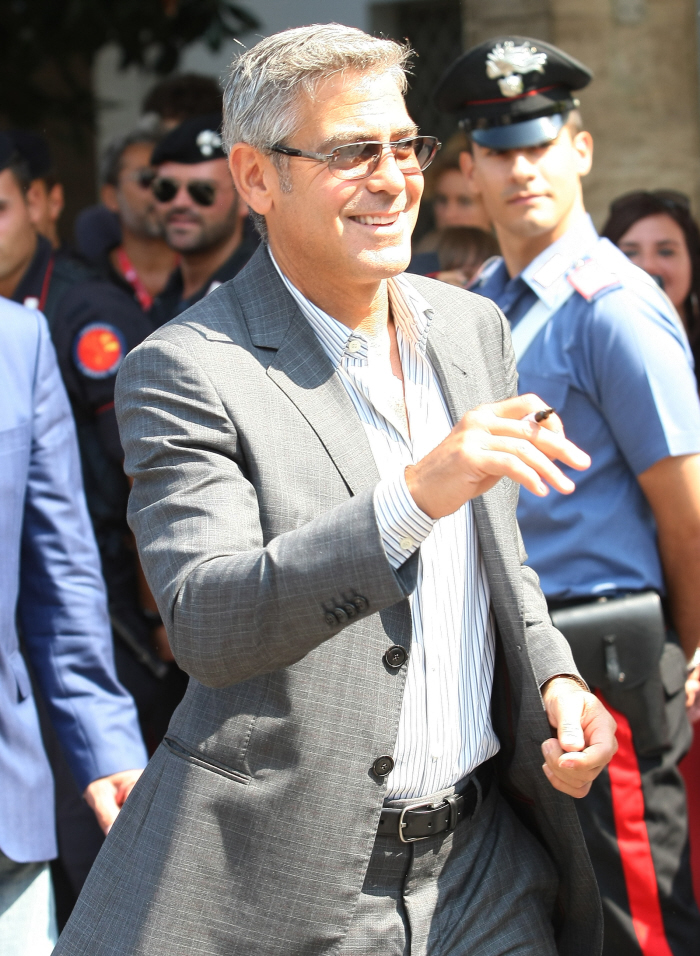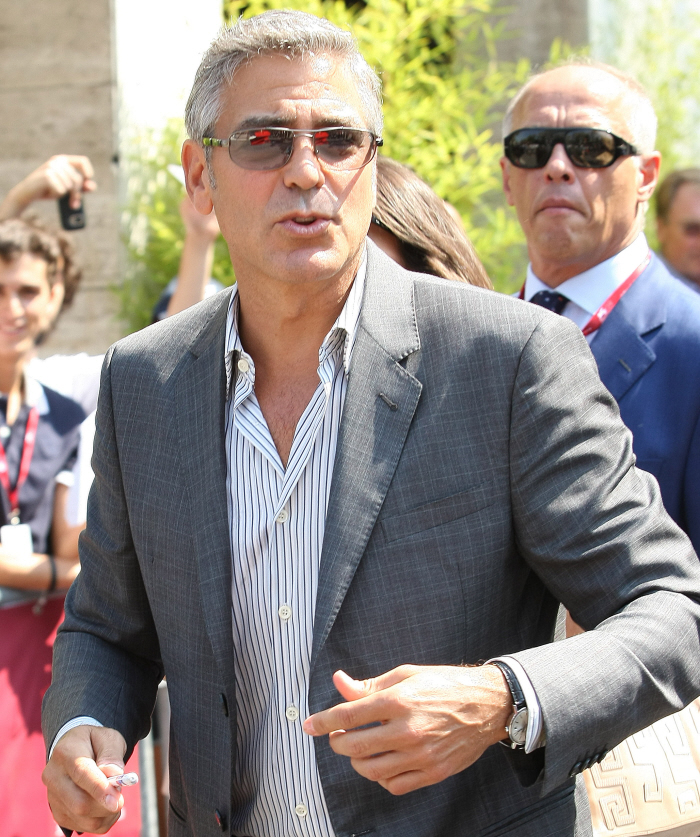 Photos courtesy of WENN.